"Mom, can we play our tablets?"
"Mom, can I watch something?"
"Mom, can I play the Playstation?"
Am I the only parent who feels like she deals with these kinds of questions almost constantly?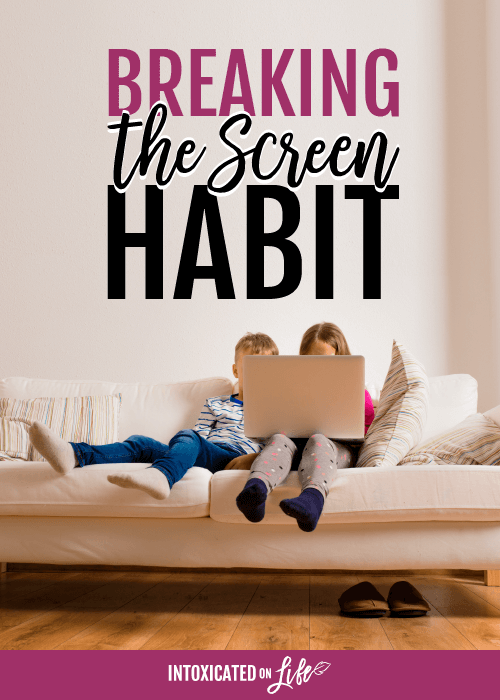 Granted, that's partly because I have a larger-than-average number of children.
But still, I can't deny the fact that screen time has become my kids' "go-to" activity whenever they have a free moment.
Moderation Is Not Always An Excuse
My husband has been extra alert to this lately, and to be honest, I've been dismissing his concerns (which probably merits an article of its own—ahem).
You see, I've been excusing the kids' gravitational pull toward screens because it's really pretty moderate in the grand scheme of things.
If you were to look at our family's schedule, you'd see that we're active for the most part. Between school requirements, church activities, sports involvement, instrument practice, and various appointments, the kids typically don't have that much free time.
And so I have easily justified letting the kids have their screens whenever they have a chance, because the chance doesn't come around all that often.
But the thing is, just because something can be justified doesn't make it okay.
In fact, there are a couple of major spiritual issues at stake here.
What's the Big Deal?
First, screens keep kids from better things.
We could discuss a lot of negatives in regard to screen-time…
Effects on kids' minds
Effects on their bodies
Effects on relationships and creativity and character
But all of this can be summarized by just admitting that screen time keeps kids from better things. No, playing video games isn't the worst way for a kid to spend time. But it's not the best way, either. And I don't know about you, but I long for my kids to have discernment about what is excellent, and to make a habit out of pursuing those things (Philippians 1:10).
A second spiritual issue is that screens steal kids' affections from The Best Thing. Namely, from a wholehearted love for God.
If we want to raise kids who set their affections on heavenly things instead of earthly ones (Colossians 3:2), who refuse to be captivated by pursuits that are essentially worthless (Psalm 119:37), and who love God with all their heart, soul, mind, and strength (Matthew 22:37), we need to get honest about the distractions that threaten to steal their affections. There are all kinds of activities that can compete for our devotion, but it's been my experience that screen-time is a particularly common and insidious culprit.
10 Things to Do Instead of Screens
I've found that it's usually not productive to stop a bad habit without replacing it with one or more good ones. Here are some activities you and your family might consider using to replace too much screen time.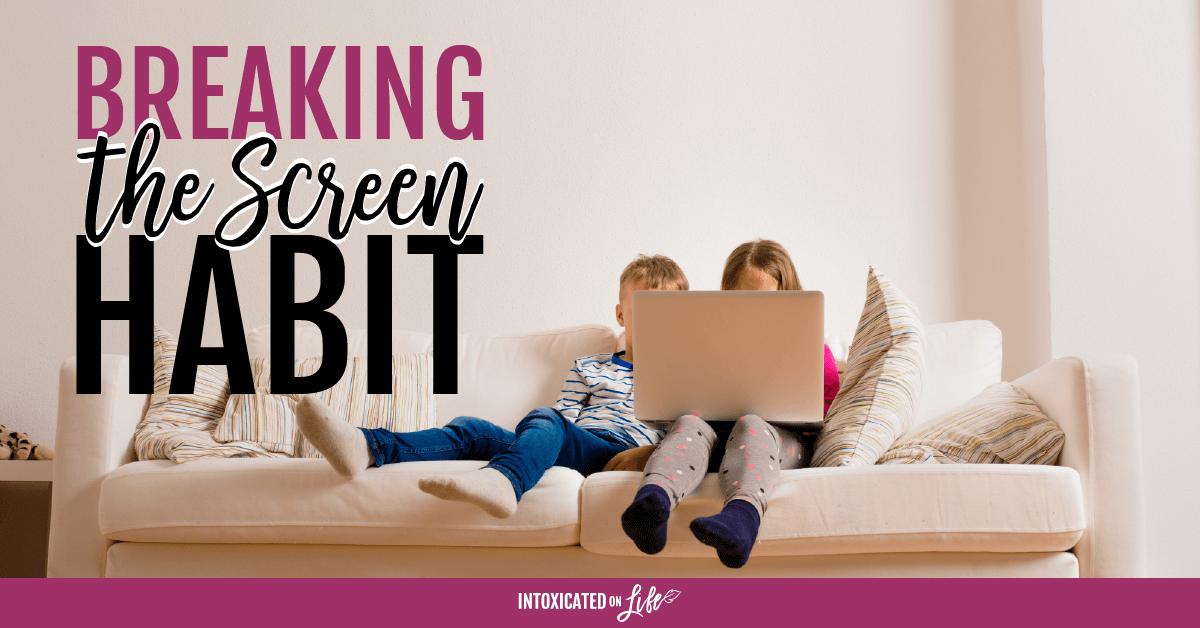 1. Join a gym
Is anyone else overusing "family movie nights"? Replace some of them with "family gym nights," when Mom and Dad get some exercise and the whole family enjoys the indoor pool together.
2. Take a hike
Spending quality time enjoying God's creation is good our family relationships, good for our bodies, and good for our souls.
3. Clean up your yard
Speaking for my own family, yard work is something that always needs to be done, but it's usually at the bottom of our "most wanted" things to do. I've been recently amazed to realize that my kids' attitude toward this chore is usually a reflection of my own. (Imagine that!) When I direct them and then enthusiastically join them in the work, they respond with enthusiasm in kind.
4. Serve as a family
Service opportunities abound in most communities. Consider how your family can serve together in a soup kitchen, homeless shelter, or veterans' hospital. You might also clean up your neighborhood roads together, or do some evangelism on a well-traveled corner downtown.
5. Go to the library
Instead of reserving this for homeschool field trips or rainy days, take dad along one evening a week and make it a family activity.
6. Get creative
Challenge your kids to write a play, complete with songs and instrumental background music (using their own live music they compose and/or perform, or recordings of their choice). Encourage them to let their imaginations run free with scenery, props, and even costumes.
7. Visit (or adopt) a grandparent
Extended family relationships are so important! Make a habit of developing closer ties with grandparents. If grandparents aren't close by, visit a nursing home or ask your pastor for the name of a shut-in who would appreciate developing a relationship with your family.
8. Have family reading time
My kids don't adore reading the way their mother does, but they seem to enjoy it more when it's a family activity instead of a parental command. You may want to choose a read-aloud, or simply have each individual read their own books.
9. Allow for boredom 
Contrary to popular household belief, you are not Entertainer-in-Chief. While it's good to provide opportunities for kids to be active and productive, don't fall into the trap of over-scheduling their lives. Sometimes the best way to free kids from a screen habit is to simply take screens away and leave kids to their own (un-electronic) devices.
10. Teach stillness
We need to train our kids that it's okay to be still. To sit quietly and look out the window in the car, instead of expecting to watch a movie on the vehicle's DVD player. To sit on the couch and spend a quiet fifteen minutes simply thinking. To listen to music for a while and let your imagination create a story or a scene or a mood. We teach these truths with our words and with our actions, so it's important to evaluate the way we spend (or misspend) our time as adults.
Breaking a screen habit can be difficult, but it's not impossible! Ask God for wisdom, get the whole family on board, and then get started making room in your schedule (and your heart!) for better things.
As you can see, our family is just beginning to break our screen habit. Have you had this problem in your family? If so, what measures have you taken to solve it?
---
If you're looking for super-practical strategies for taking control of screen-time check out Screen Sense! As part of this training, you'll receive…
Tools and resources you can use right away to help you implement your new screen-time plan!
Lifetime access to the 100-minute video presentation (recorded live)
Lifetime access to the complete printable Screen Sense Parent Toolkit.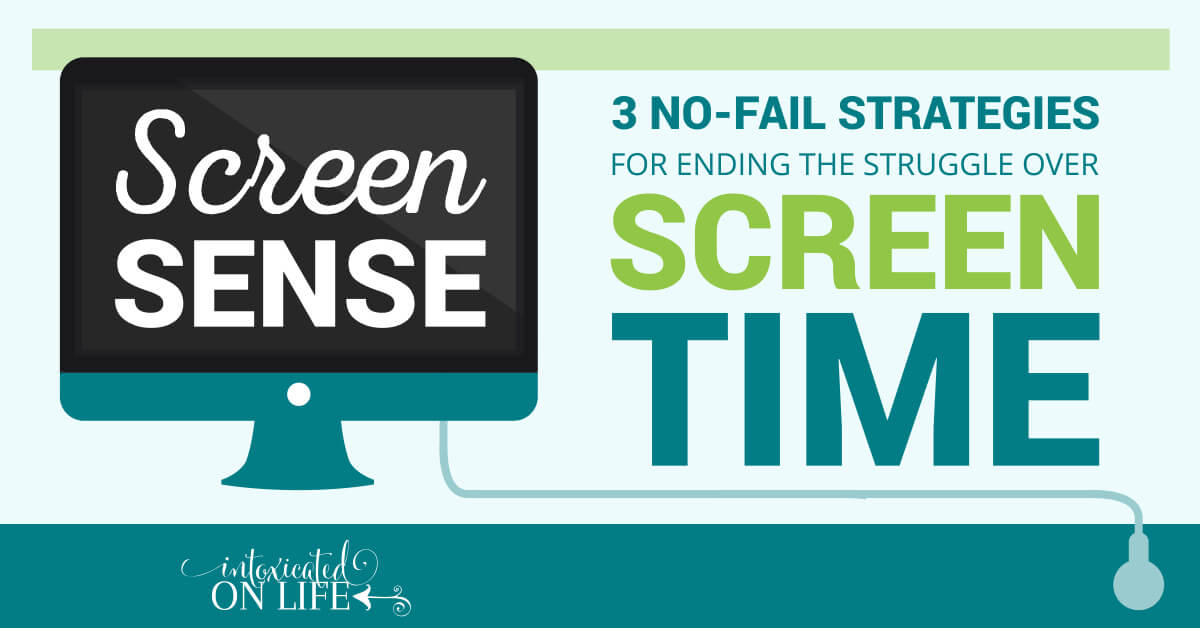 SaveSaveSaveSaveSaveSave
SaveSave