There was a time in life when the word "catechism" would have only invoked a look of confusion on my face.
Shortly after my look of confusion, I would have struck by a feeling of profound boredom.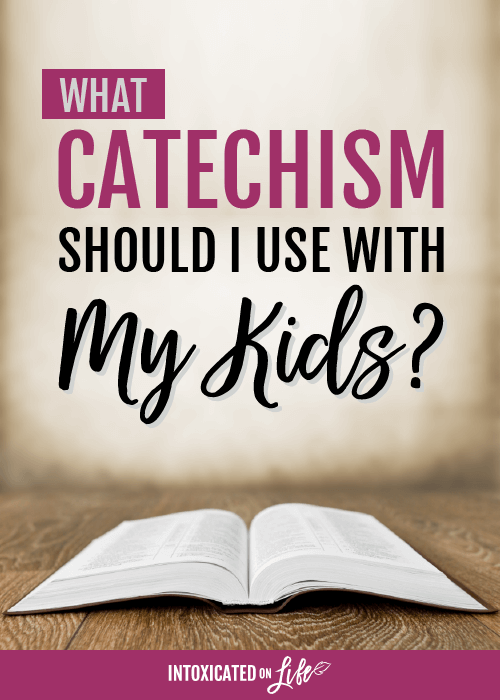 But nowadays I use a catechism with my own kids to teach them about truths of the Christian faith. Why the change?
Since becoming a parent—and since I really started to study the tried-and-true methods of teaching children—I have come to understand that a catechism is a wonderful method of giving kids a map of the Bible.
But when looking for a catechism for your kids, what should you keep in mind?
4 Questions to Ask When Choosing a Catechism
1. What matches your beliefs? – Do you come from a more baptist tradition? Presbyterian? Wesleyan? It is important to choose a catechism that reflects your own beliefs. (Of course, if you find minor disagreements, you can always make changes to something.)
2. Does your church actively promote a catechism? – Some congregations and denominations actively use a specific catechism in Sunday School programs or during corporate worship. Consider using the one your church uses at home.
3. How old are your kids? – Some catechisms were written for adults, others for older kids, others for very young children. Choose something well-suited for your child's age.
4. Are there any support materials for the catechism you want? – When choosing something for your family, ask how you want to teach your kids. Do want songs that help your kids to memorize the catechism? Lessons to use for a home Bible study? Other crafts and/or activities?
Below are some popular Protestant catechisms from which to choose.
Popular Catechisms for Younger Kids
Small Children's Catechism – Published recently by Chris Schlect, Fellow of History at St. Andrew's College, this catechism is for the youngest of kids, written from a Reformed perspective.
Catechism for Young Children (or the modern First Catechism version) – Originally published in 1840 by Joseph P. Engles, this catechism is as an introduction to the Westminster Shorter Catechism (Reformed perspective).
The Catechism for Young People – Written recently by Pastor Stephen Hildebrandt (from a Reformed perspective) and made popular by the Songs for Saplings music.
A Catechism for Boys and Girls – Written in 1798 by Richard Cecil for young children in Baptist churches
Popular Catechisms for Older Kids
The Westminster Shorter Catechism (or this Modern English Version) – Written in 1646 and 1647 by the Westminster Assembly in London (largely Presbyterian and Reformed)
Heidelberg Catechism – A Reformed catechism written in 1563 in Heidelberg (present day Germany)
Luther's Smaller Catechism – Published in 1529 by Martin Luther
The Baptist Catechism (or this one modified by John Piper) – Written in 1813 by churches part of the Charleston Association (now called the Southern Baptist Convention)
The Catechism of the Methodist Episcopal Church – Written in 1852 for churches in the Wesleyan or Methodist traditions
New City Catechism – Published by Tim Keller, useful for churches in a broad Reformed tradition (Baptist or Presbyterian)—also has a shorter version for younger children
What catechism do you use with your family? Am I missing any Protestant catechisms that are widely used?