These Coconut and Chocolate Macaroons are a delicious treat to spoil the family (and your friends!). They are grain-free AND sugar-free, but you can't even tell because they are so tasty! The coconut and chocolate lovers in your life are going to love you when you bake these Coconut and Chocolate Macaroons!
Looking for gluten-free recipes and resources? This Everything Gluten Free page is a library of everything gluten free we've worked on.
Christmas cookies mean Christmas baking—and for many years my fondest baking memories were of my three sisters and I after we had married and moved away from home.
My dad, and most of our husbands, were deer hunters. None of us, especially mom, were much for shopping the crowded malls and stores along with other "deer-hunting widows." Instead, someone had the idea to turn that weekend into a 3-day Christmas baking fest.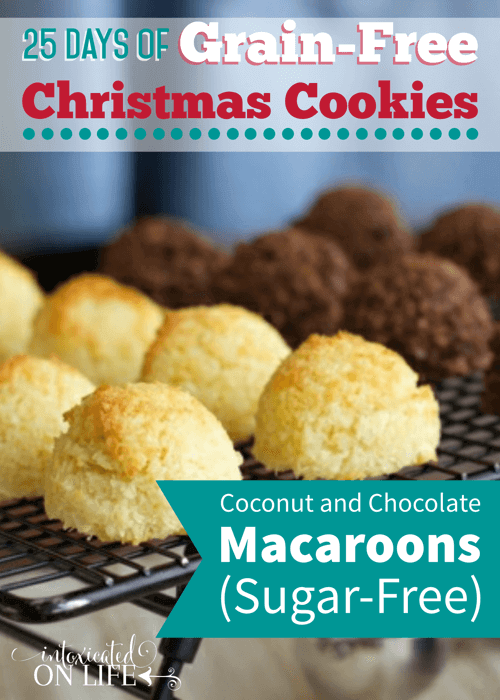 Somehow we always ended up at doing our baking at mom's house. We'd descend with mixers, bags of ingredients, and our list of favorite Christmas recipes along with new ones we wanted to try. Mom's kitchen temporarily turned into a small scale disaster area, but she didn't seem to mind. I think it was the nostalgia of all of us baking together again in the same kitchen we'd grown up in.
We'd make multiple batches of each recipe so that each family could take a variety of Christmas goodies home and frozen for coming holiday get-togethers that stretched from Thanksgiving to New Years. One year our cousin joined us which meant six families to bake for. We were lining tables up in the porch to hold all our Christmas treats that year!
And it never failed that one or more of us forgot a needed ingredient, or we had a batch flop and ran out of a particular item. It was a good thing mom and dad only lived four miles from town. By the end of the day even the grocery store clerks in our small town knew we were baking!
Then gradually, food allergies and the desire to "cut back" on Christmas sweets began. We traded heaps of gluten and sugar filled cookies and candy into delicious and healthier treats we could all enjoy.
One of my favorite recipes is Coconut and Chocolate Macaroon Cookies. Check out other favorite recipes in The Sweeter Side of Candida Cookbook.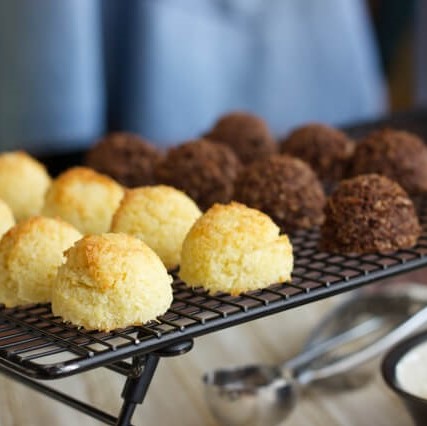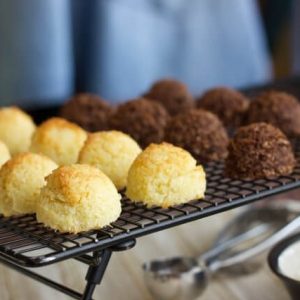 Print
Coconut and Chocolate Macaroons
These delightful coconut and chocolate macaroons are perfect for Christmas! And they taste so good no one will know that they're grain-free and sugar-free.
Ingredients
3

cup

unsweetened coconut flakes

make sure you use unsweetened flakes or the recipe won't be sugar-free

1/4

cup

plus 2 Tbs. warm water

6

tablespoons

coconut oil

1/4 cup plus 2 tablespoons

Stevia

to taste (we like to use liquid stevia for this recipe - about 3 droppers full)

3

eggs

beaten

1/3

cup

raw cacao powder

optional

Vanilla

almond, or other extract of your choosing, optional
Instructions
Preheat oven to 400 degrees.

In a large bowl, combine the coconut flakes with the warm water and melted oil. Stir well, completely saturating the coconut flakes.

In a small bowl combine the eggs with the stevia and mix thoroughly. Pour the egg mixture into coconut flake mixture and stir well.

If you want to make chocolate cookies, split the dough into two even parts and add the cacao to one of them. Mix well. You may want to add more stevia as cacao is bitter.

With a small scoop, drop each cookie onto an ungreased cookie sheet, or baking stone. We alternately flatten them a bit with our fingers or just leave them in the ball shape.

Bake for 12-15 minutes.

Let the cookies cool before removing from the pan. These freeze well. (We freeze ours in gallon zipper bags and eat them straight from the freezer.)
Nutrition
Calories:
111
kcal
|
Carbohydrates:
3
g
|
Protein:
2
g
|
Fat:
11
g
|
Saturated Fat:
9
g
|
Cholesterol:
20
mg
|
Sodium:
12
mg
|
Potassium:
83
mg
|
Fiber:
2
g
|
Sugar:
1
g
|
Vitamin A:
30
IU
|
Vitamin C:
1
mg
|
Calcium:
7
mg
|
Iron:
1
mg
If you love these Coconut and Chocolate Macaroons:
25 Days of Grain-Free Christmas Cookies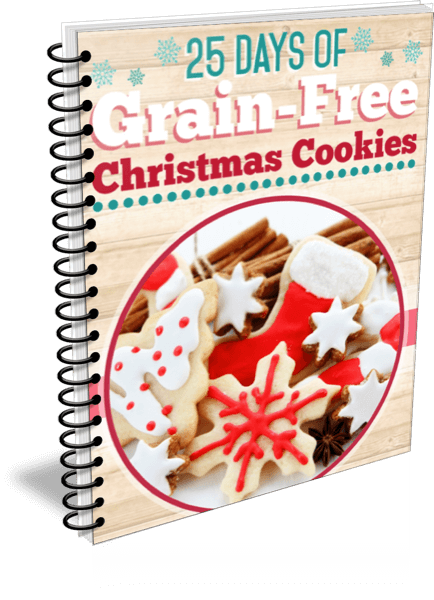 Christmas and cookies go hand-in-hand, but most traditional cookie recipes use wheat flour and other grains. If you are grain-free, or you are looking to cut back on the grains you eat, this cookbook gives you 25 amazing cookie recipes to continue to fill your home with the pleasant traditional tastes and aromas.
Of course, you can use these cookie recipes year round! Your family is going to love having these healthy, delicious alternatives.

---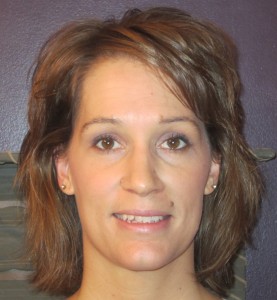 Paula is a homeschooling mom of five. Several family health issues involving Lyme Disease, food allergies, and candida has created a passion to write about whole food, whole living, and whole faith over at, where else but…Whole Intentions. You can touch base with her on Pinterest, Facebook, Twitter, and Google+.