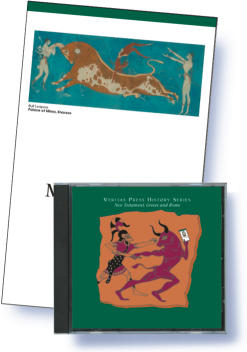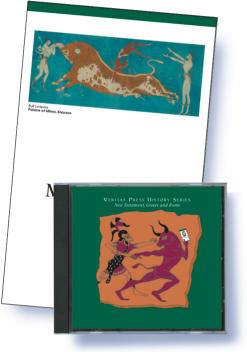 For the 2011-2012 school year we used Veritas Press' online self-paced history course. This is a fun history curriculum. Bradley completed the New Testament, Greece, and Rome course.
During the prior year we finished Veritas Press' Old Testament and Ancient Egypt history course, but we used their standard homeschool curriculum which I taught. Bradley loved the Old Testament and Ancient Egypt history, so I wasn't sure I wanted to make a change, but as I stated in "Planning the School Year" I knew I had to make some changes for this year. We decided that despite the extra cost we'd give it a try for this year.
History was Bradley's favorite subject: it beat all other subjects by a LONG shot. He would often ask to do more than one lesson a day and frequently asked to do lessons on weekends. There were many times he would go back a complete prior lessons or part of a lesson (especially the games) because he enjoyed them so much.
There are 32 units in each history course. Each unit corresponds with one timeline card and each timeline card correlates with a major historical event. A unit will take a week assuming the student completes 5 lessons a week and so lasts for 32 weeks (about a school year). The student has access to the online course for one calendar year.
In addition to the online course, which costs $199, you also need to purchase the timeline cards, which cost $19.95 new on the Veritas Press website. There are also optional historical literature books you can purchase or you can probably find many of them at a local library. 
Pros
Just like Veritas Press' traditional homeschool history curriculum, their interactive history curriculum is comprehensive. The lessons are in-depth and descriptive.
On the videos, the teachers are dressed in period costumes, and along with the videos and games, provide an interactive and fun experience.
There is built-in review via games, activities, and questions throughout the course.
The course has both graded weekly worksheets and weekly tests. The tests focus on new material, but also include test questions over prior units.
A fun song is part of the course and repeated with pictures throughout the entire course to help kids remember the timeline of events.
Optional historical fiction books add depth and engage students in the time period they are learning about. The online course has 2 levels of literature for students who are a a lower elementary level and those at an upper elementary level. I appreciated that the course indicated at the end of each lesson what the student is to read. (Bradley read and enjoyed 4 of the historical fiction books: The Trojan Horse, Pompeii: Buried Alive, D'Aulaires' Book of Greek Myths, and Detectives in Togas.)
One feature of the self-paced course I really appreciated is that it keeps track of the students' grades.
This course freed me up. There was almost nothing for me to do other than make sure we had any historical fiction books I wanted Bradley to read. Even though I didn't HAVE to do anything with the course, I must admit I enjoyed listening in on some of the lesson and even learned a bit from them too!
Cons
There is really only one drawback of this curriculum that I can think of: it's pricey! Spending this kind of money on one course for one child I know is cost prohibitive for many homeschool families. Except for the history cards you can't use this for more than one child. If you have more than one child that you would like to take a self-paced history course, Veritas Press does offer a very generous family discount of 50% off for each sibling registering for a self-paced course.
I'd love to see more self paced courses like this developed by Veritas Press. This is a quality course! Bradley is already getting excited for next school years self-paced history course: Middle Ages, Renaissance & Reformation!
Now that school is winding down, I'd love to hear what has been both you and your child's favorite curriculum of this past school year!