If you or someone you know are a fan of peanut butter, these copycat keto, gluten-free tagalong cookies are sure to be a hit. Homemade cookies never live a long life in my house. But when you pair chocolate with peanut butter — well, you know these definitely won't last long!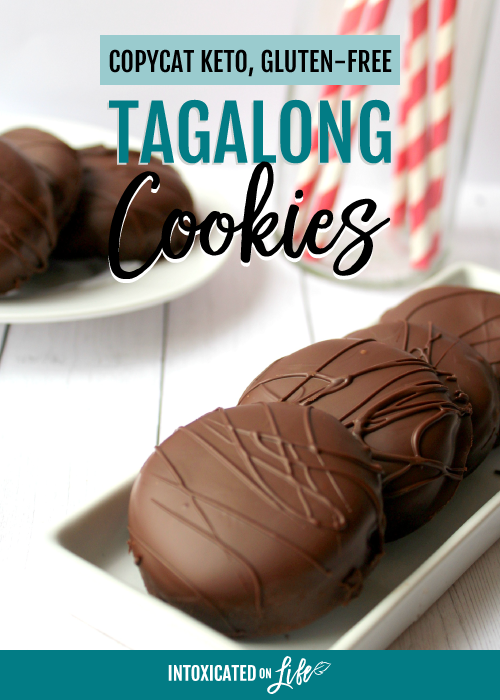 (Looking for gluten-free recipes and resources? This Everything Gluten Free page is a library of everything gluten free we've worked on.)
This recipe is fun to make from start to finish. It's a great recipe to bring some helpers along for the ride. It's not the fastest recipe in the world to throw together, but there's several fun steps your kidos can help with. My kids love rolling out the dough to cut out perfectly shaped little cookies. 
These shortbread treats bake for 25-35 minutes until there is browning around the edges. It's best to start working on the filling while the cookies are baking; This helps to ensure most of the shortbread cookies make it to the final stage of the recipe and don't get gobbled up before you finish them! 
When you're fillings done, and the chocolate coating is melted. Your cookies are ready to be dunked! This is my clan's favorite part — they all argue over whose turn it is to help mama coat the gluten-free tagalong cookies in chocolate. 
This recipe makes about 36 cookies, but I think you might find a few are missing before your baking is done (especially if you have hungry little munchkins in the house).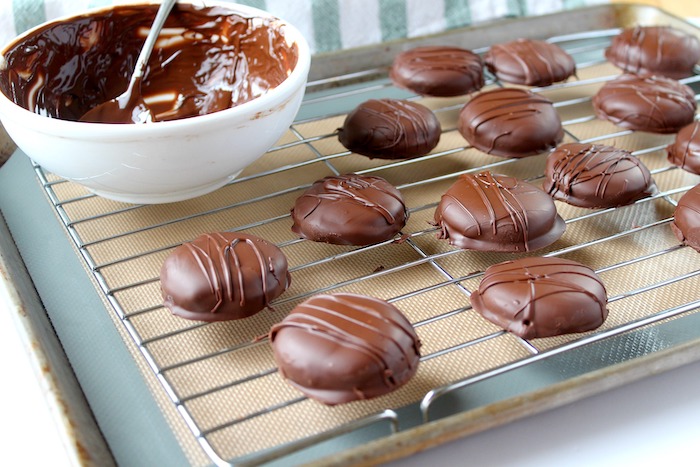 Dark Chocolate in Keto Gluten-Free Tagalong Cookies
Yes, it is important to be mindful of how much candy you consume, but did you know dark chocolate may offer health benefits? Dark chocolate contains a chemical called flavanol, which produces may help with lowering blood pressure. 
Something to keep in mind when buying your chocolate is the percentage of dark chocolate in the bar. 70% dark chocolate and higher is likely to contain more flavanols, but if you choose too high of a percentage your chocolate coating might have a bitter flavor. 
Dark chocolate also contains an assortment of minerals, such as:
Copper

Iron

Zinc

Magnesium

Phosphorus 
While I don't recommend replacing your daily multivitamin with dark chocolate, it's definitely an ingredient you don't have to feel guilty about!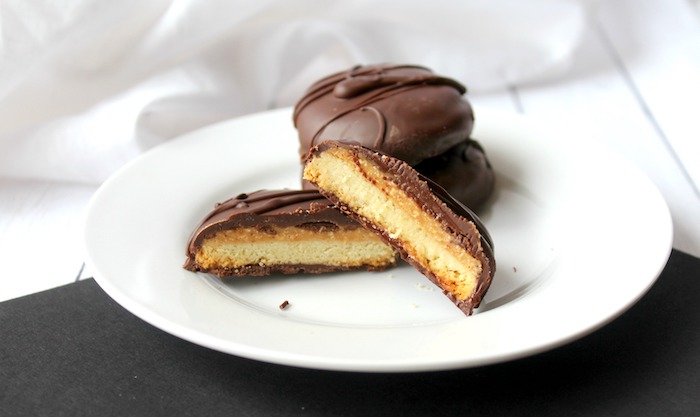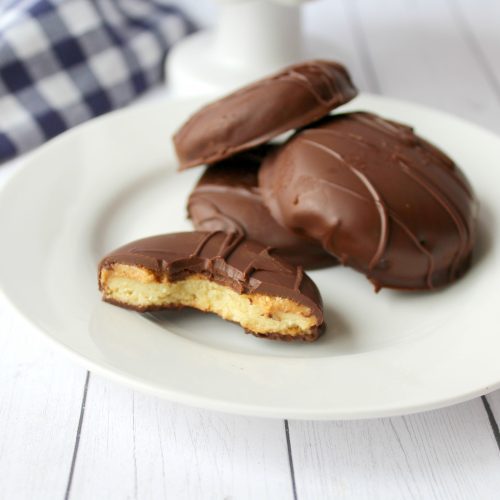 Print
Copycat Keto, Gluten-Free Tagalong Cookies
Ingredients
Shortbread Cookies:
2

cups

Almond Flour

1/3

cup

Stevia in the Raw or Swerve Sweetener

½

teaspoon

salt

1

teaspoon

baking powder

1

large egg

2

tablespoon

melted butter

1

teaspoon

vanilla extract
Peanut Butter Topping:
1

cup

Peanut Butter

Creamy is best

2

tablespoon

melted butter

¼

cup

Swerve confectioners sugar
Chocolate Cookie Coating
8

ounces

sugar-free dark chocolate

1

tablespoon

coconut oil
Instructions
Shortbread Cookies:
Line cookie sheets with parchment paper and preheat oven to 300F degrees.

In a large mixing bowl mix together flour, salt, and baking powder add in melted butter, vanilla extract and egg until mixture is combined.

On a piece of parchment paper roll out dough between 2 pieces of parchment paper to about ¼ inch thickness. Cut cookies into circles using a 2 inch cookie cutter (the top of a champagne glass is about the perfect size).

Lift cookies up carefully with a spatula and transfer to baking sheets. You should get about 36 cookies.

Bakes 25-35 minutes until edges are browning around edges. Let cool completely.
Peanut Butter Filling:
In a small microwave safe bowl melt butter and peanut butter together at 30 second increments until melted and smooth.

Add confectioners sugar to the peanut butter until fully combined.

Spread about 1 tsp on the top of each shortbread cookie.

Freeze cookies until peanut mixture is firm.
Chocolate Coating:
In a small microwave safe bowl add chocolate chips and coconut oil. Heat in 30-second increments until fully smooth.

Take cookies one at a time and dip into melted chocolate. Using a fork to lift up the cookie. Tap fork against the side of the bowl to remove excess chocolate. Transfer cookies to a lined cookie sheet.

Repeat with remaining cookies, once done freeze cookies until chocolate coating is fully set.
Nutrition
Serving:
1
cookie
|
Calories:
123
kcal
|
Carbohydrates:
7
g
|
Protein:
3
g
|
Fat:
10
g
|
Saturated Fat:
3
g
|
Cholesterol:
8
mg
|
Sodium:
78
mg
|
Potassium:
59
mg
|
Fiber:
2
g
|
Sugar:
1
g
|
Vitamin A:
45
IU
|
Calcium:
22
mg
|
Iron:
1
mg

If you like these Keto, Gluten Free Tagalong Cookies…
If you love these keto, gluten free tagalong cookies as much as our family does, you'll definitely want to check out some of these other cookies that are family faves too!
Samoa cookies are my all time fave Girl Scout cookie. These cookie bars take me back to a time when….I ate Girl Scout cookies with abandon! So nice to have guilt-free treat.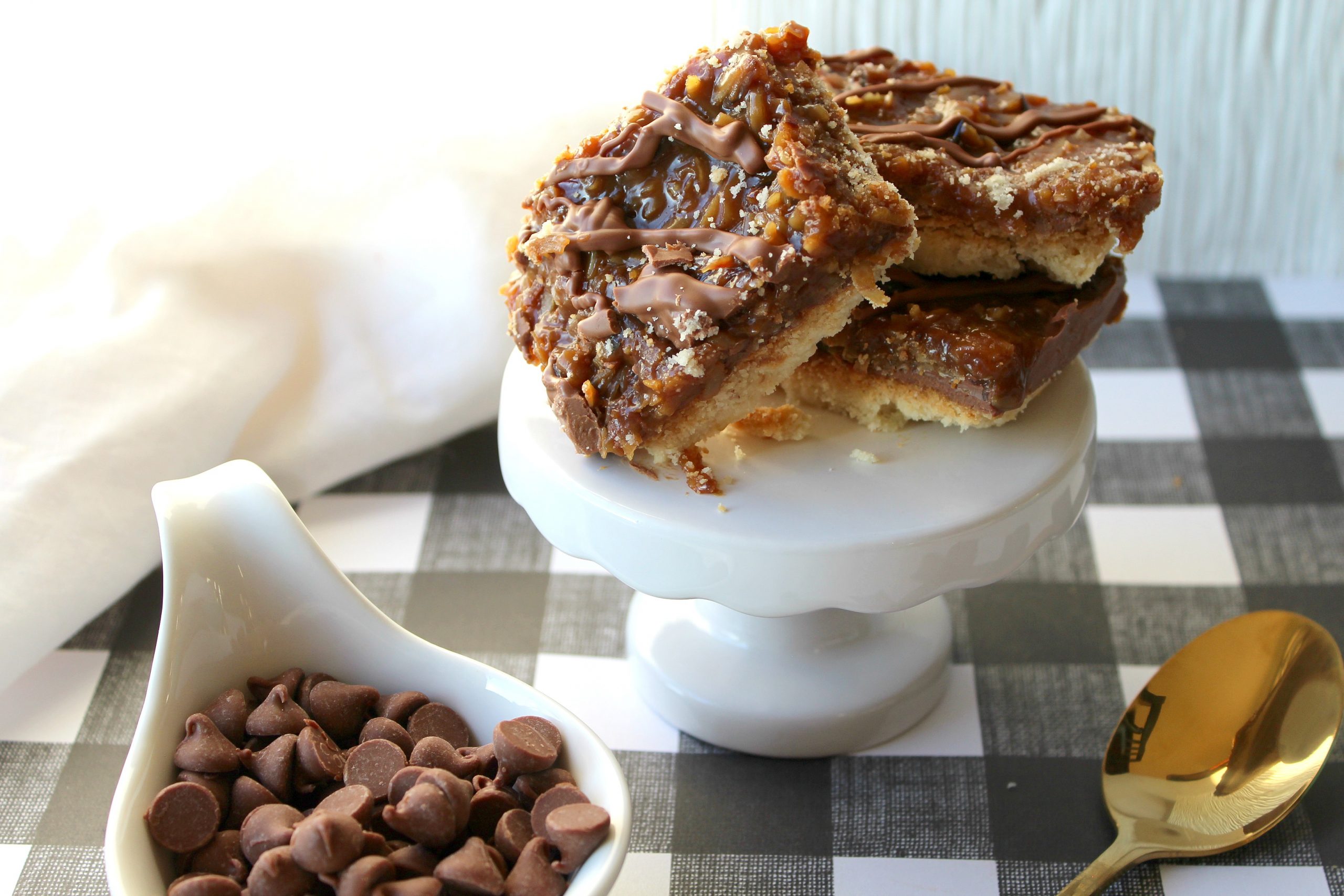 Thin mints are another classic Girl Scout favorite. You'll love the minty chocolaty deliciousness in these cookies!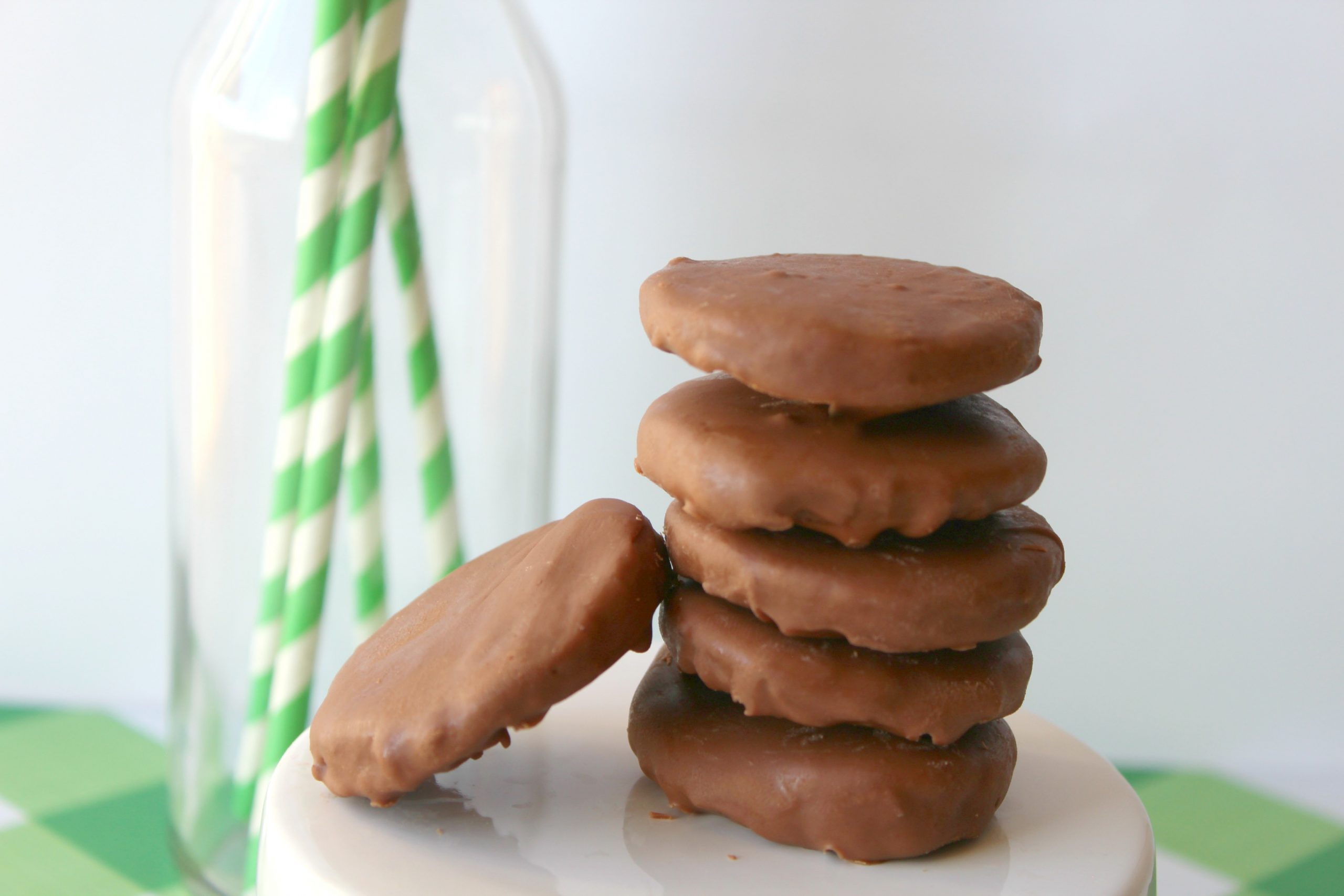 Baking was one of my favorite past times from the time I was about 9 year old. I loved baking cakes and cookies and tarts in the kitchen. And snickerdoodles were one of my first cookies I enjoyed making. You really can't go wrong with these cinnamon sugar delights!