This homemade French Toast lip scrub recipe is a super tasty way to spoil your lips with some wonderful self-care.
Using lip scrubs are a fantastic way to keep your lips feeling smooth. Not only does this mean more kissable lips but it also allows lipstick, liners, and glosses to last longer on your lips.
A lip scrub works like other body scrubs: it exfoliates your lips, getting rid of dead skin cells, helping your lips to retain their moister.
This recipe will yield ¼ cup of French Toast lip scrub. It is enough to fill up 4 small lip balm containers. It goes FAST—because it tastes SO good!

Homemade French Toast Lip Scrub Recipe
Ingredients
4 Tablespoons almond oil
6 Tablespoons granulated sugar
1 Tablespoon maple syrup
1 teaspoon cinnamon
1/8 teaspoon nutmeg
1 teaspoon vanilla extract
Optional: 2 drops Vitamin E oil
Directions
In a small mixing bowl, add all of the ingredients and stir until well incorporated.
Transfer to an airtight lip container(s) (like these) and store up to 6 months. This lip scrub won't last that long as you will want to keep licking it off your lips!
ENJOY!!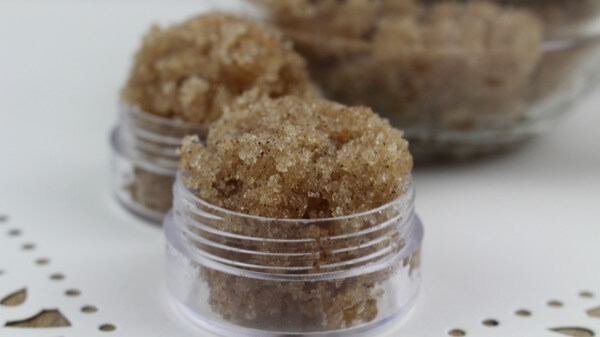 More DIY Beauty Recipes: