"Ahhh…it burns!" my husband cried. He writhed around in pain after applying the lavender oil.
I wondered if he was just being melodramatic. (He's been known to do that.) I had just used this oil on my 3-year-old a few days ago without any problems. Surely, lavender, often considered a mild oil, wouldn't cause such irritation on a grown man. Would it?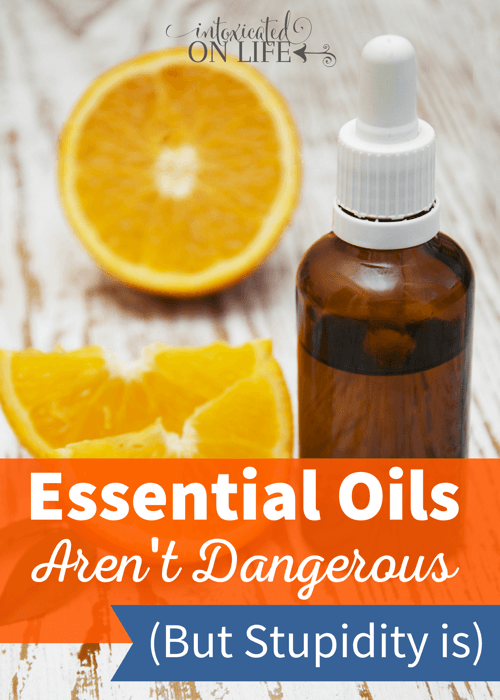 Sure enough, it did.
His skin continued to burn for a couple of hours, despite flushing the area with cool water (for reference, we learned later that it's best to flush the area with a carrier oil instead of water. We didn't know that at the time though) . What went wrong?
10 Rules for Safely Using Essential Oils
To this day, I claim essential oils aren't dangerous. Stupidity, on the other hand, is.
We weren't being smart with essential oils and taking proper precautions. We made too many assumptions when we should have been treating the oil we were using with more respect.
Essential oils are a very strong chemical compounds. As such, you need be smart with how you use them. You wouldn't use a prescription from your doctor without reading on proper usage, would you?
1. Proper dosage and dilution are essential!
This is one place I went wrong in the above true story. I assumed that lavender was fine to use on the skin without dilution. Despite the fact that some sources say that lavender can be used "neat" (i.e. undiluted), no oils should be used on skin without diluting in a carrier oil.
Dilute oils unless a professional tells you not to. And even if a professional tells you to use a particular oil neat, try it on a very tiny spot in case you have a reaction to it. People can have different reactions to essential oils, so it's always best to be on the safe side!
Some oils are more effective when inhaled or used in a compress. Be sure to do your research and find out the proper dosage however you are using your oils! 
2. Use quality oils.
This is the section where you expect me to tell you to only use XYZ oil because they're the only pure oil, right? Nope. Not going there. I'm not one who believes there is only one pure oil on the market. 
I do, however, believe there are some oils that are not quality and you need to be careful. Given the fact that essential oils are very concentrated and powerful, you don't want to use oils that are contaminated or from plants that were grown with pesticides. Yuck!
I don't believe there is one company that has the corner market on quality oils. Do your research and decide for yourself.
Learn more about how I got started with oils, and my favorite brand in this post.
3. Consider the age and status of the person the oils are being applied to.
Are you a mama trying to get pregnant? Or maybe you're pregnant or breastfeeding or wanting to use oils on your infant or children. These are all special classes of individuals requiring extra research.
Before you use oils on yourself or others falling in these categories, do some extra research. Don't assume you can use oils the same way with everyone, take extra precautions!
4. Beware of skin sensitivity and irritation.
If you're placing oils on the skin, be sure you use a skin patch test. As our above story illustrated not everyone reacts to oils the same way! Our 3-year-old had no problems with an oil that my husband reacted very fiercely to.
Use a skin patch test even for oils that aren't considered "hot." Just place a very little bit of oil on the skin and see if there is any sensitivity or irritation. If it is, you may need to consider a different application (possibly use of a diffuser) or diluting the oil even further.
5. Watch out for phototoxicity!
Essential oils can make your skin more sensitive to the sun? Whoda thunk? It's true. Below are a list of oils that are known to be phototoxic. If you use these oils, just be sure to protect your skin from the sun (or tanning booth) for at least 12 hours after using them. Below is a partial list of oils that are known to be phototoxic.
Angelica root
Bergamot oil
Cassia
Cumin
Dill
Grapefruit
Ginger
Lemon
Lime
Tagetes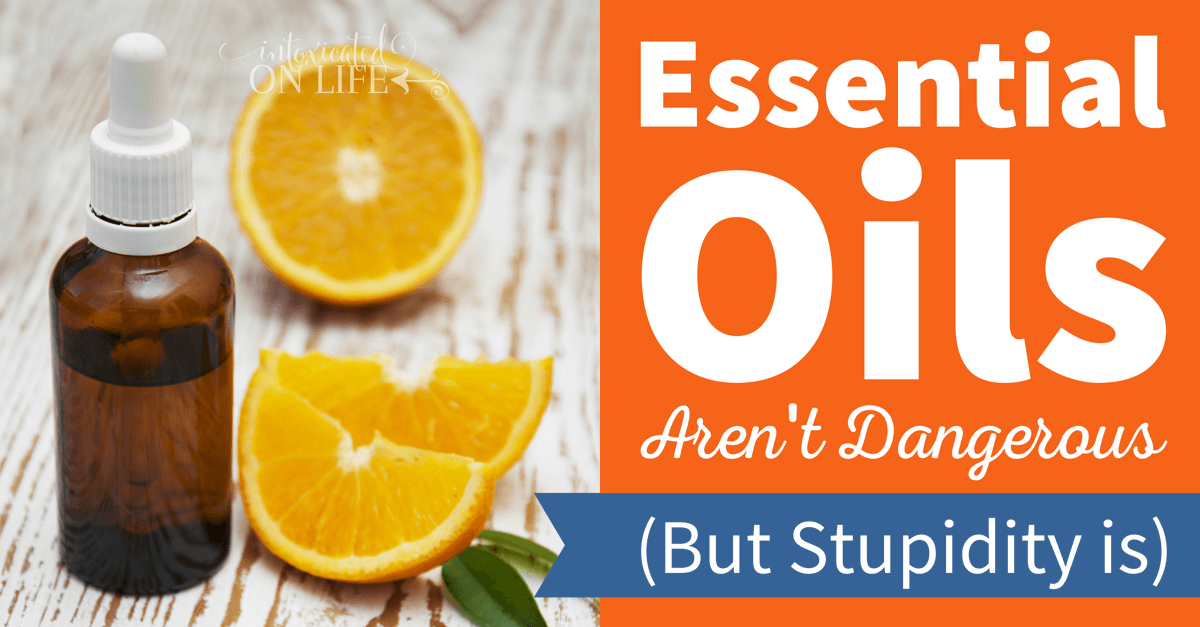 6. Keep oils away from flames.
Essential oils are highly flammable. Don't use them around candles, fires, lighters, or pretty much anything that might cause flames. Nuff' said.
7. Talk to your doctor about interactions.
There isn't a lot of published information on drug interactions. If you're taking regular medications or supplements, you should talk to your doctor about possible interactions with your essential oils.
If you have any major health issues, it's also a good idea to talk to your doctor. Better to be safe than sorry!
8. Keep oils away from children and animals.
Don't leave your oils sitting where your kids or animals can get into them. Oils aren't a playtoy, as you can see from this list. Learn more about using essential oils with dogs here.
9. Keep Oils away from all body orifices
Don't try to get creative with your oils. Be sure to keep oils away from your eyes, ears, mouth…and any other body openings.
10.  Don't use a new oil without doing research.
Essential oils aren't something to mess around with. Please don't use them haphazardly.
I've read numerous articles about individuals who have been severely hurt by essential oils. Does this mean oils are dangerous? No. You need to use your smarts when dealing with oils and follow safety guidelines.
Resources for Your Essential Oil Research
Of course there are plenty of online sources, but I don't think anything can beat a good reference books. Below are a few books you may want to snag if you're serious about researching essential oils.
Free Download: Mom's Essential Oil Cheat Sheet
Would you like a resource to help you learn to use essential oils with your family? Download this free 3-page printable:
Basic guidelines for using essential oils around kids
A list of safe, kid-friendly oils essential oils
Helpful essential oil recipes
Click the link or image below to download the 3-page Mom's Essential Oil Cheat Sheet. I'll follow it up with more resources and free printables to help you on your essential oil journey. Grab your copy now!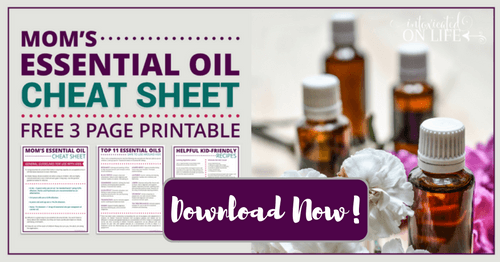 *FDA disclaimer: "These statements have not been evaluated by the Food and Drug Administration. This product is not intended to diagnose, treat, cure, or prevent disease."