Fall weather has rolled in and my kids are loving the outside time. They love being able to play outside without sweating to death or the sun beating down on them which ultimately sends them inside for relief.
While I use formal Spelling curriculum in their younger years, sometimes it's nice to break our routine and do some seasonal spelling practice. It helps break the monotony of our studies and allows us to do a fun Fall/Autumn unit when we want/need a change of pace.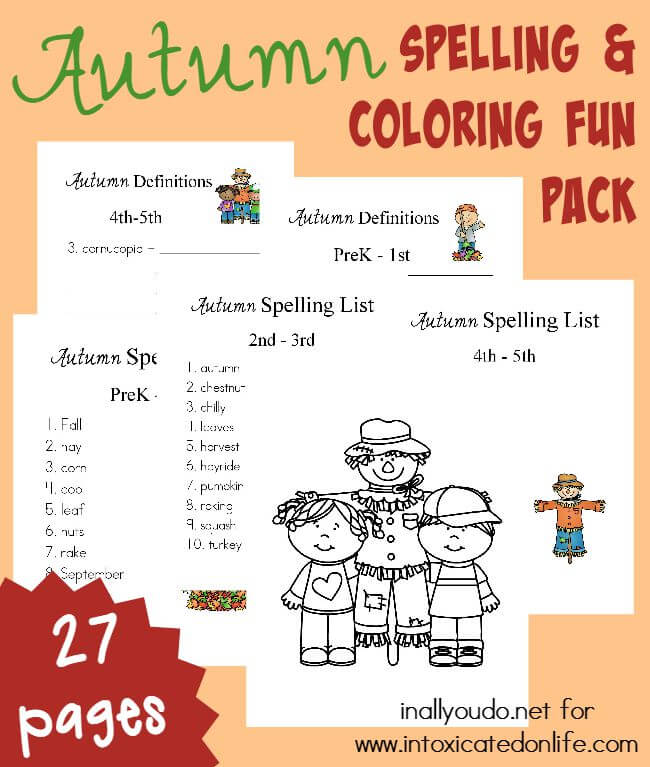 So this year I created some fun Autumn spelling and coloring printables you can use throughout the season. This pack is full of learning activities, such as spelling lists & test sheets (PreK-1st, 2nd-3rd & 4th-5th) and sheets to write the definitions of each word in their lists. It also includes some fun Fall/Autumn coloring sheets.
To make a fun mini Autumn unit, try these Harvest Time puzzles, Harvest Time writing activities, Harvest Time coloring pages and these Harvest Time Activity Placemats just perfect for meal times.
Included in this Autumn pack:
27 pages of printables
Spelling lists (K-1, 2-3, 4-5)
Spelling test sheets
Definition sheets to use when defining the spelling words
Coloring pages
What's nice about these mini units is the kids don't think they're doing real school work and we're sneaking in some learning time while they're having fun! Pair it with this Autumn Copywork pack and you've got it made!
To download your freebie, simply click the link below.