To many people, the question is nonsensical: "Should my family attend a gay wedding?" because the answer is simple: "RSVP the same way you would to any wedding."
But for the Christian who believes God is opposed to homosexual relationships, the answered isn't always as cut and dry—especially when the wedding invite is from someone we especially love.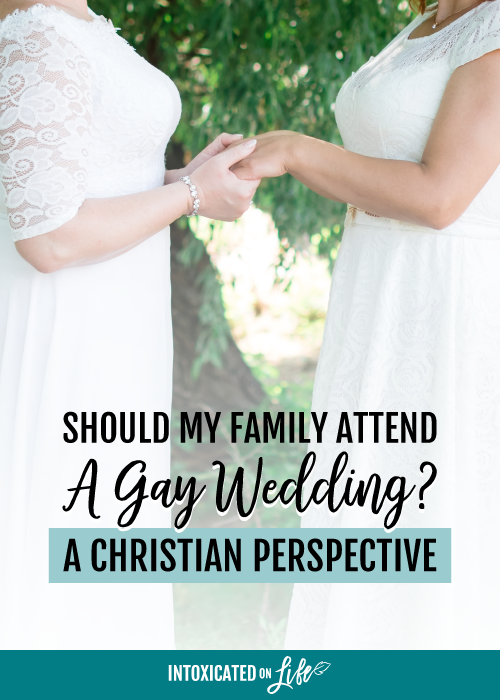 There is by no means any consensus among conservative Christians about how to handle an invitation to a same-sex wedding.
Much of it comes down to two questions…
In your own conscience, does attending a wedding ceremony imply that you are blessing and approving of the union?
In your conversations with the same-sex couple, are they clear on what your attendance or non-attendance signifies to you?
We asked two biblical counselors about how they would approach this issue. While they both landed on a similar stance, they each offered us unique advice about how to handle the RSVP.
A Matter of Conscience: What is a Wedding?
Of all the married people in the Bible, never is an actual wedding ceremony described or prescribed. We simply aren't told what weddings looked like or how we should perform them. The closest we get is brief mention of some pre- and post-wedding fanfare and customs (Song of Songs 3:6-11; 8:5-7; Matthew 25:1-13; John 2:1-12).
The Bible largely assumes the value of wedding ceremonies because of what marriage is: a solemn covenant between a man and a woman pledging a lifelong bond. The wedding is where this bond is publicly witnessed and declared. But no specific type of ceremony is prescribed.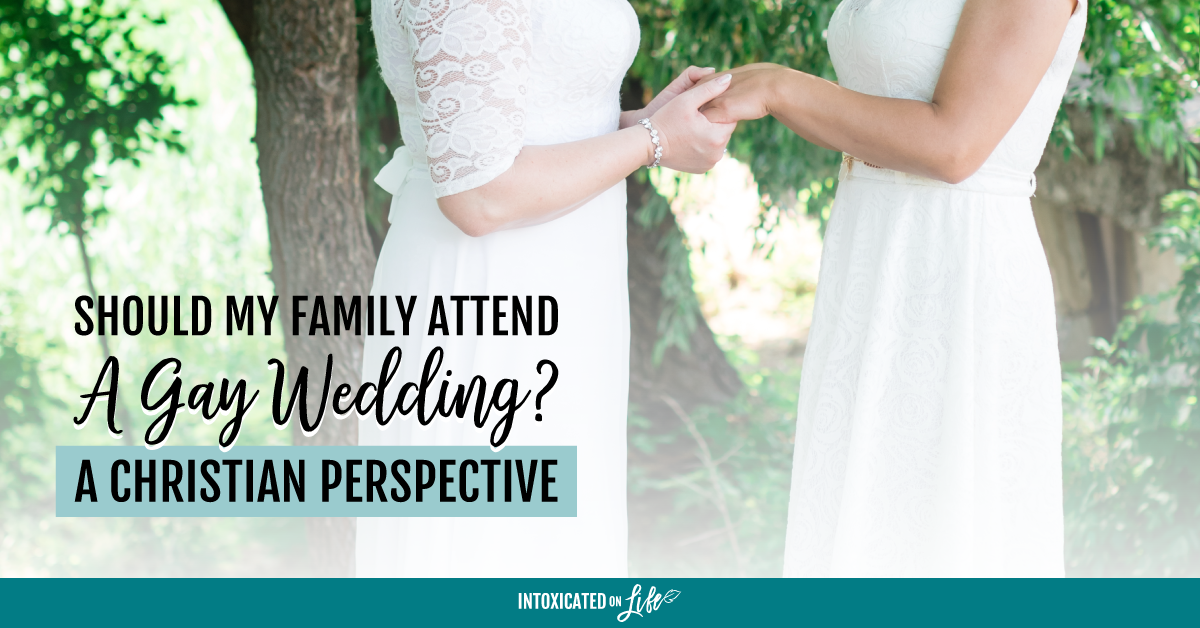 A few questions for your conscience to ponder…
In many wedding ceremonies today, the officiant often involves the attendees through some kind of "community vow of support," an "affirmation of the community," or a "declaration of consent." All in attendance pledge to support the new union. Before you attend, you may want to ask yourself, "Am I comfortable saying, 'We do' with the rest of the crowd?"
Are there any other wedding ceremonies you would not attend because you don't want others to have the impression that you support the union? For instance, would you attend the wedding of a man who committed adultery and divorced his wife to marry his mistress? Would you attend the wedding of a man and a child bride? Or how about a wedding that cemented a polyamorous relationship? If not, why not?
How you answer these questions may help your conscience come to a firmer conclusion.
This was the question that Joe Dallas' friends faced—but probably not the way you might expect. Joe spent years living as a homosexual man, but after he renounced homosexuality and got engaged to Renee (to whom he has now been married to for over 30 years), his gay friends had a decision to make. Watch what they said to him…
As you can see, attendance at the wedding is not merely a "Christian" question: it's a question of conscience for every person about what one thinks a wedding is.
The Conversation: Making Your Intentions Clear
Whether you personally think your attendance at a gay wedding gives consent to the union or not, you may be close enough to the gay couple you feel some conversation with them is warranted.
Perhaps you choose to go to the wedding. It is best to assume your attendance will come across to the couple as approval, so in order to avoid this confusion, some kind of conversation will be needed beforehand.
As Joe Dallas said in the above interview, if you're pressed to give a reason why you will not be attending, appeal to a common desire to be respected. "I would never ask you to do something you don't believe in," Dallas says. "I respect you far too much to do something which would violate your own conscience—even if it was something I felt was ok. I am asking you to show me the same respect."
Brad Hambrick, Pastor of Counseling at The Summit Church in Durham, North Carolina, and author of Do Ask, Do Tell, Let's Talk, suggests taking several steps in turning down that invitation…
Communicate how honored you are that they value your friendship enough to invite you.
Politely decline by putting the emphasis on them and your desire not to dampen the happiness of their wedding day. Communicate to them how you know they want their wedding day to be "their day." People in attendance will be there speaking about how wonderful the wedding is and how happy they are for the couple, and the last thing you want to do is dampen that celebration, therefore it's best you don't go.
Reaffirm your desire to continue your friendship. "I can't say yes to your wedding invitation, but I would love to have you both over for dinner." Double your efforts to show love to them. I would also add: find other ways you can show love to this couple that aren't connected to the wedding ceremony. Would you be willing to send a gift or a card with an encouraging message?
No doubt, telling a good friend you won't be attending their wedding can be an awkward interaction because we live in such an either/or kind of culture where tensions are high around this subject: "Either you attend my wedding or you're rejecting who I am as a person."
Express to your friend that you believe your friendship is stronger than that kind of political nonsense. Tell them you know they are so much more than just their sexuality, and just because you disagree on this subject, this has nothing to do with how you feel about them as a person.
They are made in the image of God, and for that reason, they have your utmost love and respect.
---
For more resources on this subject, check out our full-length training for parents: Preparing Christian Kids for an LGBT World: Modeling Love, Honoring Truth, Tackling Tough Questions. This training series offers parents over and hour and a half of training material (in 5 sessions), about how to talk to your kids about homosexuality, bisexuality, and transgenderism from a Christian perspective.