I think I finally did it. I found a winner! I've been trying to make a homemade mayonnaise that tastes just like Hellmann's, or at least similar to Hellmann's.
I have tried homemade mayonnaise recipes found all over the internet far and wide and my results…well, they were less than delicious.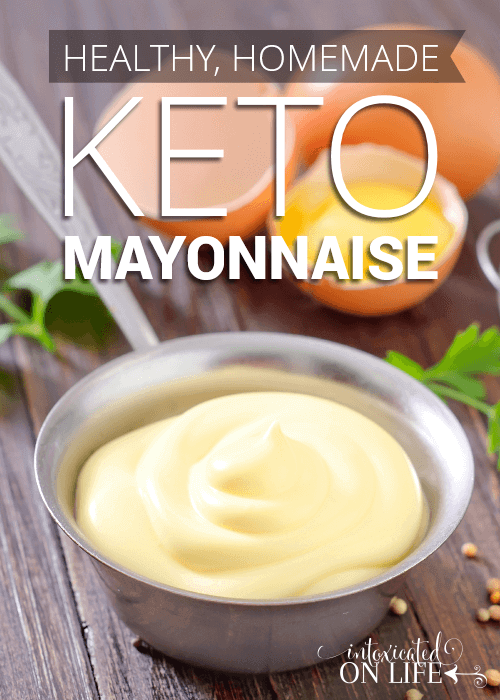 So, why not just open a jar of Hellmann's? Why bother with all of this experimentation in the kitchen?
Three reasons: Hellmann's is filled with..
soybean oil,
sugar, and
nutrient deficient factory farmed eggs.
YUCK. I don't want those nasty ingredients in my body, or my kids' bodies either! So it was important for me to figure out a successful homemade mayonnaise recipe.
The Great Mayonnaise Experiment
I tried using extra virgin olive oil. Blech. While I like olive oil in some things, I didn't like olive oil tasting mayo.
Coconut oil mayo? No thanks, who wants coconutty tasting mayo, do they? And since coconut oil is solid at room temp I don't want mayonnaise that ends up solid as a rock.
And what about bacon grease mayo? I mean, who doesn't love bacon—bacon mayonnaise sounded like a match made in heaven. I gave it a whirl. But it was entirely too greasy and just didn't taste right to me.
My seven-year-old, Bradley, didn't care for any of these recipes either, and he is a mayonnaise connoisseur.
Were we destined to go mayonnaise-less? Would we just revert to bad habits and go back to the store-bought junk?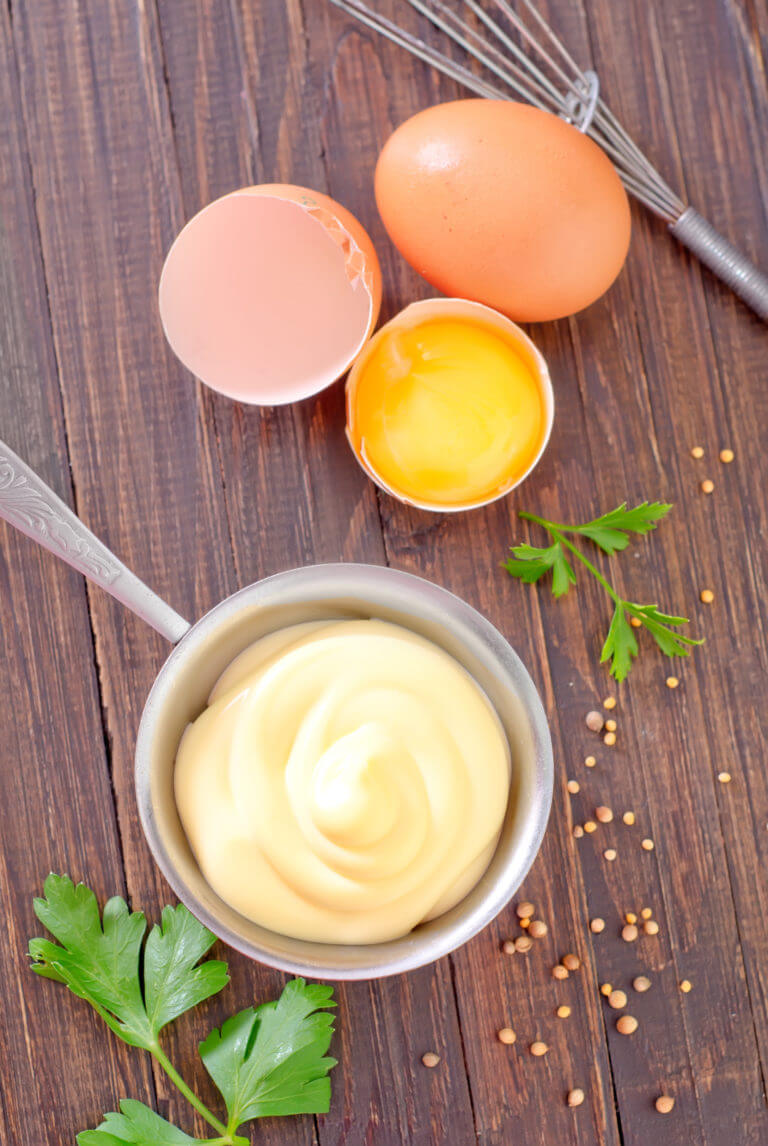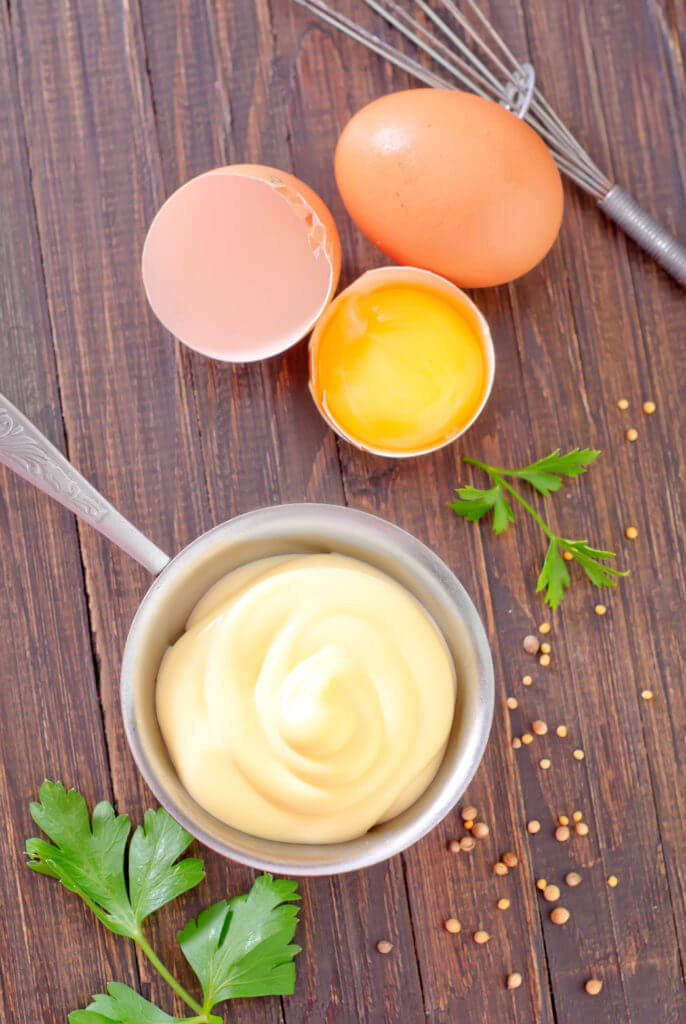 The Homemade Mayonnaise Recipe Winner!
I decided recently to try using a combo of MCT oil and lite olive oil to make mayonnaise. I decided MCT would make a good base for the mayo because it's flavorless and exceptionally healthy! (psst…did you miss my post on all the health benefits of MCT oil?).
The addition of light olive oil (or avocado oil) helps to the mixture to emulsify better than the MCT on its own without adding too much of an overtly olive oily flavor to the homemade mayonnaise recipe.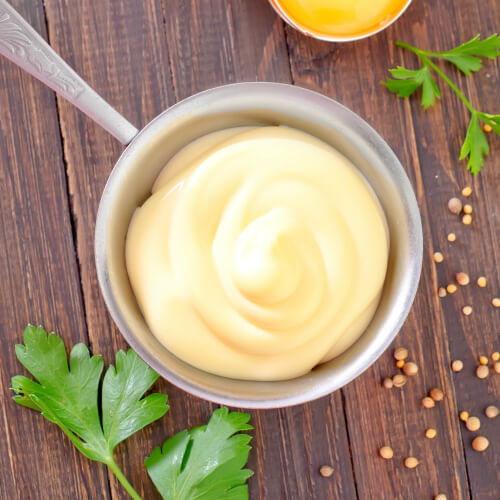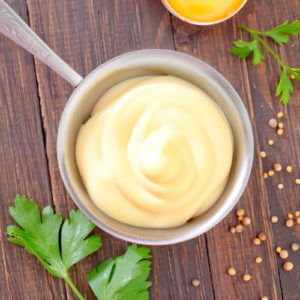 Print
Healthy Homemade Mayonnaise
If you are wanting a delicious homemade mayonnaise that tastes similar to the name-brand mayonnaises in the store, then look no further! Easily made in 15 minutes, but without the soybean oil and sugar, this recipe can please even the pickiest of mayonnaise lovers.
Instructions
Mix all of the ingredients, except for the oil, together in a food processor or stand mixer.

When well combined, begin to add the oil, very very slowly until the mixture begins to emulsify at which point you may begin to add the oil in a steady but slow stream. That's it!
Notes
If you would like to make lacto-fermented mayonnaise, which keeps for longer in the refrigerator, just add a couple teaspoons of whey and let your mayonnaise sit on the counter for a few hours before refrigerating.
If you wonder why mine is so yellow, it's because I used awesome farm fresh eggs with dark yellow yolks that I get from a very kind family at church.
Nutrition
Serving:
1
Tbs
|
Calories:
110
kcal
|
Carbohydrates:
12
g
|
Protein:
1
g
|
Fat:
1
g
|
Saturated Fat:
11
g
|
Cholesterol:
7
mg
|
Sodium:
51
mg
|
Potassium:
3
mg
|
Sugar:
1
g
|
Vitamin A:
14
IU
|
Calcium:
1
mg
|
Iron:
1
mg

The Verdict
Bradley LOVES it! He says, "It's better than store bought Mom!" After we finished making it, he devoured pieces of lettuce dipped in the homemade mayonnaise.
What does Mom think? It's good. It doesn't taste just like Hellmann's, but it's a very good substitute.
It is not quite as thick as other types of homemade mayonnaise that I've made or as thick as store bought mayo. MCT oil is a thin oil, so that makes sense. It's thick enough for our purposes though!
It certainly beats store bough mayonnaise leaps and bounds on the health front! I think we'll keep making our mayonnaise this way.
Have you ever made homemade mayonnaise before? Tell me about it in the comments below!
More Healthy Condiments and Dressings Recipes: