I created this simple Nutritious Mint Chip Breakfast Smoothie for those harried mornings when nothing is going my way. It's quick and delicious and my kids love it!
When I don't take the time to eat a nourishing breakfast, I am a hot mess by the end of the day. I believe this to be even more true for our children.
Looking for more gluten-free recipes and resources? This Everything Gluten Free page is a library of everything gluten free we've worked on.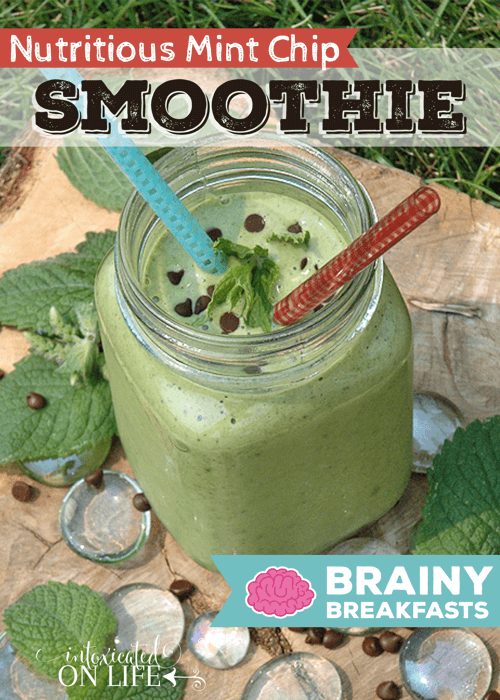 Why We Love This Nutritious Mint Chip Breakfast Smoothie
The last thing we want is our kids struggling to concentrate on schoolwork because their stomach is rumbling. Or worse, feeling as if they are going to wiggle right out of their chair from ingesting the sugary breakfast foods that line the shelves of our grocery stores.
This Nutritious Mint Chip Breakfast Smoothie recipe started out as a healthy summer popsicle and turned into one of my family's favorite ways to enjoy breakfast on the go.
Now I know what you're thinking, "Mint chip? Are you serious? I'm not giving my kids sugar for breakfast!" But I have a little secret for you. This Mint Chip Breakfast Smoothie is chocked full of healthy ingredients to start your family's day off right.
Superfoods to Fuel your Brain
With spinach, ground flaxseed, and hemp (or chia) seeds, you are setting everyone up for success right away in the morning with this minty smoothie! Add a protein punch with the Greek yogurt and the subtle sweetness of raw local honey and you've got a powerful combination of superfoods.
Your kids will think they are indulging in a sweet treat, but you will know the truth!
Let's talk about the benefits of these brain foods and some other fun ways to get them into your diet.
Ground Flaxseed
Ground flaxseed is an excellent source of fiber to keep your gastrointestinal system running smoothly. This form of soluble fiber also helps your stomach feel fuller for longer and stabilizes blood sugar levels.
Flaxseed can also help combat fatigue throughout the day. I love to use flaxseed mixed with almond meal for breading homemade chicken nuggets. It is also a great addition to muffins, oatmeal, meatloaf (in place of breadcrumbs), and energy bites!
Hemp & Chia Seeds
This nutrious mint smoothie is delicious with either one of these nutrient dense seeds. Hemp and chia seeds can be eaten whole and do not need to be ground like flax in order for you to receive their benefits.
Hemp seeds contain 4 grams of protein per tablespoon. They are considered a complete protein meaning they have a concentrated balance of proteins, essential fats, vitamins, and enzymes. These soft tiny seeds are also a more digestible protein than meat, eggs or cheese.
Hemp seeds can also eaten by those that do not tolerate nuts, lactose, gluten, or sugar well. They are a great addition to salads, yogurt, and smoothies.
Chia seeds contain 2 grams of protein per tablespoon and are packed with omega-3 fatty acid which are so important for brain development and heart health. They are easily digested and are great if you have any sensitive stomachs in your home.
Chia seeds can be used in place of eggs in many recipes. I often use them in homemade salad dressings because they help the consistency to not be so thin.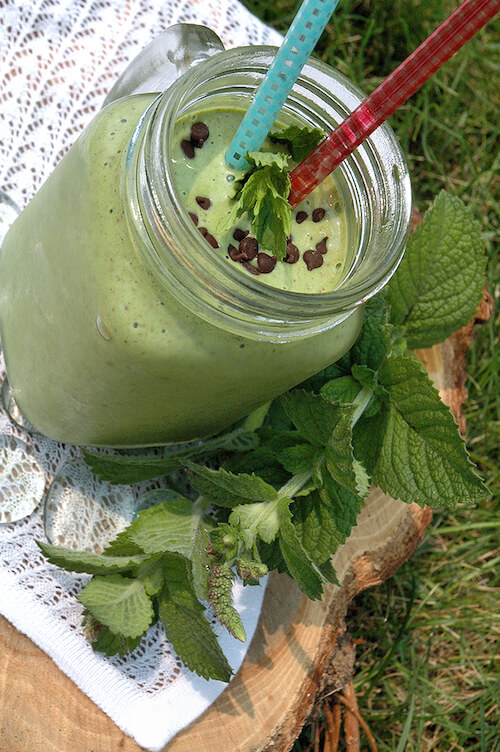 Raw Local Honey
The difference between raw and pasteurized honey is substantial! Pasteurized honey, which we typically see in the local grocery stores, is just as unhealthy as eating refined sugar.
Raw local honey has never been heated or processed in any way. It has antiviral, antibacterial, and antifungal properties that can also promote digestive health. Once you start using the real stuff, you will never be able to go back.
Mint Chip Breakfast Smoothie
This Mint Chip Smoothie is so much more than a quick breakfast option for busy mornings. It's food for your brain! This simple recipe transforms spinach, flaxseed, and plain Greek yogurt into a breakfast that tastes like a healthy version of your favorite ice cream. What's not to love about that?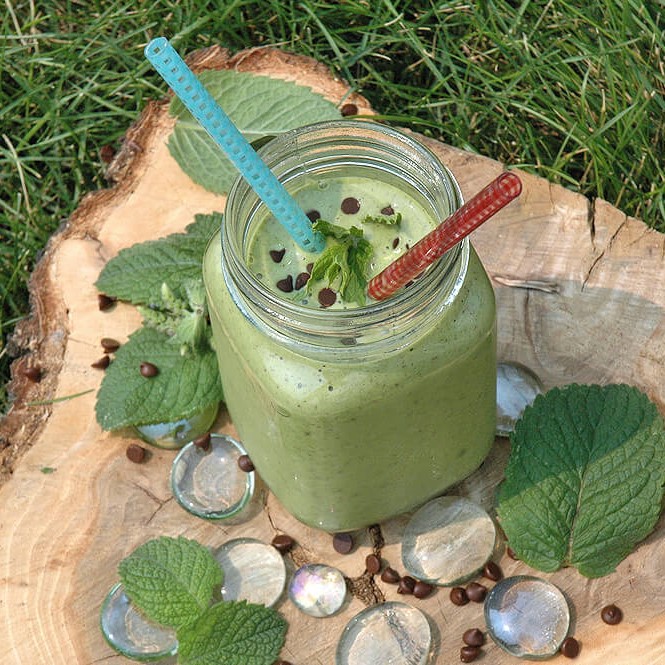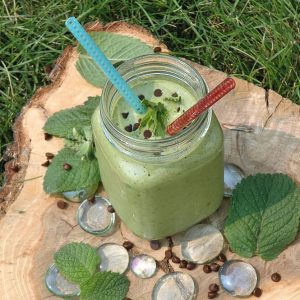 Print
Nutritious Mint Chip Breakfast Smoothie
This delicious smoothie is reminiscent of mint chip ice cream, but it's loaded with nutritious ingredients that will boost your energy and fill you up!
Ingredients
1

cup

plain Greek yogurt

2

teaspoons

raw local honey

2

cups

spinach

2

frozen bananas

sliced

1/2

cup

unsweetened almond milk

3

tablespoons

chocolate chips

I use Enjoy Life minis

2

tablespoons

ground flaxseed

2

teaspoons

hemp seeds or 1 tsp chia seeds

1/4 -1/2

teaspoon

mint extract
Instructions
Combine honey and yogurt in a small bowl then add to the blender.

Top with the remaining ingredients and blend until smooth.
Nutrition
Calories:
379
kcal
|
Carbohydrates:
55
g
|
Protein:
17
g
|
Fat:
12
g
|
Saturated Fat:
4
g
|
Cholesterol:
8
mg
|
Sodium:
160
mg
|
Potassium:
788
mg
|
Fiber:
7
g
|
Sugar:
38
g
|
Vitamin A:
2965
IU
|
Vitamin C:
19
mg
|
Calcium:
272
mg
|
Iron:
2
mg
Need some more tasty, kid-friendly breakfast ideas?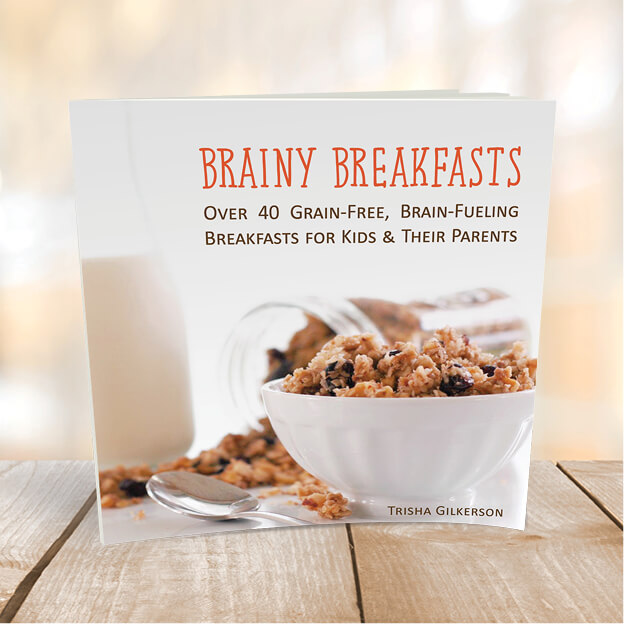 Check out our cookbook Brainy Breakfasts – it's filled with over 40 grain-free, brain-fueling breakfast recipes to keep things new and exciting! It's available as a downloadable or softcover book. You won't run out of healthy, tasty breakfast recipes anytime soon with this cookbook!
More Healthy Smoothie Recipes:
---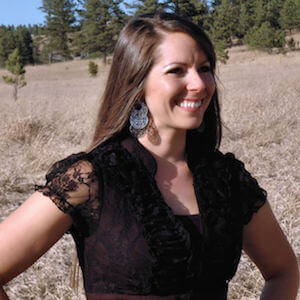 Sammi Ricke is a stay-at-home wife and mother of 2 beautiful children. She is a total foodie and loves the process of "healthifying" recipes for her family. She has a blog at HappiHomemade where they write about all things "Healthy! Heart, Home, & Habits." You can find Sammi on Facebook , Twitter, Instagram and Pinterest.