My kids have become a big fan of berry smoothies. They'd eat them every day, but mama really feels like there needs to be variety in our lives. It's fall, so naturally it makes sense to make a pumpkin pie smoothie, right? Of course right!
Looking for gluten-free recipes and resources? This Everything Gluten Free page is a library of everything gluten free we've worked on.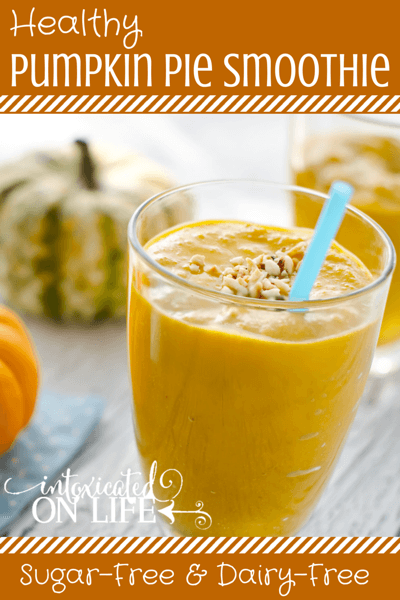 I had been pretty resistant to making smoothies when the kids asked…until recently. I've been making a lot of smoothies lately. Why is that you may ask? Because Blendtec offered to let me review one of their groovy, high-powered, amazingly awesome blenders. Yes, I've been liking it that much. I've enjoyed using it so much, I've been looking for reasons to use it. It's such a fun kitchen toy.
(Psst… note to any men that might be reading this. Blendtec = fantastic Christmas gift idea!)
I have another blender. It's been used maybe a dozen times in 5 years. Yeah, it's that great. It's pretty much a worthless small appliance sitting on my shelf (not sure why I've not tossed it yet). I thought that was the way all blenders were. I really did. I had another blender before that one, and it was just as worthless. I had resorted to using my food processor for everything, and it really just didn't work for everything the way it should.
This Blendtec blender will give you simply amazing creamy smoothies, or hummus, or peanut butter, or pretty much anything! It works seamlessly. I was truly in awe of this machine. If you stop by my house sometime I'd be happy to show it off because it's just so much fun.
Things I love about my Blendtec
The sheer power it exudes. Granted, it sounds like a rocket is getting ready to take off in my kitchen, but I've never seen a kitchen appliance with this much muscle behind it!
Easy to clean. I love that I can simply put a couple drops of dish soap in the mixing jar with some water, whiz it around for a minute, and presto clean-o. And the base of the blender: just as easy to clean. There are no funky grooves for food to get stuck in. It's got nice clean square edges, so it's easy to wipe down.
Two different mixing jars. The small Twister Jar is awesome for nut-butters and other thick recipes or small individual sized smoothies (not likely to happen in my family of six). The big daddy jar is awesome for those big jobs, which is pretty much everything in this house.
Super easy to use. You can run it manually, or it has several pre-set buttons for some common things you might want to make in it… like smoothies, or sherbet, and many other tasty treats.
I really hadn't ever considered the value of having a high powered blender until after I had one. Now, I don't want to live without it. I'm excited to be able to make things like nut butters and coconut flour and coconut milk myself. I love that I'll have the ability to know exactly what is our food!
Enough about the Blendtec, let's move forward with the recipe!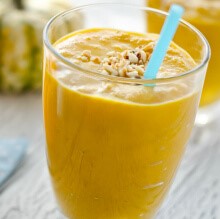 Print
Healthy Pumpkin Pie Smoothie (Dairy and Sugar free)
Servings:
2
about 16 oz. each
Instructions
Dump all ingredients in your Blendtec mixer and set on the "smoothie" setting.

Sit back and wait for your smoothie to be ready.

Pour in glasses and enjoy!
Nutrition
Calories:
457
kcal
|
Carbohydrates:
26
g
|
Protein:
7
g
|
Fat:
41
g
|
Saturated Fat:
36
g
|
Sodium:
38
mg
|
Potassium:
919
mg
|
Fiber:
8
g
|
Sugar:
8
g
|
Vitamin A:
38129
IU
|
Vitamin C:
12
mg
|
Calcium:
108
mg
|
Iron:
10
mg
 *Read more about stevia here. 
Looking for more Pumpkin Goodness???
Why not try some of these other delicious pumpkin recipes? They're of course all grain-free and sugar-free