Play dough has long been a favorite craft medium in my house.
For my kids, that is. I personally have never really liked the stuff.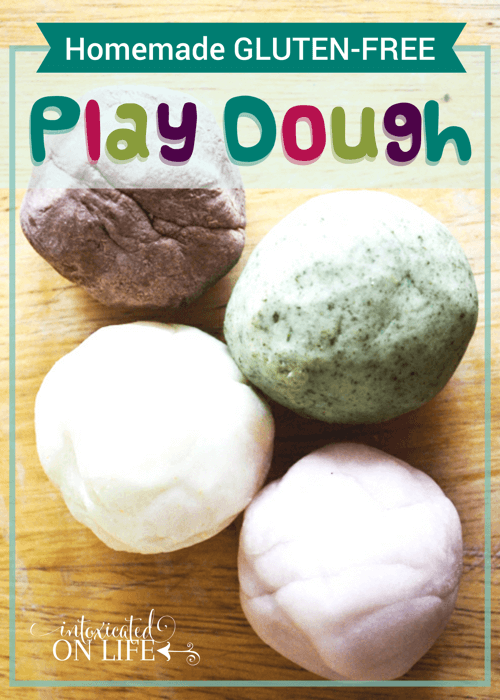 It's not so much the inevitable mess that comes with a play dough session as it is the anticipation of finding my 2-year old eating it, getting her share of gluten and dyes made from who-knows-what. And then there's the knowing that for a few hours after craft time my dining room will have that awful play dough smell. Yeah, I'm not a fan.
Thankfully, for gluten-free, dye-free, and weird fragrance-free homes like mine, the solution is easy: make your own play dough.
By the way, if you are looking for more gluten-free resources, make sure to check out my Everything Gluten Free resource page!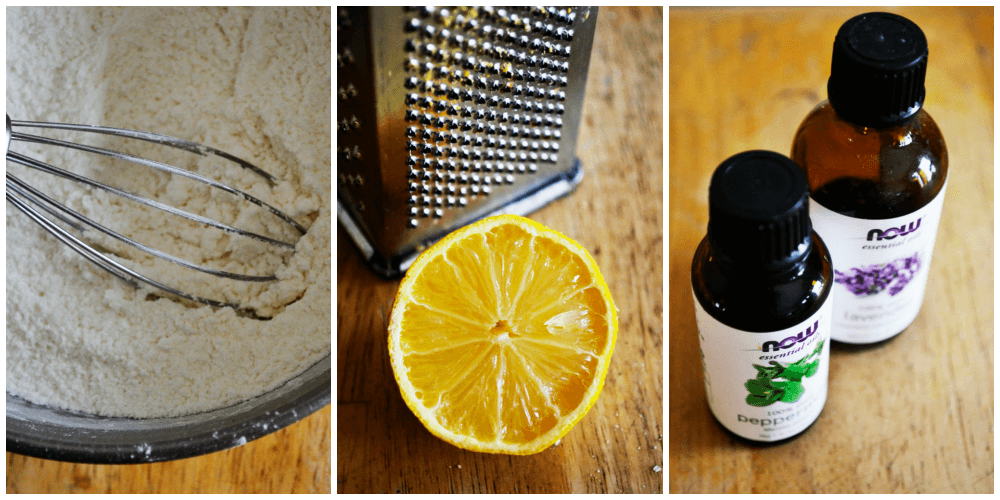 Though it may sound a little intimidating, homemade gluten-free play dough is very easy to make. Just a few ingredients most moms have in the kitchen, and you're set! The unnatural food colorings and smells can also be easily replaced with colorings made from foods and the wonderful aromas of essential oils!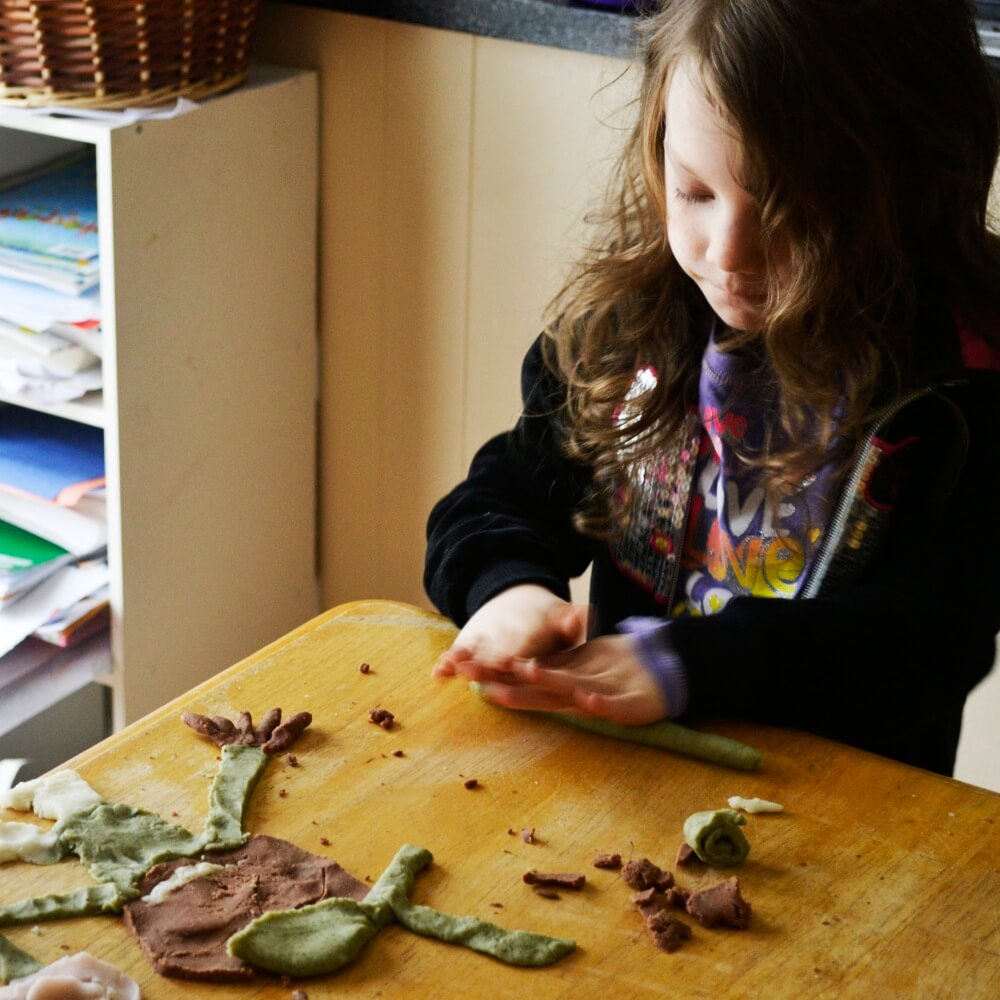 Now my kids can happily enjoy their "crafts" without me having to worry about my toddler digesting gluten and unhealthy food colorings. And [bonus!] my dining room ends up smelling like an aroma therapy session just happened.
Please note that, even though this play dough is perfectly safe to consume, if you're worried about your kiddos ingesting essential oils, you can leave them out. Making this play dough essential oil-free still won't leave your dining room smelling strange. 😉
Homemade Gluten-Free Play Dough
Ingredients
Gluten-Free Play Dough Base
For One Batch of Play Dough
6

T.

+ 1 t. play dough base

1/4

t.

olive oil

1/4

c.

water

coloring recipe of choice

3

drops essential oil of choice

optional, but wonderful!
Natural Coloring Options
pink: 1 t. grape juice

green: 1 1/2 T. powdered parsley

grind in coffee grinder

yellow: 1/2 t. lemon zest

brown: 1 t. cocoa powder
Natural Fragrance Options
pink: lavender or geranium essential oil

green: peppermint

wintergreen or eucalyptus essential oils

yellow: lemon essential oil

brown: sandalwood or cedar wood essential oils

or leave EO out for a nice chocolatey smell!
Instructions
Whisk together base ingredients and set aside.

Measure dry ingredients for one batch of play dough into a small saucepan. (If using a dry coloring, whisk in here.)

Pour in liquid ingredients and mix to combine.

Heat over medium-low - stirring constantly - until dough is thick and begins to form a ball.

Remove from heat and cool (though it won't really be that hot).

If you feel the dough is too dry, knead in a few more drops of water at a time until desired squishy-ness is reached. If you feel it's too wet, knead in a few tablespoons of starch.

Store in covered container or ziplock bag.
For more natural coloring options, Nourishing Joy has nice, long list you can peruse.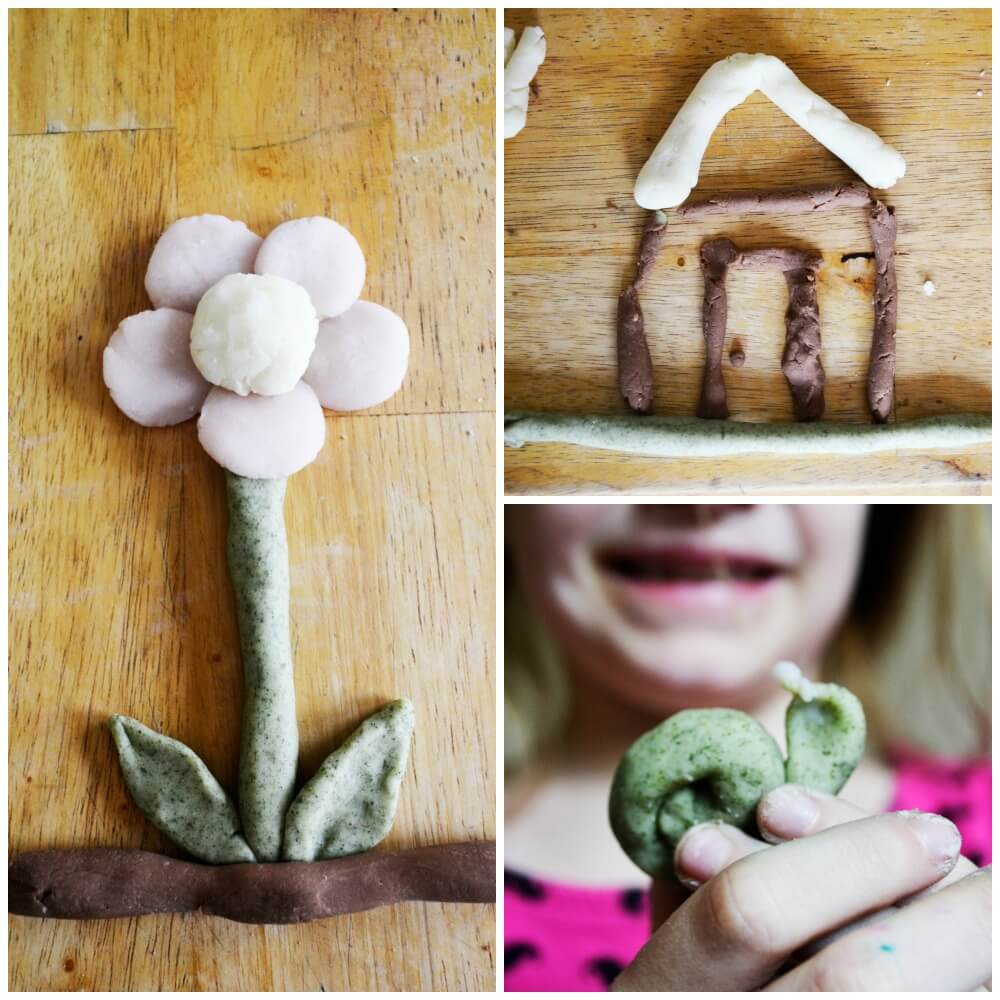 88 Pages of Early Learning Printables
Are you looking for some fun activities to do with your Pre-K or Kindergartener? Consider adding this set of 88 printable pages to your collection – it includes 26 play dough mats for guided play dough creativity!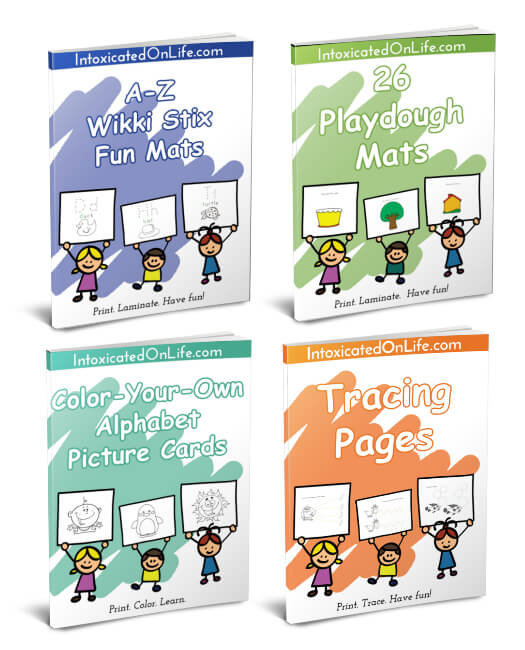 What's included?
26 Wikki Stix Mats
26 Play Dough Mats
26 Color-Your-Own Alphabet Cards
10 Tracing Pages