This low-carb Peanut Butter Cup Pie recipe is incredibly delicious and very popular in our home. I bet you and your family will love it, too! (If peanut butter isn't your thing, check out my other dessert recipes for inspiration!)
Looking for gluten-free recipes and resources? This Everything Gluten Free page is a library of everything gluten free we've worked on.
Luke and I have been trying to keep our carbs low and increase our fats. While most of the time that's no big deal because we find that we just don't get hungry very often, every once in a while it's nice to have a treat. It's nice to have a little something out of the ordinary.
Enter: the Peanut Butter Cup Pie.
It's nice not to feel restricted. I like to focus on the foods I can have and not what I can't have. It makes life so much more happy that way!
With a low carb, high fat diet you can have delicious rich foods like cream cheese, bacon, coconut flour, and juicy well-marbled steaks. And Peanut Butter Cup Pie. Yum.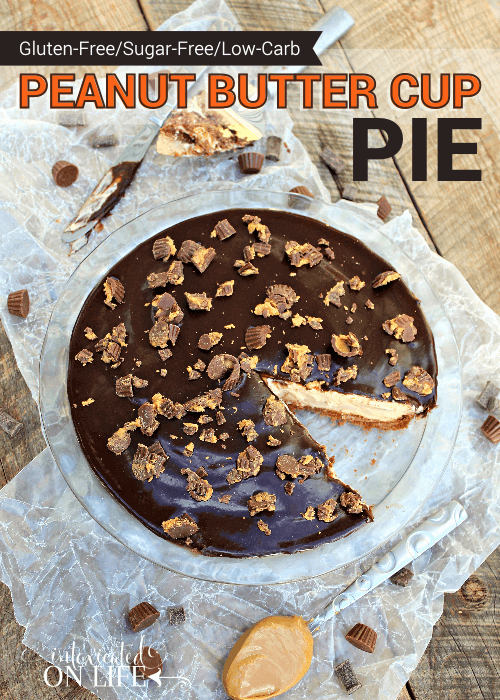 And like all of those delicious foods mentioned, this peanut butter cup pie, in moderation of course, is a fantastic treat on your low-carb, high-fat diet.
Want more ideas for grain-free recipes? Check out my Grain-Free Goodies ebook for some delicious recipes.
Important Note on Sweeteners in this Peanut Butter Cup Pie Recipe
I used Truvia Spoonable in this recipe. Note, I did not use the baking blend. The baking blend has some sugar in it, whereas Truvia Spoonable is just erythritol and stevia.
Erythritol is a sugar alcohol that's similar to xylitol (you can read more about it here), but it tends to have less glycemic impact on people (ie. doesn't raise your blood sugar much or at all). Most people are familiar that stevia is derived from the leaf of the stevia plant (read more about stevia here).
If you'd rather save a few bucks and make your own Truvia-like sweetener, you can do that easily. In general, I'd use the following ratio to make a Truvia-like sweetener:
If you're not too concerned with keeping the sugar out of this peanut butter cup pie recipe, you can easily sub the sweeteners out for sugar. I've indicated how much to use in the recipe.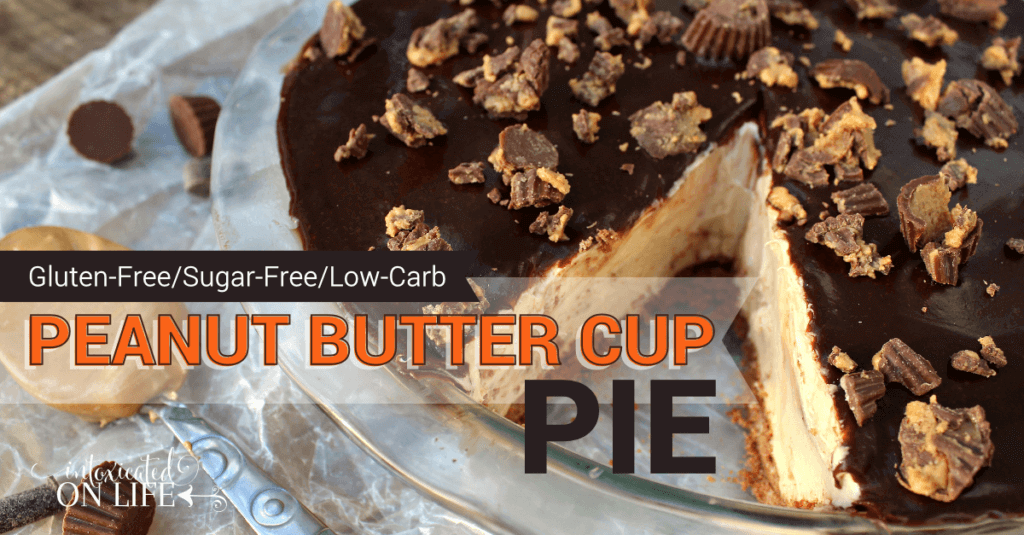 Low-Carb Peanut Butter Cup Pie (gluten-free)
Ingredients
Chocolate Crust
1/4

cup+ 3 Tablespoons almond flour

1/2

cup

coconut flour

2

Tablespoons

cocoa

1/2

t.

salt

1/4

teaspoon

cinnamon

3

Tablespoons

Truvia OR 6 Tablespoons sugar

5

Tablespoons

coconut oil

melted
Filling
1.5

pounds

cream cheese

softened to room temperature

1

cup

heavy whipping cream

1

cup

natural no-sugar-added peanut butter or another nut butter

2/3

cup

Truvia OR 1 1/3 cup sugar
Chocolate Topping
1/2

cup

heavy whipping cream

6

T.

cocoa powder

sifted

3

T.

Truvia OR 5 T. sugar

1/4

t.

vanilla
Instructions
Pre-heat oven to 350 degrees.

Mix all of the dry ingredients together in a small bowl.

Pour coconut oil onto dry ingredients and mix well.

Press into the bottom and up the sides of a 9" pie plate.

Bake crust for 10-12 minutes.

Let crust cool to room temperature.

Beat cream cheese, sugar, and peanut butter together until smooth.

Add heavy whipping cream and beat on high for several minutes, until filling thickens.

Spread filling onto crust that's cooled to room temperature.

Place in the refrigerator.

Heat cream in a small sauce pan over medium-high heat. Stir frequently. Heat the cream until it begins to simmer, but remove from heat right before boiling.

Add cocoa and sugar and whisk until smooth. Stir in vanilla.

Let cool until about room temperature.

Top your peanut butter pie and place back in refrigerator for at least 2 more hours, or until ready to eat.
While I made this peanut butter cup pie for my husband and I, I soon found it didn't last long. Four boys helped us with it, and it was gone much too quickly. You might have to hide this from the little people in your house if you want to keep it around for a few days! 
Nutrition Information for this Peanut Butter Cup Pie Recipe
I did a quick calculation of the nutrition info for this peanut butter cup pie recipe for those that are interested. I used the numbers on the packages in my pantry – hopefully, they're accurate. 😉
Based on 10 servings:
59 grams fat
7 grams net carbs (total carbs minus sugar alcohol and fiber)
14 grams protein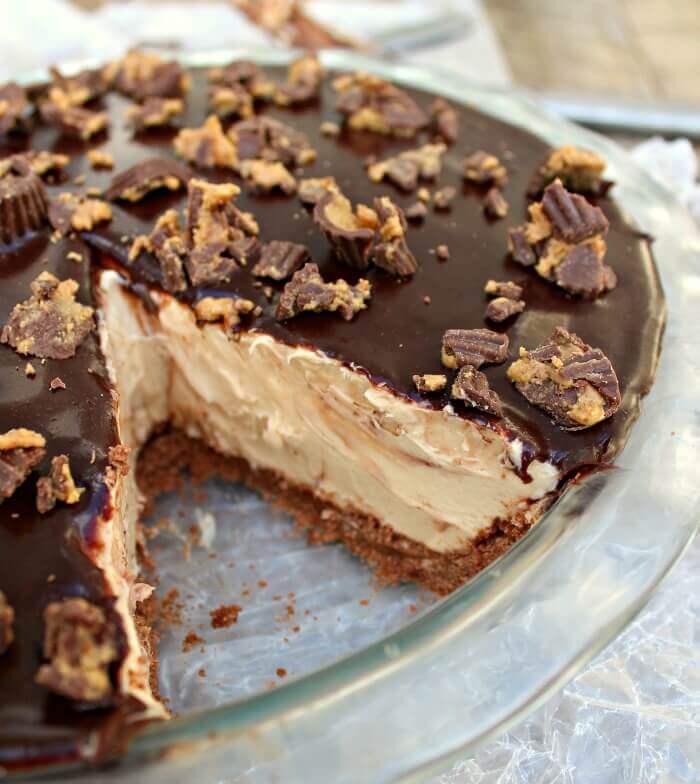 More Delicious and Healthy Dessert Recipes:
If you're eating low-carb, high-fat tell me in the comments one food (or recipe) you greatly enjoy on this way of eating? Let's focus on what we can have!
Sharing at Saving 4 Six, Juggling Real Food and Real Life, Pam's Party & Practical Tips, Denise Designed, Mommy on Demand, The Modest Mom Blog, Written Reality, Mom's the Word I Love to Hear, Pint Sized Baker, and Giving Up on Perfect.