Are your kids struggling to learn how to be patience? Here are 5 great Bible verses for kids to memorize about patience. They can help adults learn about patience, too!
I'm a fairly impatient person. Unfortunately, some of my kids have picked up this nasty trait as well. For some, patience might be a more natural virtue, but the Bible teaches that true Christlike patience is a fruit of the Spirit (Galatians 5:22).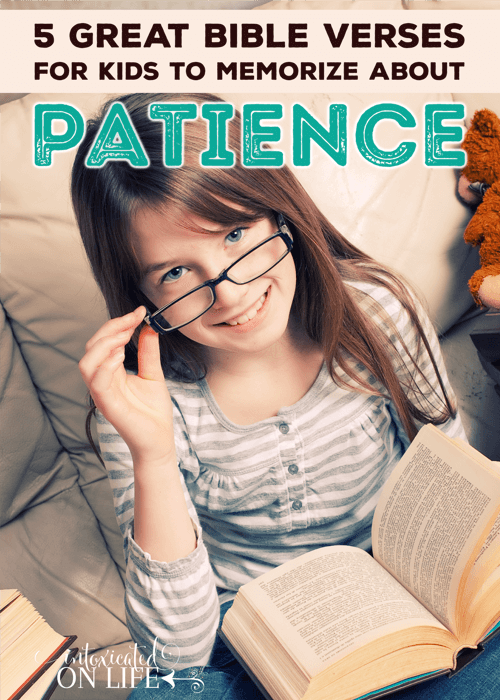 Here are several passages that can be a great help to your kids when it comes to the area of patience. Have them commit one or two of these to memory. (If you're like me, you might needs a few of these yourself.) These are, of course, just a few of the best Bible verses for kids to memorize about patience. You can use plenty of other Bible verses to learn about patience, too.
3 Shorter Bible Verses For Kids To Memorize About Patience
Ephesians 4:1b-3
"…walk in a manner worthy of the calling to which you have been called, with all humility and gentleness, with patience, bearing with one another in love, eager to maintain the unity of the Spirit in the bond of peace."
This passage has both high idealism and down-to-earth realism. This passage follows on the heals of Ephesians 2-3, two powerful chapters that talk about how Christ has united men and women from many nations of the world. Paul says in this text that we display patience to keep the unity we have in God's family. By doing this we live lives worthy of the calling we all have in Christ.
But Paul also says we are to "bear with one another," acknowledging that we are bound to get on each other's nerves, bound to offend one another. Knowing this upfront helps us to take things in stride and let love cover a multitude of sins.
Proverbs 15:18
"A hot-tempered man stirs up dissension, but a patient man calms a quarrel."
Our kids need to know that their impatience does not help resolve arguments or problems. Often their impatience is an irrational way to get things to move along or get others to do what they want. This proverb reminds them that the best way to resolve problems is not to be quick-tempered but calm and patient. There is a time for anger in life, but patience should be their default mode, just like it is God's default mode (2 Peter 3:9-10).
Psalm 40:1
"I waited patiently for the Lord; he inclined to me and heard my cry."
Often our impatience is directed towards God. Here the psalmist is telling the story about a time when he was desperate for God to change both his sinful heart and his situation. He was surrounded by evil inside and outside. But his attitude was one of patience. This verse reminds our kids that when they want God to do something, the right frame of mind is not complaining but patient prayer.
2 Longer Bible Verses For Kids To Memorize About Patience
Colossians 3:12-17
This text lists many great virtues, but many of them relate to the area of patience.
We should be patient because we are God's "chosen ones, holy and beloved." Only by knowing who we are in Christ do we have the power to live with Christlike patience.
In patience we are to "bear with each other," knowing times will come when we get offended.
When we are offended, we are to forgive in patience, knowing people will not change right away.
Patience comes when Christ's "peace" rules in our hearts, knowing God himself created peace among us by calling into His body.
Our patience is "in the name of the Lord Jesus," for his glory and in his power.
1 Corinthians 13:4-8a
Many Christians are familiar with the "love chapter." It is helpful for our kids to see how patience is a loving quality. Patience is the very first trait of love mentioned by Paul. This passage helps to diagnose the sins that often drive impatience. Impatience is often the result of an unloving attitude, insisting on one's own way, being irritable, being resentful, being arrogant—all mentioned in this text. As our kids display attitudes of impatience, it can be helpful to bring this passage to mind, helping them see their heart-attitudes.
Memory Cards
Need some help learn the bible verses for kids to memorize about patience? Download and print these cards on cardstock:
Insert these cards into a memory box to help your kids move these passages from their short-term to their long-term memories. (Learn more about how to use a memory box.)
What other ways can you help your kids learn to practice patience?
More Bible Memory Tips for Kids: