In our home, we often try to use scripture as bedtime prayers with our kids, especially these 3 particular Psalms.
Of course, we all know how typical bedtime prayers go:
"Now I lay me down to sleep…"
"Father, we thank Thee for night…"
My wife and I try to pray with our kids every night before they go to sleep. Probably a lot of Christian parents do the same. One way to infuse a lot of rich meaning into bedtime prayers is to use fitting verses from the Psalms.
Reciting a short section from the Psalms not only fills our children's minds with God's truths as they drift off to sleep, but doing so repeatedly can teach them to memorize key sections of Scripture. These are the top three Psalms we use for bedtime prayers with our kids.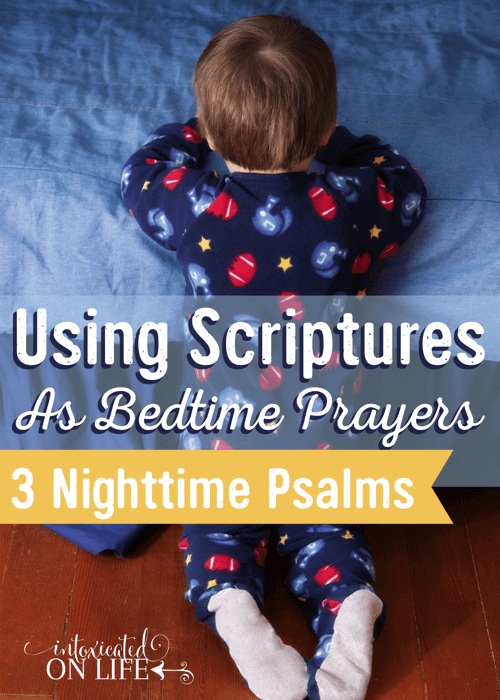 Using Scriptures as Bedtime Prayers: 3 Nighttime Psalms
.
Psalm 121
This entire Psalm is great for bedtime prayers. It is short, easily memorable, and contains many timely truths for children trying to get to sleep in a dark room all by themselves.
The Psalm was originally sung by pilgrims traveling long distances to Jerusalem for an annual feast. The caravans of travelers would have to brave bad weather, rough terrain, hot days, cold nights, and the dangers of the dark. This Psalm celebrates a God who is with us throughout all our travels.
Psalm 121 teaches our kids they have nothing to fear, even in the night. Though we drift off to sleep, "he who keeps you will not slumber. Behold, he who keeps Israel will neither slumber nor sleep" (v.3b-4).
Psalm 139:7-12
This whole Psalm is worth memorizing if you can find the time, especially as a bedtime prayer. It one of King David's most notable songs. Charles Spurgeon said that David must have dedicated this Psalm to the Chief Musician because "this sacred song is worthy of the most excellent of the singers."
Verses 7-12 in particular are great for bedtime. They remind our children that nothing can separate us from God's presence—not even the darkest night. God is present in the highest heaven, the deepest abyss, and the most distant land imaginable. God is everywhere. The night itself cannot hide us from Him: "even the darkness is not dark to you; the night is bright as the day, for darkness is as light with you" (v.12).
.
Psalm 63:5-8
David wrote this song during one of the most troubled times of his later life. His son Absolom had taken over the kingdom, and David was on the run to escape the usurping army. David was not only weary from running, he was also weary in his soul: he hungered and thirsted for God.
David instructs our children what they can do at night when they find it hard to sleep. He says, "I remember you upon my bed, and meditate on you in the watches of the night" (v.6). David teaches us to meditate on all the times God has been our help (v.7), so as parents, before we pray this bedtime prayer with our restless children, we can remind them of the times God has shown himself faithful to us. Only as our children remember these things will their souls be satisfied (v.5)..
Other perfect nighttime Psalms for Bedtime Prayers
"By day the Lord commands his steadfast love, and at night his song is with me, a prayer to the God of my life." – Psalm 42:8
"But you, O Lord, are a shield about me, my glory, and the lifter of my head. I cried aloud to the Lord, and he answered me from his holy hill. Selah. I lay down and slept; I woke again, for the Lord sustained me." – Psalm 3:3-5
"You have put more joy in my heart than they have when their grain and wine abound. In peace I will both lie down and sleep; for you alone, O Lord, make me dwell in safety." – Psalm 4:7-8
.
Free Psalms for Bedtime Prayers Printable Signs:
Download these free printable signs to put near your child's bed: Psalms for Bedtime Prayers (pdf)
More Biblical Parenting Tips: