Cookies needs to be pumped full of butter, white flour, and sugar to be delicious, right? WRONG! These pumpkin chocolate chip cookies are going to "rock your face off" (as my husband would say).
What screams October more than pumpkin? Nothing. And my kids gobbled these pumpkin chocolate chip cookies up as soon as they came out of the oven.
So I had to make another batch.
Looking for more gluten-free recipes and resources? This Everything Gluten Free page is a library of everything gluten free we've worked on.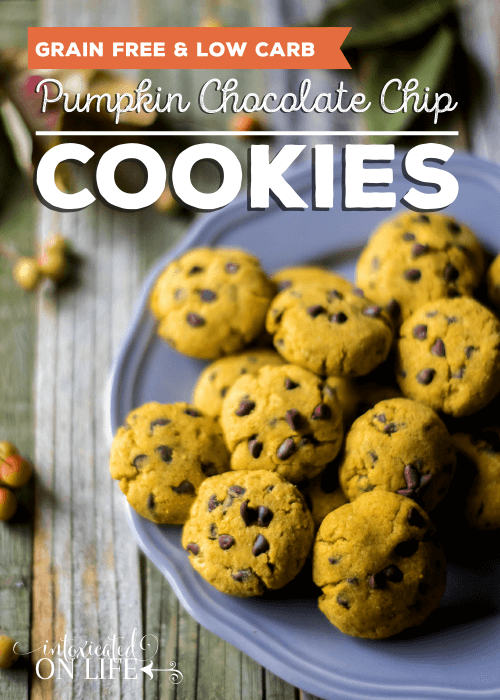 Gobbling them up right out of the oven really isn't the best idea. These cookies have a coconut flour base. Coconut flour cookies are super crumbly when they are hot. When my kids scarfed the down right out the oven I was left with a big crumbly mess all over the table.
Take my word for it and let these pumpkin chocolate chip cookies cool completely and keep them far away from little hands until they have set for a while. Better yet, after they've cooled stick them in the fridge for a day. Unlike some cookie recipes, these particular pumpkin chocolate chip cookies are even better when they've set for a day and refrigerated.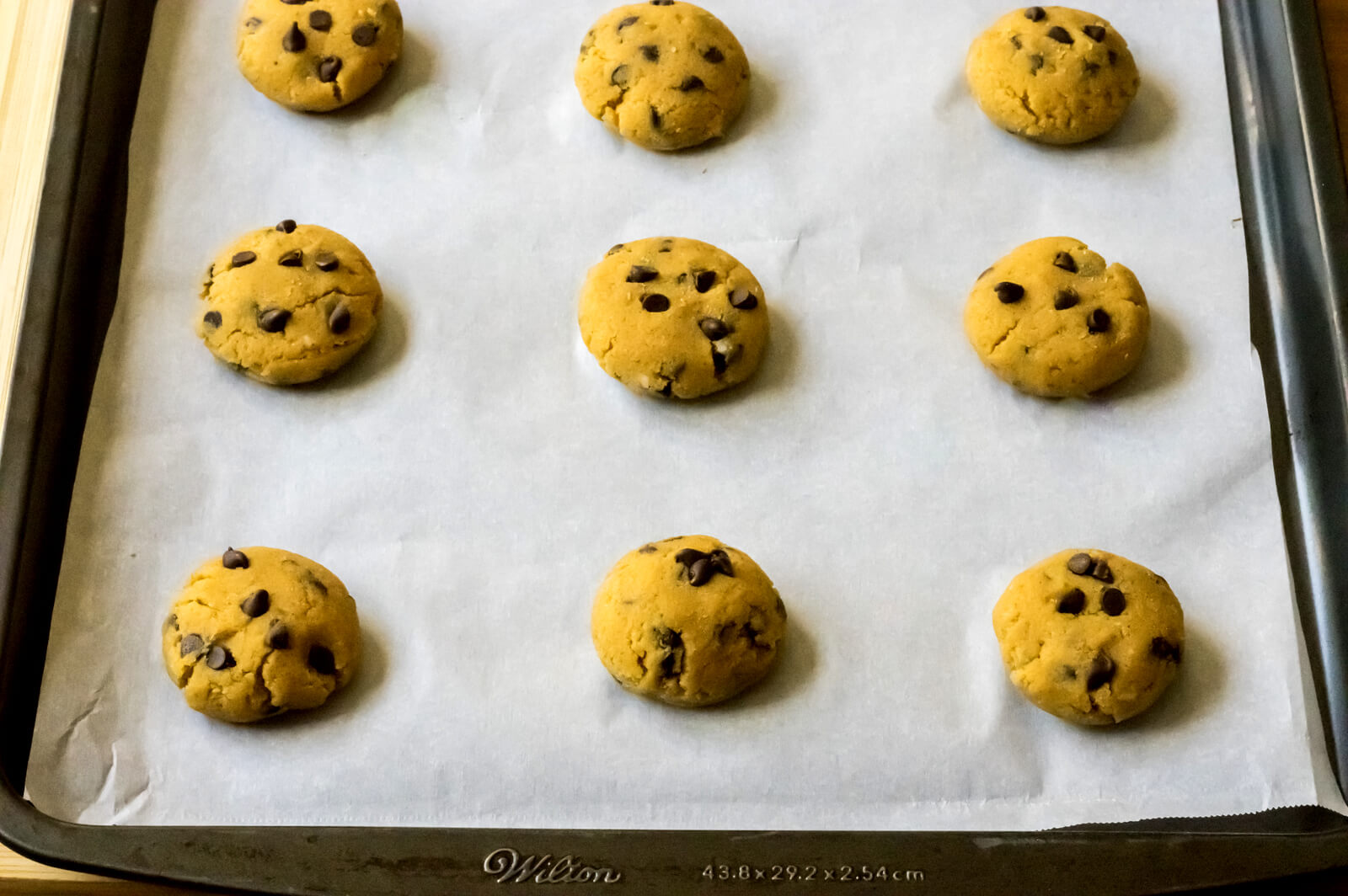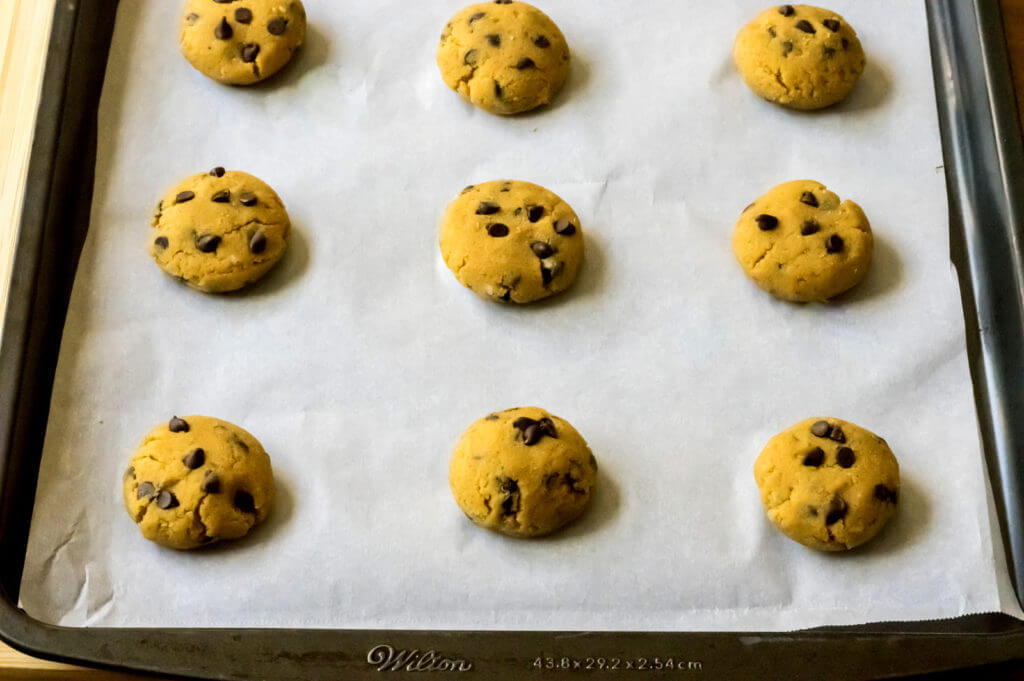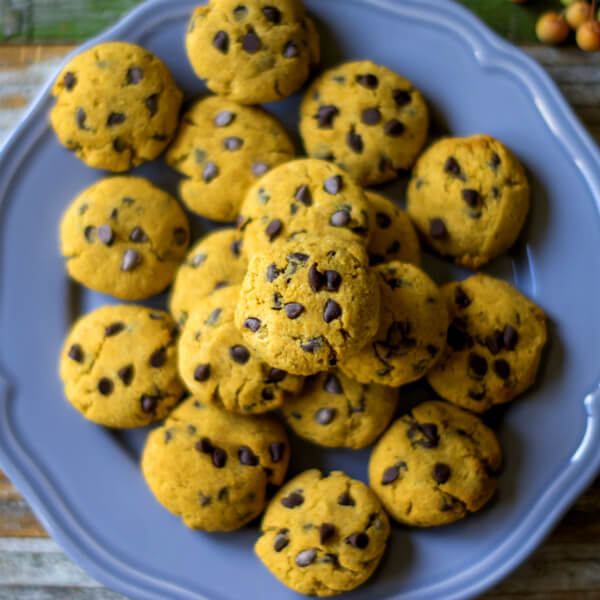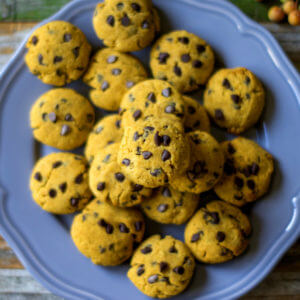 Print
Pumpkin Chocolate Chip Cookies (grain-free & low-carb)
Such a yummy fall treat! These pumpkin chocolate chip cookies are even keto-friendly since they're grain-free and low-carb. More yum, less yuck. 🙂
Ingredients
1/2

cup

coconut flour

3/4

cup

pumpkin puree

1/4

cup

softened coconut oil

1

teaspoon

baking powder

1

teaspoon

pumpkin spice

1/2

cup

maple syrup

OR 1/2 cup of erythritol + 1/16 t. pure stevia extract

1/2

cup

mini chocolate chips + a few to sprinkle on top

(Use Lily's chocolate chips that are sweetened with stevia for low-carb
Instructions
Preheat the oven at 350° F. Line a baking sheet with either parchment paper or Sil-Pad.

In a larger bowl, sift together the coconut flour, baking powder and pumpkin spice powder.

Add the pumpkin puree, coconut oil and maple syrup or sweeteners.

And the wet ingredients to the dry mix and combine well until everything is incorporated and the dough looks like wet sand. The dough should be able to hold its shape when squeezed to form a ball. If it falls apart, add 1 tablespoon of coconut flour, until it's able to hold its shape.

Fold in 1/2 cup of mini chocolate chips.

Using a small cookie scoop, drop the cookies on the prepared baking sheet. Use your hands to flatten them into cookie shape. Add a few extra chocolate chips on each cookies.

Bake for 20-25 minutes or until the top is firm to touch. Let the cookies sit on the baking sheet for 15 minutes before transferring them to a wire rack, to cool completely. Cookies will be very crumbly if you try to eat them before they have cooled completely!

If there are any leftovers (there won't be if you have 4 boys like me!), store in the refrigerator or in an airtight container.
Notes
You may enjoy these cookies a little more or less sweet. Feel free to taste a bit of your cookie dough and adjust the sweeteners accordingly.
Nutrition information is approximate. Carbs and sugar will be less if you use a sugar substitute.
Nutrition
Calories:
106
kcal
|
Carbohydrates:
12
g
|
Protein:
1
g
|
Fat:
6
g
|
Saturated Fat:
5
g
|
Cholesterol:
1
mg
|
Sodium:
9
mg
|
Potassium:
101
mg
|
Fiber:
2
g
|
Sugar:
8
g
|
Vitamin A:
1592
IU
|
Vitamin C:
1
mg
|
Calcium:
27
mg
|
Iron:
1
mg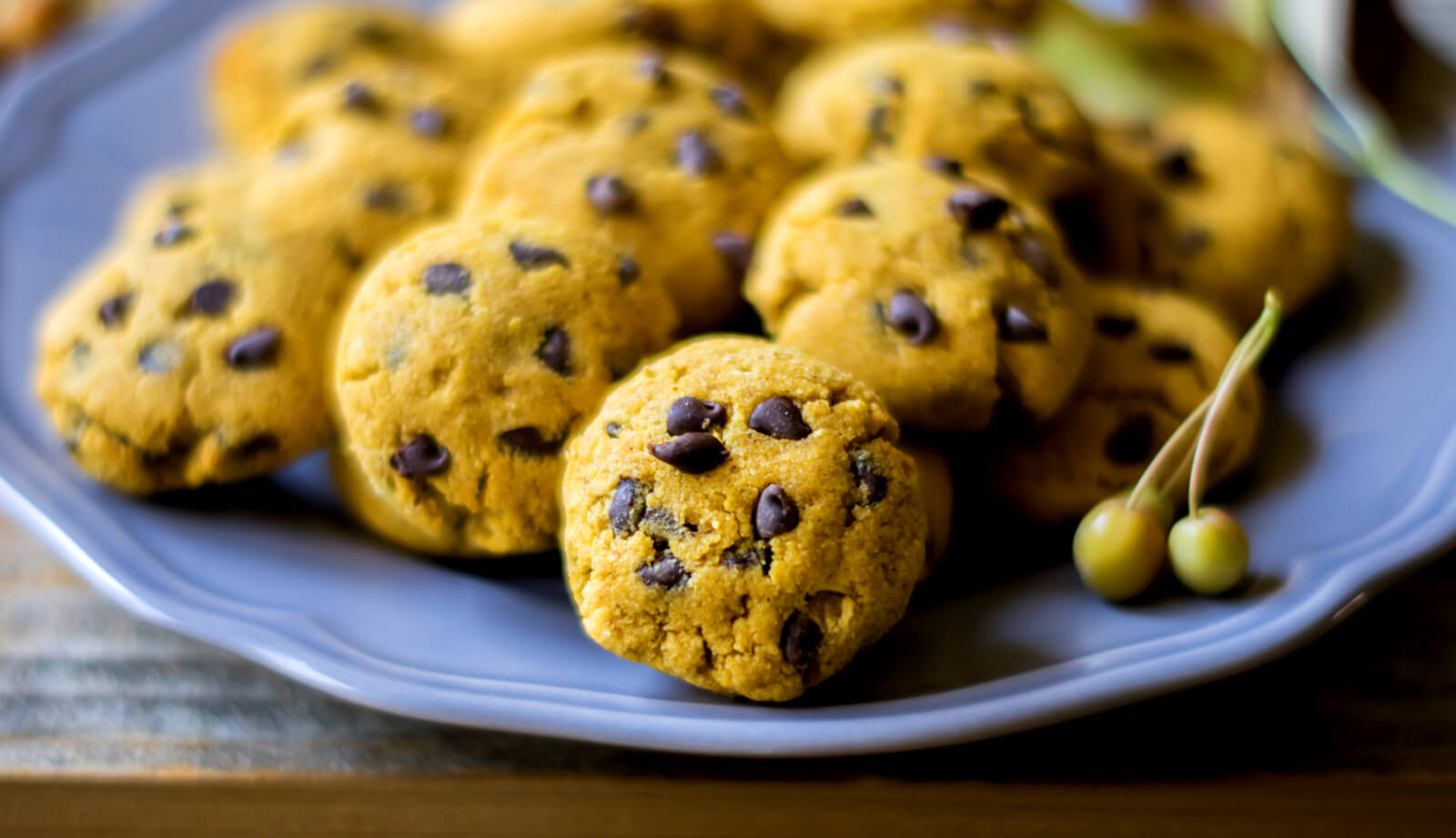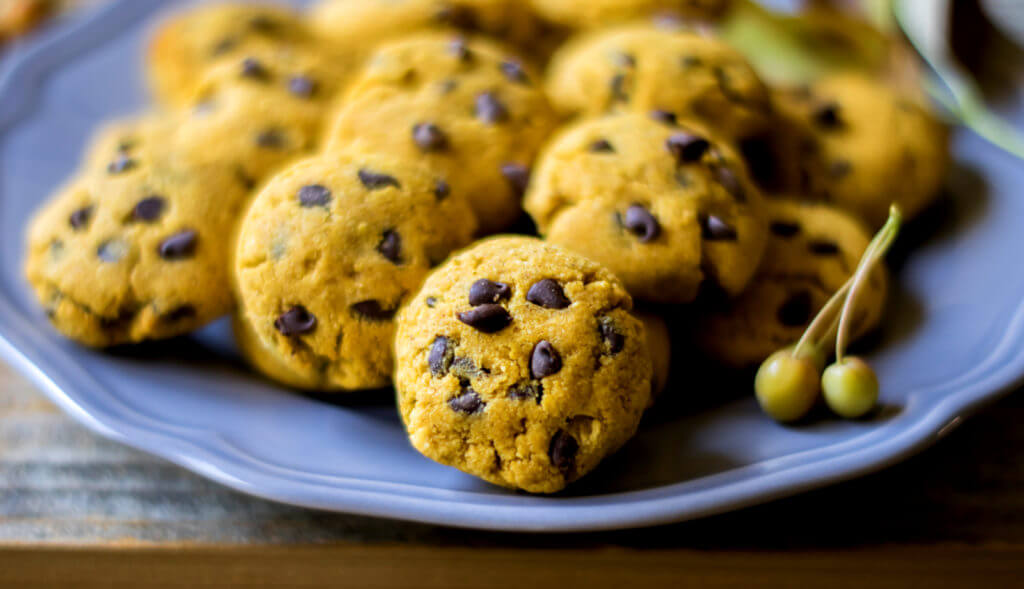 When I make these pumpkin chocolate chip cookies for my kids, I usually use maple syrup. If I'm making them for me though, I use erythritol and stevia and Lily's chocolate chips which are sweetened with stevia. This put each cookie at about 1.5 net carbs (that's after you've subtracted the fiber and sugar alcohols), making these cookies a perfect little treat for your low-carb or keto diet!
I'm pretty much a fan of all things pumpkin. If you are too, check out some of my other fave pumpkin recipes (most of them are low-carb too. Woot!).