This Allergen-Friendly Beef & Broccoli Stir Fry is a easy, healthy, and delicious meal that the whole family will love.
A few years ago, my son asked for broccoli for his birthday. True story.
I'm not sure why broccoli gets such a bad rap, because my family loves broccoli. It works great in stir frys, quiches, soup, and steamed with lots of yummy Kerrygold butter. What's better? Broccoli is not just delicious, but it's packed with lots of great vitamins too!
Hopefully (since you've landed on a recipe post featuring broccoli), you already like broccoli and I don't have to convince you of it's virtues.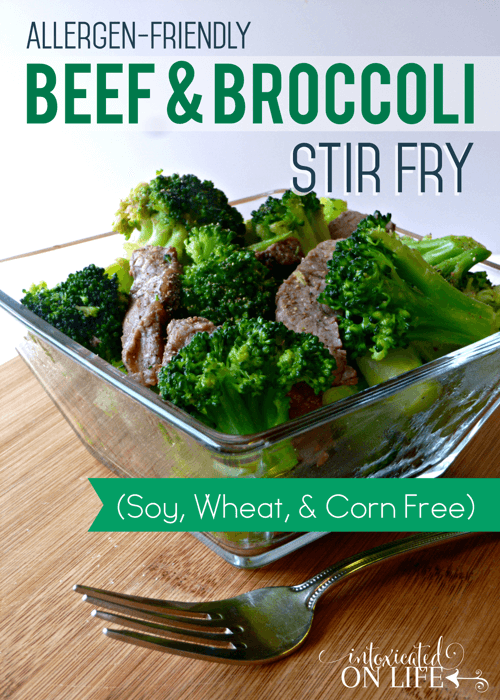 Beef & Broccoli Stir Fry Recipe
Want to know what's so special about this Beef & Broccoli Stir Fry recipe?
This recipe is special because it is free from common (and some less common) allergens! Allergic to dairy, wheat, soy, corn? No problem. I designed this recipe to work for our families special dietary needs and hopefully it will work for yours too!
If you're looking for a good source of grass-fed meat,
Butcher box
has high-quality meat that they will deliver right to your door.
If you use this link to Butcher Box, you can get $15 off your first box and FREE bacon(!!)
.
The Special Ingredient…
There is one ingredient in this Beef & Broccoli Stir Fry recipe that you may not be familiar with: coconut aminos. Coconut aminos are a fantastic substitute for soy sauce.
Just take a look at the ingredients listed on the back of a bottle of soy sauce:
Water, wheat, soybeans, salt, sodium benzoate.
or another bottle:
Water, salt, hydrolyzed soy protein, corn syrup, caramel color, potassium sorbate.
Most of the things in both of those lists are ingredients I'd like to avoid putting in my body and my children's bodies. Enter: coconut aminos.
Ingredients: Organic coconut sap aged and blended with sun-dried, mineral-rich sea salt.
Great alternative. There are no questionable ingredients and it's an organic and GMO-free product. Worst part: it's pricey, but so worth it. Buy the big bottle and you'll save a lot of money in the long run (and it will last a long time too!).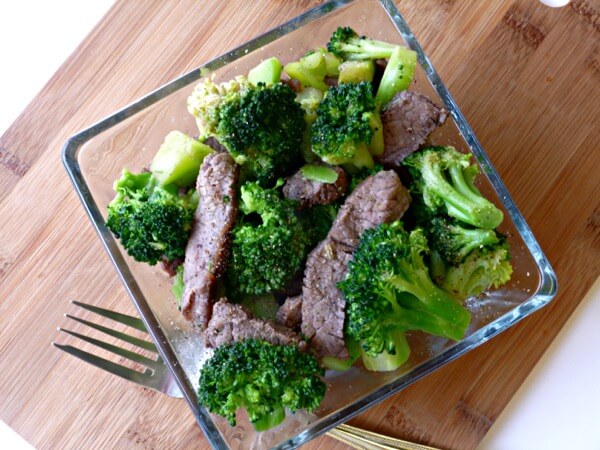 Broccoli and Beef Stir Fry (Soy, Wheat, and Corn Free)
Ingredients
1

lb

beef sirloin steak

boneless ribeye steak, or minute steak

1

lb

broccoli florets

about 2 lbs whole head broccoli, cut from the stalks into medium sized florets

baking soda

1/4

cup

coconut aminos

2

T.

fresh lime juice

1/2

t.

garlic powder

1/4

cup

lard/tallow/coconut oil

1/4

t.

pure stevia extract

1

t.

fresh minced ginger

or ½ tsp dried ginger spice

2

T.

Oil for the fry pan

xanathan gum/ guar gum/ tapioca starch

enough to thicken sauce to desired consistency
Instructions
Cut beef into thin strips.

Coat beef in baking soda and let sit for 15 minutes.

Mix the rest of the ingredients together except the beef, xanathan gum, and broccoli.

Rinse meat and pat dry.

Pour marinade over beef and let set for 20 or more minutes.

Steam the broccoli florets until tender, but don't overcook them because you don't want mushy broccoli in your stir fry.

Drain broccoli and spray with cool water.

Heat a large skillet or wok. Pour in 2 T. of oil.

Add meat and let sit cooking for 1-2 minute before turning. Cook for 2-3 more minutes, until browned.

Add the broccoli and xanathan gum a little bit at a time and stir until thickened.
If you try this Beef & Broccoli Stir Fry recipe, please let me know how it turns out! It's always good to hear from others who have tried out my recipes.
More Tasty & Healthy Dinner Ideas: