The evening of Halloween approaches.
Down the street, a mother dresses her kids for Trick-or-Treat. Her daughter is dressed like a busty pirate wench. Her son looks like a twisted cross between something from Pan's Labyrinth and Hellraiser. Their lawn decorations are nothing short of a celebration of death. This family also regularly attends church and calls Jesus Lord.
Next door, a mother cloisters her kids inside for the evening. She avoids the use of harvest decorations in order to not associate with the day. Her children neither receive nor hand out candy. Every year, she reminds her children about the demonic elements of Halloween and warns them not to return any "Happy Halloween" greetings. She sternly rebukes any fellow Christian who would attend a so-called "Halloween replacement" party on October 31. Her family also faithfully goes to church and calls Jesus Lord.
I believe neither of these extremes is the wisest way for Christians to handle the subject of Halloween. But is it possible that a middle ground can help with redeeming Halloween?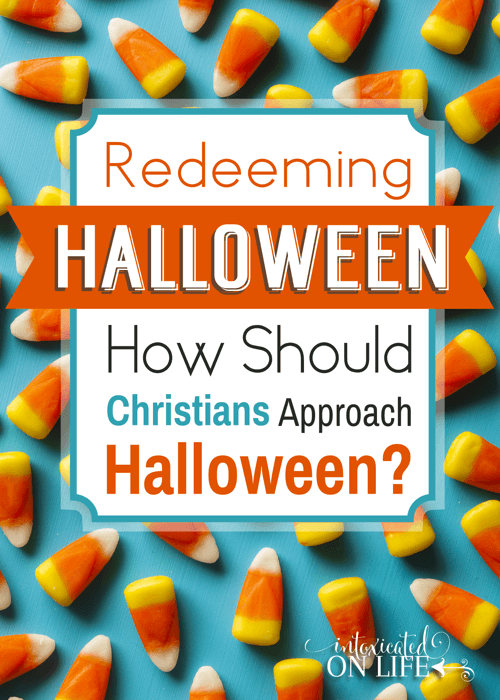 Receive, Reject, Redeem
When dealing with anything in human culture, Christians have three primary choices: receive, reject, or redeem.
Receive — There are things in culture that are part of God's common mercies to all people. These are things Christians can freely receive. Paul and Silas could walk the same Roman roads and sail in the Roman ships alongside any pagan without any stain on their consciences. Today, I can appreciate the electric lights in my home just like my neighbor and not feel guilty that the power company isn't owned by Christian people. I can buy my produce from the farmers' market without the concern that the farmers are pagans.
Reject — There are some things in culture that are inherently sinful and cannot be transformed to be used for the Lord's purposes. Paul might have eaten pagan meat sold in the marketplace, but he would not attend a pagan temple and drink the cup of demons (1 Corinthians 10:20-22). Today, a building that once was a strip club can be bought and turned into some reputable business, but a strip club can never become a "Christian strip club." The very essence of this kind of business enterprise furthers sinful motives, and this must be rejected by Christians completely.
Redeem — There are other elements of culture that are often used for sinful purposes but Christians can mine these elements for truths that can be celebrated, reclaimed, and redeemed for God's purposes. It is a way we can "redeem the time" in evil days (Ephesians 5:16). During his speech in Athens, one of the most polytheistic cities in the world, Paul made use of the writings of pagan poets and prophets and even make use of a pagan altar as a visual aid (Acts 17:22-31) in order to point to the gospel. Paul was redeeming—taking back—from paganism truths latent in their cultural customs and using them for God's glory.
This helpful breakdown can assist Christians as they think about the subject of redeeming Halloween. (You can listen to my recent sermon about these categories and what they have to do with Halloween.)
Timothy George, founding dean of Beeson Divinity School, wisely says Christians should have "theology of reclamation." When we look at days like Halloween that have been hijacked by the devil, we shouldn't be intimidated by this. Instead, we should "tweak the devil's beard" and find ways towards redeeming Halloween for the church again.
A Very, Very Brief History of Halloween
The name "Halloween" comes from "All Hallows' Eve" (All Saints' Eve).
As far as the Christian origins of Halloween are concerned, it began in the earliest centuries of the church. As early as the mid-second century, the church celebrated and remembered its martyrs, at times dedicating special days to remember their faithfulness. As the number of special commemorations increased, the idea of having a common day for all martyrs gradually evolved.
The earliest known celebration of "the Feast of All Martyrs" was in Antioch in mid-fourth century, falling on the first Sunday after the feast of Pentecost (which is still the day the Eastern Orthodox Church celebrates All Saints' Day). Similar festivals were celebrated in other locations on different days. Over time, this celebration started to embrace not just martyrs but all departed saints, celebrating Jesus' victory over death by remembering the faithful saints who had gone before them.
On May 13th, 610, Pope Boniface IV consecrated the Pantheon, the old pagan temple, to "all Christian martyrs." He officially consecrated that day as the new "All Saints' Day."
Over a century later, Pope Gregory III (731-741) moved All Saints' Day to November 1 to honor the saints of St. Peter's church, and in 835, Pope Gregory IV officially fixed the date for worldwide observance.
Some believe this move was made to coincide with Samhain, a Gaelic harvest festival celebrated at the same time, though others doubt the Pope was even aware of this celebration.
This ancient pagan festival was, for those who believed, a season when the veil between our world and the next was very thin, allowing the spirits to easily move back and forth. Feasts were held and the souls of departed relatives were invited to come. Because not every spirit was deemed friendly, various rituals were used to ward off or appease them.
In time, Samhain and All Saints' eventually co-mingled, leading to the variety of Halloween traditions we have today.
Redeeming Halloween in our Modern Times: Some Caveats
For some Christians, the notion of "redeeming" Halloween will sound ridiculous. How can something so rife with demonic symbolism be redeemed? Perhaps this is just one of those things that fits into the "reject" category. Is there anything positive to redeem?
Undoubtedly, some will read this and remind me about Halloween's pagan roots, telling me about Druids, pagan sacrifices, rituals to commune with the dead, Celtic deities, and the questionable origins of trick-or-treat and jack-o-lanterns. I'm quite aware of all these facts.
Caveat #1: It's important not to treat this as a cut and dry issue. The mere fact that modern Halloween practices are echoes of pagan traditions does not, therefore, mean Halloween as a cultural tradition is unredeemable. Remember, to "redeem" something in our culture means to admit it has been used for evil but to reclaim the truth within it, utilizing it for God's purposes. Not all Halloween activities are redeemable, but (I believe) many are.
Caveat #2: Remember that many Halloween traditions are a far cry from their ancient or medieval counterparts. As far as redeeming Halloween goes, there are some elements of Halloween that, in my opinion, have already been ripped away from paganism and redeemed as something wholesome. Let's face it, the connection between ancient Druids dressing as ghouls and my son dressed as Bob the Tomato is tenuous, at best.
Caveat #3: It is also important to note that this issue is a matter of conscience. Reading Romans 14-15 and 1 Corinthians 8-10, it seems clear to me that Halloween is a "disputable matter," and it will probably always be so. While I'm firm in my convictions on the matter, I recognize others' consciences simply won't allow any associations with Halloween, and this ought to be respected.
Caveat #4: We should never become prideful about our approach on the subject. While we should feel free to critique ourselves and discuss these matters, we should remember that pridefully looking down on other Christians for differing opinions is just as demonic as a vampire.
With this in mind, here are some ideas about how October 31 can be redeemed for the glory of God.
What Does Redeeming Halloween Look Like?
"Redeeming" elements of Halloween does NOT mean participating in worldly or immoral activities in order to witness. To redeem something is culture means to find the artifacts, objects, activities, and customs that have been misused for worldly purposes and taking them back for the sake of spreading goodness and the gospel.
To redeem something is to admit that it has been used for evil and to use it for godliness instead. With that in mind, here's some suggestions toward redeeming Halloween you can try:
1. Show love to your neighbor.
Every day of the year—even October 31st—is a great day to obey the second greatest commandment to love our neighbor.
For many communities, Halloween is a time of widespread celebration. Homes open up to strangers. Bonfires, parties, and neighborhood gatherings are commonplace. For Christians desiring to be involved in the lives of their neighbors, Halloween is a natural time to connect with others. It serves as a perfect time to not be overcome by evil but overcome evil with good (Romans 12:21).
2. Unearth the good roots of Halloween.
Halloween, for all its depictions of evil, is rooted in many good traditions:
In many areas, Halloween still has all of the markings of a harvest festival, and it is right and good to thank God for a good harvest. Choose to use Halloween as a time to celebrate God's provision.
It is significant that Halloween coincides with Reformation Day, the day when Martin Luther nailed his 95 Theses to the church door at Wittenberg. (Obviously, this day would have more of a celebratory feel for Protestants, not so much for Catholics.) Luther actually chose All Saints' Eve very purposefully, because it was a perfect day to protest the abuse of indulgences. In this way, Halloween serves as a reminder of the poor medieval theology from which church has largely escaped.
Celebrate with a real All Saints party. Take the theme of Hebrews 12:1 and run with it: celebrate the "great cloud of witnesses" that surrounds us. Read the stories of faithful martyrs to your kids, and remember those who've come before you.
3. Make use of holy horror.
Some Trick-or-Treat traditions—notably vandalism and needless pranks—are nothing more than excuses for destructive behavior. Moreover, decorating one's body or home in such a way that celebrates necromancy or demonic creatures is totally out of step with one who worships the Jesus Christ.
Instead, choose to redeem the horror of Halloween.
The portrayal of good and evil, as well as their consequences, are two sides of the truth. Uncovering the real nature of evil is part of what it means to dwell on what is good.
God is not opposed to the use of horror—in fact He does it Himself. Brian Godawa, screenwriter of the film To End All Wars and the author of Hollywood Worldviews: Watching Films with Wisdom and Discernment reminds us that the horror genre conveys powerful truths about the true nature of evil.
The prophet Daniel wrote horror literature, based on images and drama pitched by God to him in Babylon. Not only did God turn the blaspheming king Nebuchadnezzar into an insane wolfman to humble his idolatrous pride (Dan. 4), but He storyboarded horror epics for kings Belshazzar and Darius as allegories of the historical battle between good and evil to come. Huge hybrid carnivorous monsters come out of the sea like Godzilla, one of them with large fangs and ravishing claws to devour, crush, and trample over the earth (7:1–8) until it is slain and its flesh roasted in fire (7:11); there are blasphemous sacrileges causing horror (8:13), including an abomination of desolation (9:26–27); angels and demons engaging in spiritual warfare (10:13); rivers of fire (7:10); deep impact comets and meteors colliding with the earth, Armageddon style (8:10); wars, desolation, and complete destruction (9:26-27). The book of Daniel reads like God's own horror film festival…
And I might add, this all gives glory to God in the highest.
Children need to know that evil is not just an abstraction—there is a personal evil in the world who is bent on killing, stealing, and destroying. Every scary demonic encounter and apocalyptic story in the Bible makes this clear. As Halloween approaches, our environment becomes a living parable, a reminder that real demons are just as real and even scarier than the trick-or-treaters.
Help your children see how classical archetypes of evil—monsters, dragons, vampires, werewolves, ghosts—show the true nature of sin and evil. Of course, many horror films have degenerated into immoral exaltation of sex, violence, and death, but this is an abuse of a genre, not a good use of it.
For younger kids, it is enough to say that scary creatures show us what real evil looks like: sin might look attractive on the surface, but underneath, sin is hideous, and monstrous characters are a reminder of that.
For older kids, you can get into more specifics.
Vampire stories were written to symbolize the the thirst and restlessness of our repressed dark side, an addictive madness that is so strong we believe it will follow us even beyond death.
The story of Dr. Jekkyl and Mr. Hyde symbolizes the dual nature of fallen humanity and the futility of trying to manage or quarantine one's sinful impulses.
Zombies are the true apocalyptic monster, the symbol of animalistic human nature that is left when the societal restraints of sin break down.
Frankenstein's monster is symbolic of scientific pride of the Enlightenment, the belief that through science man can be his own god, his own maker, because man is ultimately reducible to mere biology—a belief that ultimately leads to destruction.
When our kids know something about the significance of these monsters, they become neither things we "celebrate" nor things we shun outright—rather, they become windows to see how evil works.
Knowing these things allows Christian families to even appreciate well-written horror and scary tales from great authors like Edgar Allen Poe, Washington Irving, Mary Shelley, Henry James, W.W. Jacobs, and H.P. Lovecraft. These talented authors used horror to explore important themes like original sin, the downfalls of modern society, and the persistence of sin even beyond death.
4. Teach children Halloween is really a mockery of the devil.
Christians can actually enjoy Halloween, not because they are reveling in evil, but because the day serves as a powerful reminder that Christ has conquered the devil. Dr. John Frame writes,
"In its missionary labors in Europe, the church substituted its own holiday for some pagan observance. In the modern West, Halloween is essentially a mockery of ancient paganism. It is not paganism, but a celebration of the gospel's victory over paganism. I see no spiritual danger in observing that celebration, as long as we, and our children, understand the difference between mocking paganism and endorsing it." (The Doctrine of the Christian Life, p.427)
This video with evangelist Glen Scrivener captures the essence of what I'm talking about very well…
Medieval Christians used the eve of All Saints' Day as a time to dress as sinister creatures, not as a way to celebrate evil but to mock it, to tease it. "They hand to the damned just one final frolic" because they know the darkness will be overcome by the coming dawn.
. . . .
In the end, you have to choose how best to approach redeeming Halloween. The evil atmosphere of the day may loom large, but He that is in us is greater than he that is in the world.
Do you believe that it is possible to redeem the time on Halloween? Does your family do anything special on October 31st?
More Articles on Christians and Holidays: