Abortion is an uncomfortable topic for many. Today it is an issue that straddles the moral, religious, and political spheres. But as parents, the last thing we want to do is shield our children from the hard questions this issue raises.
We are raising our children to live in a world full of strongly held opinions, and more important than simply telling our children what to think, we want to teach them how to think about contentious issues.
To do that, our children need to be exposed to the rhetoric (good and bad), used on all sides.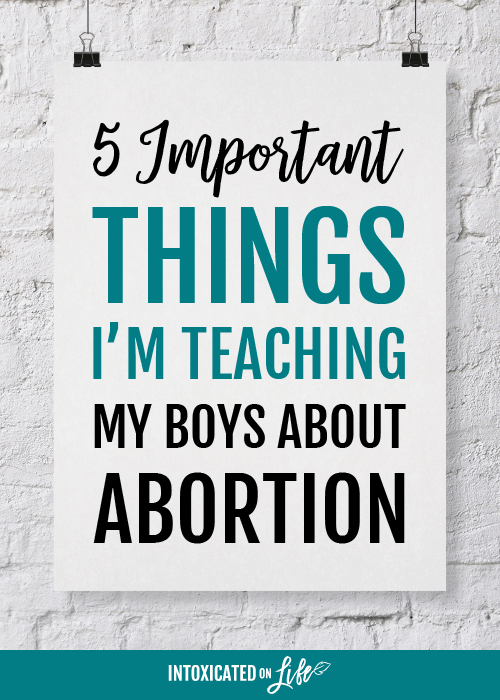 1. The big cop-out for men: "It's a women's issue."
I want my boys to know they can't cop-out of this issue by saying it's a "women's issue" and thus have no opinion.
Abortion isn't just a women's issue; it's a human issue. If you're a human, it's an issue that impacts you. Our children need to understand this is too important of an issue to ignore.
I want my boys to learn to stand for the rights of those who can't stand for themselves.
I want them to learn to stand up for the helpless, the marginalized, those that are discarded and seen as unimportant. I want them to know that a noble man, a man of virtue, is a man who stands up for the rights of others without regard to how it impacts them personally.
I've known too many men in my life who have used this excuse for non-involvement—and it absolutely infuriates me. I can't respect a man who uses this cop-out. Have an opinion, know what and why you believe it, and stand firmly for it. I don't want my sons to pull this wishy-washy stuff and say they have no "right" to an opinion.
2. Human life begins at conception—any dummy can tell you that.
When our children interact with the world, they'll encounter all sorts of lies. One such lie that many spout is that a fetus is not a human life—a baby.
I have a degree in Biology, but you don't need one to know this. It's unequivocal. When a sperm and an egg meet (in humans as well as in any species of animal) a life is created. Things either are living or inanimate—they have a capacity for growth and development or not. Clearly, an embryo has a capacity to grow and develop.
My sons will not be duped into believing otherwise. If they are to decide later in life they are pro-choice, they must come to grips with the reality that the act of abortion is an act of violence to a human being. The act of abortion ends a human life. It kills a baby.
When pro-abortion advocates are honest, they'll admit this—and they do.
Judith Acrana, fervent abortion supporter stated:
I performed abortions, I have had an abortion, and I am in favor of women having abortions when we choose to do so. But we should never disregard the fact that being pregnant means there is a baby growing inside of a woman, a baby whose life is ended. We ought not to pretend this is not happening.
Even prominent third-wave feminist and pro-choice advocate Naomi Wolf agrees: arguing for abortion on the basis that a fetus is not a life is ridiculous (and not one that advances the goals of feminism anyway).
How can we charge that it is vile and repulsive for pro-lifers to brandish vile and repulsive images if the images are real? To insist that the truth is in poor taste is the very height of hypocrisy. Besides, if these images are often the facts of the matter, and if we then claim that it is offensive for pro-choice women to be confronted by them, then we are making the judgment that women are too inherently weak to face a truth about which they have to make a grave decision. This view of women is unworthy of feminism.
No, my boys will not be fooled into believing that a fetus is not a human life.
3. All human life is sacred.
It is a poverty to decide that a child should die so that you may live as you wish. – Mother Theresa
It is not for us to decide whose life is worth living. The pro-choice segment of society would argue that some life is more valuable than others. This simply isn't true.
My boys must learn that despite the inconvenience, the heart-ache, the disruption a pregnancy may be to a woman, the life of the mother is not somehow more important and does not usurp the life of the baby growing within the mother.
Abortion shouldn't be tolerated when a mother feels incapable of being a mother.
Abortion shouldn't be tolerated when a mother fears a baby will ruin her chance at a career or school.
Abortion shouldn't be tolerated to reduce the number of babies a mother is carrying inside her.
Abortion shouldn't be tolerated when the baby has a physical deformity or disability.
Abortion shouldn't be tolerated even in the instance of rape or incest.
That's right: Abortion shouldn't even be tolerated in the instance of rape or incest. Two wrongs do not make a right.
The brutal, disgusting act of rape does not make the vile act of murder right. As difficult as such a pregnancy would be, abortion should not be condoned. I don't want my boys to be insensitive to this plight, but I do want them to understand that life is a gift from God and it is not our right to snuff it out.
For you formed my inward parts;
    you knitted me together in my mother's womb.
I praise you, for I am fearfully and wonderfully made.
Wonderful are your works;
    my soul knows it very well.
My frame was not hidden from you,
    when I was being made in secret,
intricately woven in the depths of the earth.
Psalm 139:13-15 (ESV)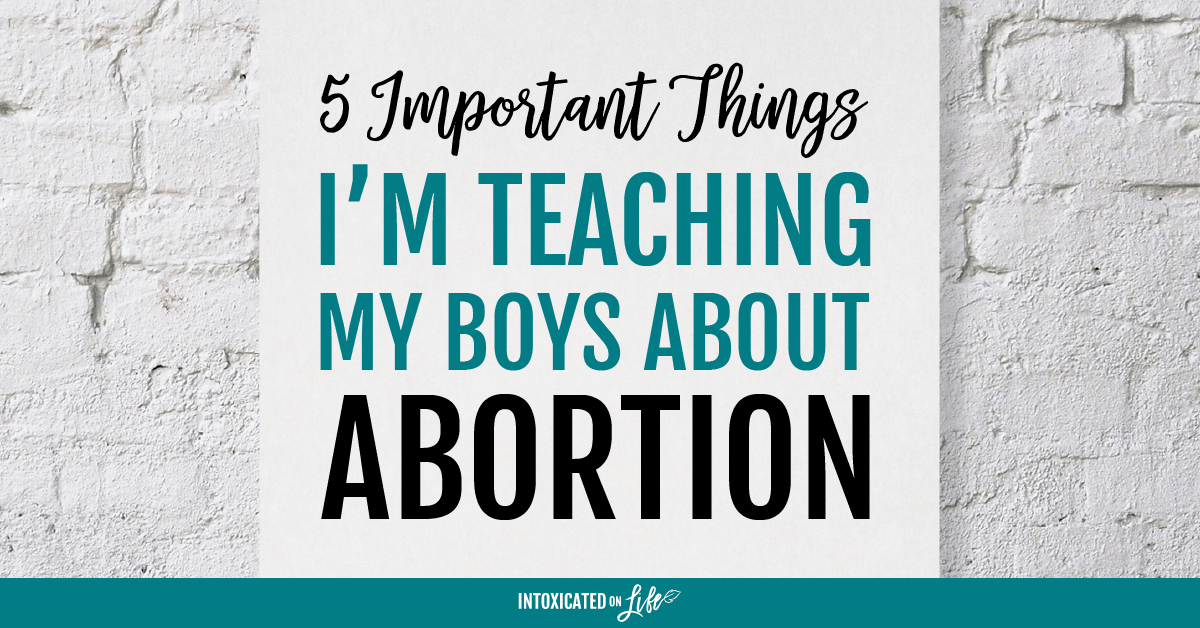 4. We need to be proactive in our stance against abortion.
Abortion is too important to only have an opinion. If we do nothing, who will? They must wrestle with who is standing for the unborn in this great holocaust our country has committed.
All that is necessary for the triumph of evil is that good men do nothing. – Edmund Burke
What does this mean? How are we to be proactive? That is something for each family and each individual to wrestle with themselves.
Does it impact our spiritual life? Most certainly. Every family should be fighting this on the spiritual battlefield in prayer.
Does it impact the way we educate others? Yes. We need to be educating those around us. We need need to speak truth in a dark world and give hope to those we speak to.
Does it impact our political choices? Yes. But our children will also be taught that this issue isn't merely about party politics.
If our children end up Left of us on the political spectrum, we want them to stay true to the roots of Left politics. A hundred years ago, fighting against abortion (not for the freedom to abort) would have been the cause of the liberal. The Old Left was characterized by giving a voice to the voiceless, helping the struggling poor in the slums in the wake of the Industrial Revolution. Since the 1960s, the New Left has redefined oppression to the point where it is fighting on the wrong side of its own philosophy. I agree wholeheartedly with what liberal author Mary Meehan writes,
The unborn child is the most helpless form of humanity, even more in need of protection than the poor tenant farmer or the mental patient or the boat people on the high seas. The basic instinct of the Left is to aid those who cannot aid themselves—and that instinct is absolutely sound. It is what keeps the human proposition going.
I pray we raise up a generation that will fight ardently for the rights of those that cannot fight for themselves and will become fierce leaders of action.
We can support, with money and time, the pregnancy centers that work so diligently to support pregnant women in difficult situations.
As parents, it's important we train our children not only with words, but with deeds. Walk the walk. Show your children and talk to them about how you are working to support the rights of the unborn.
5. Approach this issue and women involved with love.
I don't want my boys to approach this issue with condemnation and bitterness, but with a sorrow, love, and support.
I want them to weep the millions of lives lost.
I want them to have empathy and love for pregnant women going through difficult times and facing difficult choices.
I want them to approach women who have aborted a child with forgiveness, compassion and support—with no spirit of condemnation or harshness.
I want my boys to understand this critical truth: the fact that abortions happen is a reflection of something bigger that is wrong with our society, that in many ways our world has failed women and that women are settling for less. Abortions will not stop simply because they are outlawed. We must help to create a world where no woman feels the need to end the life of her child.
Women deserve better than this.
So does the child in their womb.