When my oldest son was 8, we invited some friends over to our home to dissect a fetal pig.
While there were a few "gross!" comments, by and large, the kids were very attentive and interested. Since my background's in biology, I was able to point out all the various internal parts of the pig and what each part did. It was a very fun, interactive afternoon of learning.
Sadly, a lot of homeschool parents don't see the value of this kind of hands-on learning—or at least they don't think it's worth the cost of the supplies.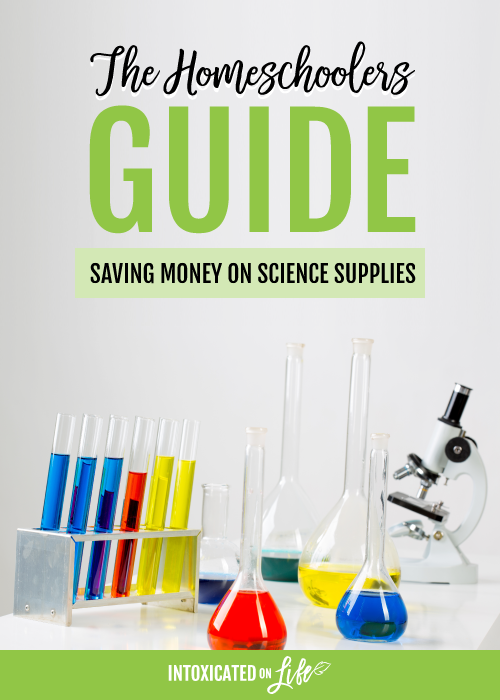 But the value of tactile learning—also called kinesthetic learning—cannot be overstated. Kids who learn by doing are more likely to remember that experience because they're fully engaged in the topic.
So instead of cutting lab science experiences from the curriculum, we want to share ways you can save money on quality science supplies.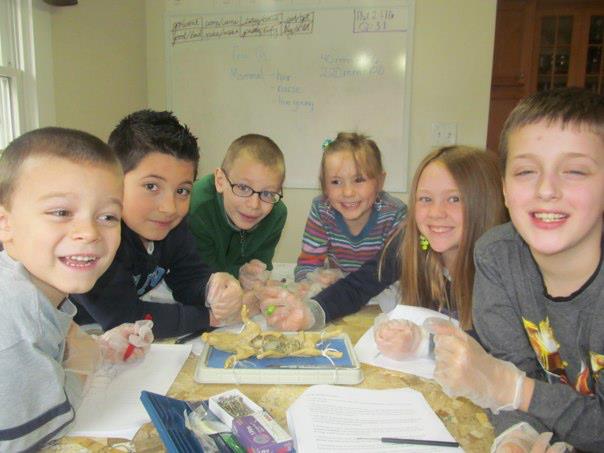 Types of Science Supplies You Might Need
Depending on your kid's age and their science curriculum, there are different science supplies you might need to have on hand for the school year.
For younger kids, that might include simpler items like beginner microscopes, telescopes, science kits, science "toys," rockets, or nature guide books.
For older kids, you might need better quality microscopes and telescopes, dissecting kits, Petri dishes, Bunsen burners, etc.
7 Tips for Saving Money on Science Supplies
1. Use Items from Around the House
Believe it or not, many science supplies might already be sitting around your house. Before you start buying science supplies, think about how you can use items you already own.
You might, for example, have safety goggles in the garage, or canning jars in the basement, or baking soda in the kitchen. Instead of bunsen burners, can you use your stovetop? Many "science" supplies can be substituted for regular items you already have around the house.
2. Store Discounts
One easy way to save money on science supplies for homeschooling is to wait until just after the public schools starts in the fall. Many stores deeply discount school supplies to clear out inventory.
Another way to get discounts at the store is with teacher discounts. You might have to be bold and ask the stores about it, but many stores offer teacher discounts to homeschool parents.
3. Garage Sales, Secondhand Stores, and Thrift Stores
Make sure you have a list of the science supplies you need when you head to garage sales or thrift stores, and you might get lucky and find things like binoculars, digital scales, and other secondhand equipment for your homeschool science labs.
4. Amazon, eBay, or Discount Websites
eBay is great for hunting for the perfect deals for science supplies. I also love using Amazon around Thanksgiving (Black Friday through Cyber Monday) for good deals on homeschool supplies.
There are some great websites out there that sell homeschooling resources besides Amazon and eBay to help with saving money on science supplies. Be sure to check out some of these websites:
Plan your schedule ahead so you can check out these websites around Thanksgiving to take advantage of additional Black Friday sales.
5. Borrow from Your Local Library
Many local libraries will loan out microscopes or other non-consumable equipment for a period of time. Contact your local library to see if they have science supplies you need and what their borrowing policy is.
6. Split the Costs or Trade Science Supplies with Other Homeschooling Families
Do you know other homeschool families? One of the things I love about our local homeschool community is how much everyone is eager to help one another.
Whether you're part of a homeschool co-op or just know a few other homeschooling families, see if some families would be interested in purchasing some of the more expensive non-consumable science supplies together like microscopes, scales, or telescopes.
If it makes you uncomfortable to split the costs of science supplies with other homeschooling families, consider talking to your homeschool community about some sort of trading, borrowing, or swapping deal.
Whatever you decide, be sure to have discussions about ownership, maintenance costs, and other responsibilities. With proper communication, it's possible to save a good amount of money on homeschool science supplies.
7. See if Your Curriculum Provider Offers Discount Opportunities
Many curriculum providers work with science supply distributors to secure discounts on lab supplies. If you're using a specific curriculum, be sure to check with your curriculum provider.
For instance, with our course, Experience Biology we do a lot of labs throughout the year because we believe nothing can replace that hands-on learning. We've also negotiated discounts with science supply distributors that are available just for our students!


Saving Money on Science Supplies
Science supplies can add up quickly, but with some work and planning, it's possible to cut costs! Don't underestimate the importance of this piece of your kids' education. Make it a part of your homeschool budget.
How have you saved money on science supplies? Be sure to share with us in the comments!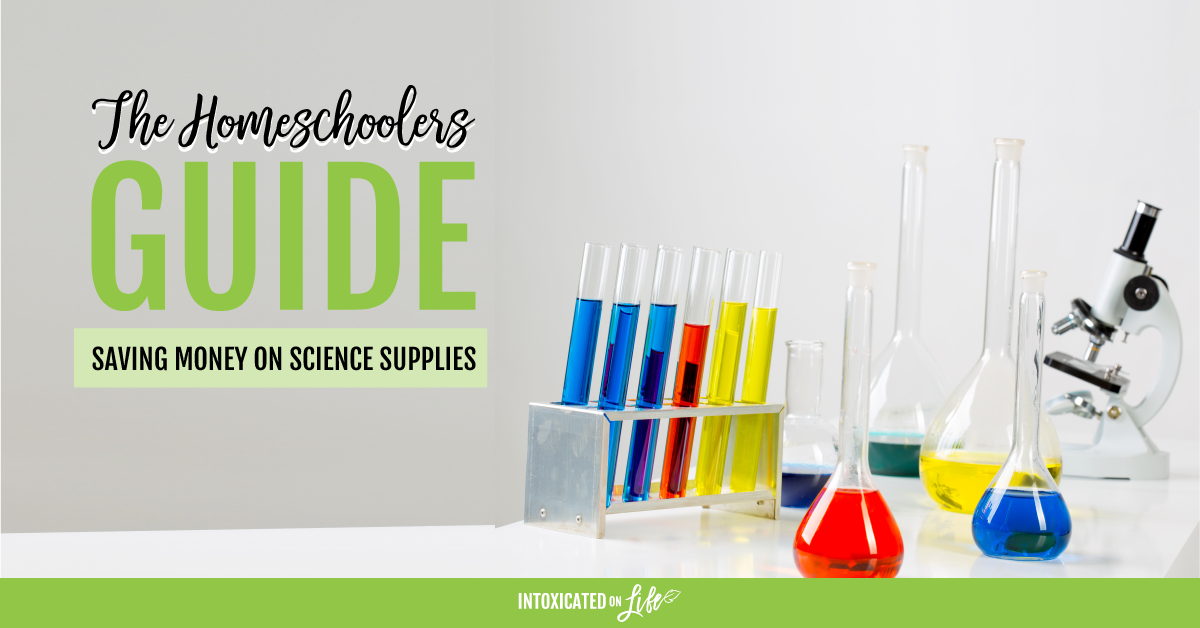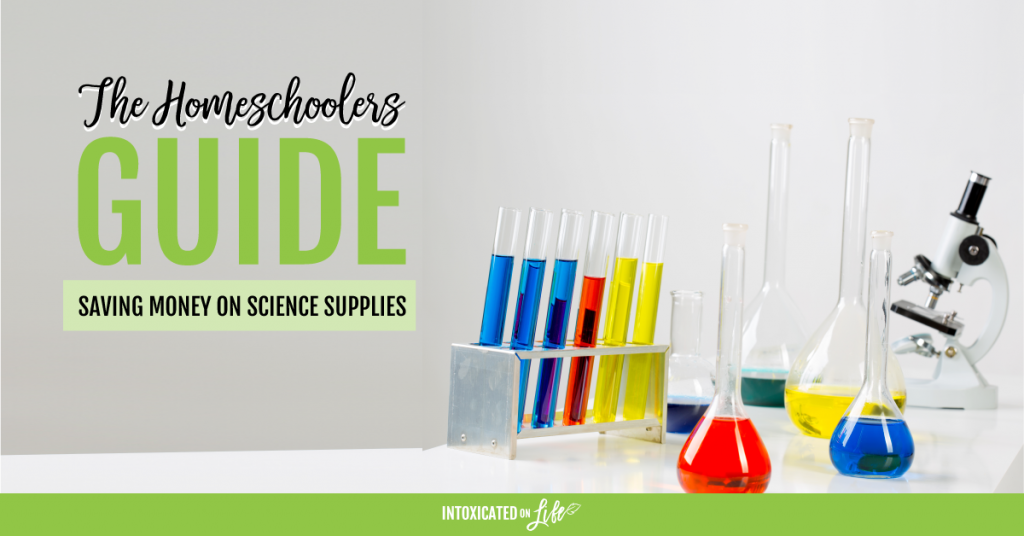 More Science Articles: