Today we're going to compare and contrast 4 types of water filtration systems.
Bacteria, parasites, fluoride, chlorine, emerging pollutants…just a few of the reasons why you may be considering a water filtration system. Yuck!
Recently we discussed what could be lurking in your water, both city water and well water. Now, we're going to tackle the popular water filtration systems and discuss the pros and cons of each type of system.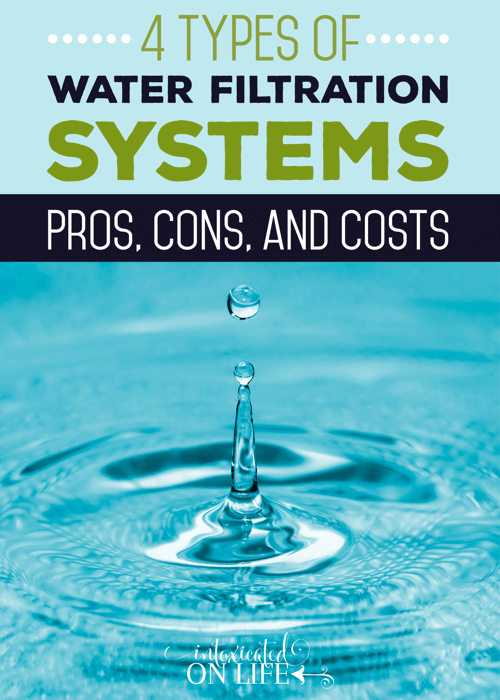 In addition to the pros and cons, we'll do a price comparison of these types of water filtration systems. There is obviously some variation depending on brand, set-up, energy cost, and maintenance, but I have estimated (and given a range) as best as I can.
Types of Water Filtration Systems: Pitcher Water Filters
These are fairly popular water filters that you can easily purchase in any grocery store. The filtration happens in the water pitchers and uses granulated activated charcoal to remove contaminants.

Pros:
Reduced chlorine in water
Improved water flavor
Low up-front costs
Does not remove minerals from the water
Cons:
The carbon filters is not solid, so it will not remove all contaminants
Will not remove pesticides, herbicides, heavy metals, fluoride, or emerging contaminants
Fairly small container for a family, must frequently refill water pitcher frequently
Requires frequent replacement of cartridge, so may not be the most economical solution in the long-run despite up-front costs
Unless you are making ice cubes the old fashioned way, you will not have ice made from filtered water.
Cost: $0.13 – $0.34 per gallon
Of course there are numerous brands of pitcher filters you can find, and sometimes you may be able to find the filters on sale.
Types of Water Filtration Systems: Distillation
With this type of water filtration system, distilled water systems bring water to boiling point, where water turns to vapor and is then condensed back into water in a separate chamber. It's a pretty involved mechanism. 
Pros:
Reduces the heavy metals and fluoride in drinking water
Kills any bacteria lurking the water
Cons:
There are many problematic contaminants that are not removed from water because they vaporize at the same or lower temperature as water
Removes minerals from the water
Large and expensive to set up
Not energy efficient
Cost for home unit: $0.30- $0.60 cents per gallon 
Cost for gallon jugs from store: $0.89 cents – $1.29 per gallon
Types of Water Filtration Systems: Reverse Osmosis
Reverse osmosis is the type of filtration that had been recommended to my mom by her doctor. This is also the type of water we used for about 6 months. We looked into purchasing a home RO system but decided against it because of the up-front cost and cost of maintenance.
It was more economical for us to purchase gallon jugs of water from the store, though certainly not a very convenient option. As you can see in the picture, we ended up purchasing an inexpensive shelf that could hold a number of gallon jugs so we didn't have to run to the store every week for refills.
There are different types of reverse osmosis systems. They typically differ based on the number of steps involved. The most comprehensive RO systems are 5-step systems. These 5 steps include filtration through micron filters, carbon filters, and water being pushed through a semi-permeable membrane. The last step that is often not included in home RO systems is treatment with Ultra-Violet light in order to kill bacteria and other organisms.
Pros
Removes the majority of unwanted contaminants in water including bacteria and other organisms if treated with ultra-violet light
Home reverse osmosis systems are very convenient. You will typically have a small water faucet set up at your sink specifically designed for drinking water. Often, you can have the system set up to also feed into your ice maker as well.
Improved water flavor
Cons
In-home set-ups can be an expensive option. They can cost quite a bit to set up and to maintain as filters need to be replaced frequently and are not cheap.
Removes minerals from the water
This system wastes a lot of water. You end up with a lot of water waste compared to filtered water.
Cost for home unit: minimum of $0.15 – $0.97 per gallon
Cost for gallon jugs from the store: $0.19 – $0.35 per gallon
If you need to add a water softener to the mix (as we would have needed to) for a home unit that will increase the per gallon cost substantially.
Types of Water Filtration Systems: Berkey Water Filters
The Black Berkey filtration elements use several media types in the filtration process. Below is a quote from Berkey Water about the black berkey filter:
…several methodologies are utilized by the Black Berkey purification elements. The elements are composed of a formulation of more than a half dozen different media types constructed into a very fine matrix creating millions of micro-fine pores. The pores are so small that pathogenic bacteria, cysts, parasites, sediment and sedimentary minerals are not able to pass through them. The media formulation both "absorbs" some contaminates and "adsorbs" other contaminates. Next, heavy metals ions (mineral molecules) are extracted through an Ion exchange process where they are essentially electrically bonded to the media. Finally, our filter elements are designed such that each water molecule can take several minutes to pass through the filter elements whereas these molecules passing through other filtration systems pass through those filters in literally microseconds. The longer the water molecules are in contact with any media, the greater the removal of the various contaminates.
If you use city water and want fluoride filtered out of your water, you need a second filter for your Berkey, the PF-2. This is what Berkey Water has to say about how this filter works:
The media used to extract the fluoride and arsenic is activated alumina. Since fluoride is a by-product of aluminum production, fluoride has a natural affinity to recombine with activated alumina making it an ideal extraction media…Aluminum can cross the blood brain barrier and cause problems with the brain whereas alumina is inert.
Pros
Bacteria is filtered to a 99.99999%  and viruses to a 99.9999% level.
Filters chlorine to undetectable levels
Lead and other heavy metals are filtered up to 95%.
When the black berkey filter is used in conjunction with the optional PF-2 filter, pretty much all undesirable contaminants are removed including fluoride. In fact, they filter water so well that they are rated by the EPA NSF/ANSI as water purifiers—purifiers greatly exceed water filtration standards.
Low maintenance systems—no expensive equipment or extra plumbing is required
Minerals are not removed from the water
Very affordable. Black Berkey filters will filter 3,000 gallons! Depending on your families water usage, one filter should last you a number of years.
Berkey filtration systems can be used in emergency situations. They can be used with any type of water including lake or stream water.
Cons
You must manually refill the chamber, though typically once a day is adequate for our family and it's an easy chore for a 9-year-old :).
If you want to remove fluoride from the water you must purchase a separate filter.
You have to find somewhere on your counter to place it.
Unless you are making ice cubes the old fashioned way, your ice cubes will not be made of filtered water.
Cost with black berkey filter:  $.0.017 per gallon
Cost with black berkey and flouride filter: $.07 per gallon
So…there you have it. The pros, cons, and costs of the major types of water filtration systems. I'd love to hear more about what kind of water filtration you use and why you chose that method!
More Healthy Living Resources: