This sweet potato hash is a delicious and healthy option for quick dinners on busy days. The family all loves it!
Now that school and all the extracurriculars that go with the school year is in full-force, sometimes the days get away from me. I find myself scratching my head at 5pm and wondering what in the world we're going to eat for dinner.
I hate it when that happens.
But when it does, I try to have a few tricks up my sleeve so we can still have a healthy meal. This quick and healthy sweet potato hash fits the bill!
Looking for more gluten-free recipes and resources? This Everything Gluten Free page is a library of everything gluten free we've worked on.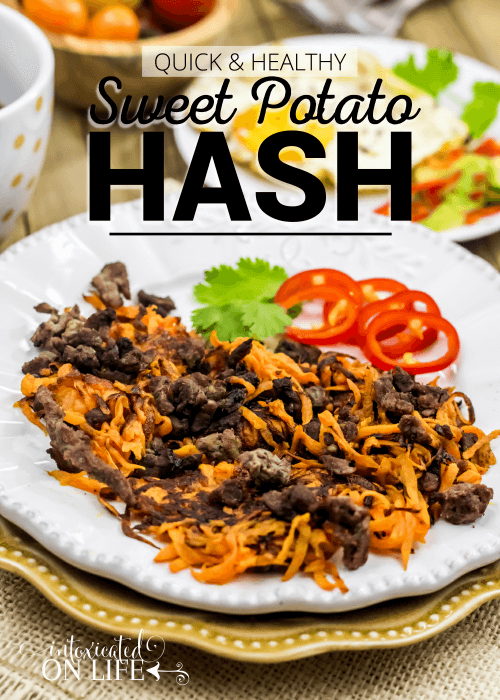 Avoiding the Fast Food Lane when Life Gets Busy!
The key to avoiding the fast food lane—and the boxed, processed, packaged meals—when life is busy is to have a plan.
I know, I know…who has time for a plan? Planning seems to be something we're all good at pushing to the back-burner. Who among us hasn't procrastinated when it comes to putting together a meal plan!?
But let me tell you a secret…it really is easy. I have a personal list of "last minute" meal ideas (like this Sweet Potato Hash) that I can throw together easily. It's an ever growing and evolving list.
Here's the criteria a meal has to fulfill to make it on my "last minute meal ideas" list.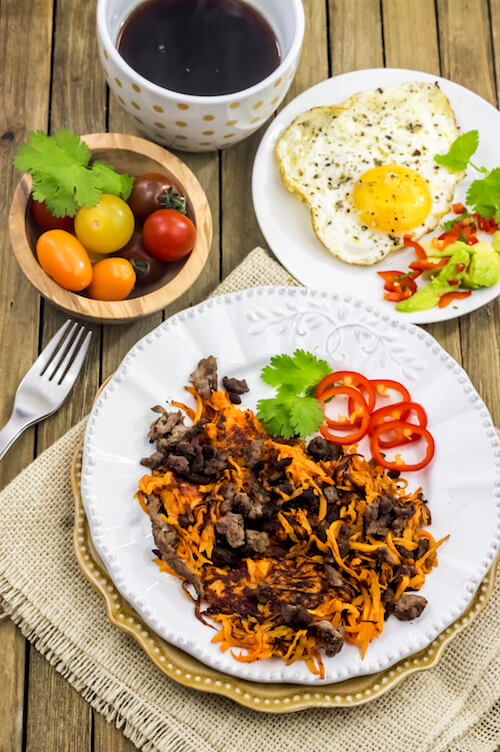 Meals must rely on foods that I usually have in the house.
They don't need meat that has to be thawed for hours before the meal.
I can pull the meal together quickly and easily—preferably in under an hour.
I keep a list on my phone. If I'm sitting in the car while my husband is driving and I have an idea, I can throw it on the list.
If I'm waiting to pick up my son from basketball practice and realize I didn't make anything for dinner, I can consult my list and figure out what I'm going to make for dinner as soon as I get home.
This recipe for sweet potato hash is healthy, easy, fast, and tasty—a perfect recipe for busy day success!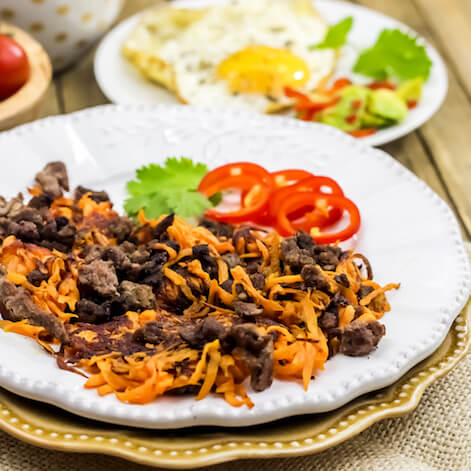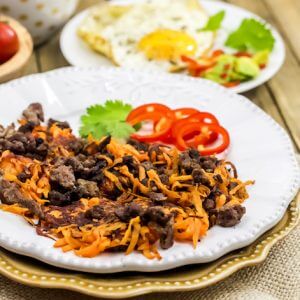 Print
Sweet Potato Hash
Ingredients
1

Large Sweet Potato

1

Pound

Ground Sausage

or use ground pork and make your own sausage

3-4

Tablespoons

Coconut Oil

1

Tablespoon

Cinnamon

Salt to taste
Instructions
Shred your sweet potato. You can do this by hand, but I prefer to use my food processors shredding attachment - this saves me oodles of time (this

inexpensive food processor

has been a workhorse and served us well for over 5 years now).

Cook your ground sausage in a skillet then set it aside.

Melt the coconut oil in a large skillet. Fry the shredded sweet potato in the coconut oil. Let it brown on one side, then flip it.

Once the sweet potatoes have been browned and cooked through, add the cooked sausage, cinnamon, and salt. Toss it all together.

Watch your kids scarf it down!
Nutrition
Calories:
468
kcal
|
Carbohydrates:
8
g
|
Protein:
18
g
|
Fat:
41
g
|
Saturated Fat:
19
g
|
Cholesterol:
82
mg
|
Sodium:
739
mg
|
Potassium:
391
mg
|
Fiber:
2
g
|
Sugar:
1
g
|
Vitamin A:
4696
IU
|
Vitamin C:
2
mg
|
Calcium:
40
mg
|
Iron:
2
mg
Make it a meal!
There is no way this sweet potato hash recipe will feed all the hungry boys in my house. I typically double the recipe and serve it with fruit and some fried eggs. If I have extra time, I'll whip up some bacon, strawberry chia pudding, or cinnamon muffins. No worries if you don't have time for anything else though, it can easily stand on its own!
Are you a dinner-time procrastinator? What are your favorite healthy "oops… I forgot to plan dinner" meals?
Love this Sweet Potato Hash? Try these recipes:
SaveSave
SaveSaveSaveSave
SaveSave