I have a confession to make. I'm a frustrated foodie. I love to cook. I love to experiment and take time creating new recipes. But with three little ones running around the house, culinary technique falls by the wayside for quick and simple recipes that sometimes lack the amazing flavors that I love. Not with this recipe however. I was THRILLED when I found out how simple it was to prepare chicken drumsticks on the grill. These grilled chicken drumsticks are not just amazingly easy and healthy, but one of the best tasting recipes I've made in a while.
Looking for gluten-free recipes and resources? This Everything Gluten Free page is a library of everything gluten free we've worked on.
If you're looking for a good source of grass-fed meat,
Butcher box
has high-quality meat that they will deliver right to your door.
If you use this link to Butcher Box, you can get FREE meat in your first box!!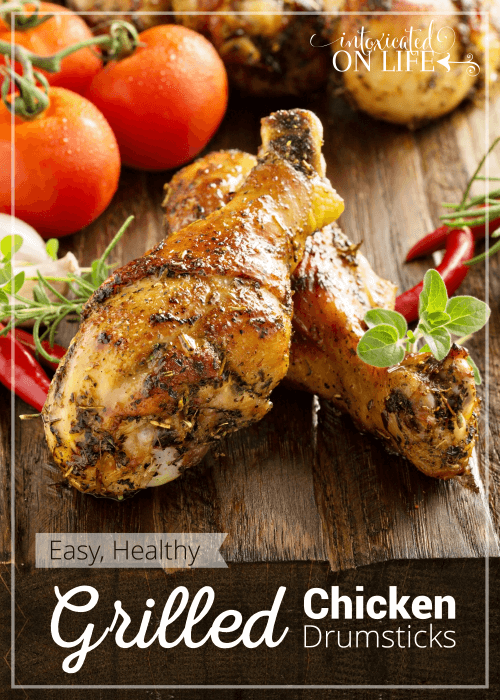 These grilled chicken drumsticks take all of 5 minutes to prepare, and very little tending to once they're on the grill.
Considering the fact my two year old has suddenly discovered the toys of his older sisters and my older girls aren't quite as generous as he'd like, it means I don't have to worry about watching something on the grill and I can keep them from killing each other  teach conflict resolution while they hungrily await dinner.
In all seriousness though, if you own a grill, the next time chicken drumsticks are on sale (which seems to be often at my grocery store) this is a recipe you need to try. It reminds me of the giant turkey drumsticks you get at the Renaissance Festivals, and it's gluten-free and Paleo to boot.
Note: I consider this to be a healthy recipe because it doesn't use any fake ingredients, but I realize some people are paranoid of natural fats. Personally I'm not afraid of the natural fat in chicken skin, but if you don't care for it, simply remove the skin after you're done cooking. But fair warning, you'll lose some of the best part of this recipe!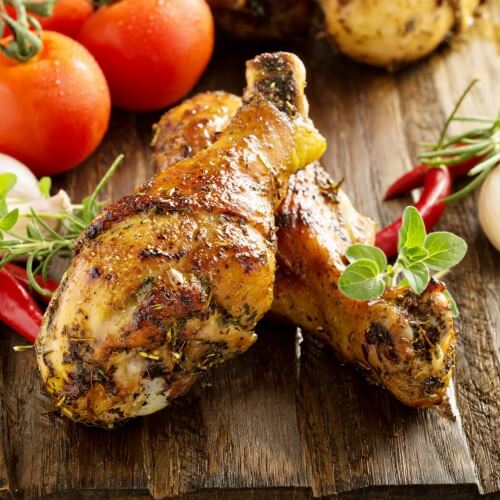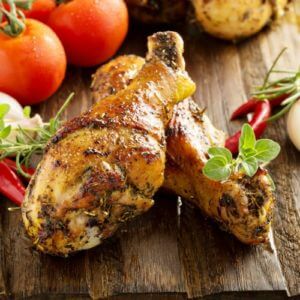 Print
Grilled Chicken Drumsticks
If you love to grill, this simple meal is perfect for you! No need to even measure, just mix up your favorite seasonings, season however many drumsticks you want to make, and grill.
Ingredients
chicken drumsticks

skin on, enough to fill half of your grill

Salt and pepper to taste

Garlic to taste

Parsley to taste

Paprika to taste

Cumin to taste
Instructions
Heat your entire grill to high. If using charcoal you'll want your grill to be as hot as possible.

Rinse and pat dry drumsticks.

Season your chicken generously. No need to be shy here, if for some reason you over season or use a flavor combination you don't care for, just remove the skin when you sit down to eat it.

Lubricate your grill with oil by using a well saturated piece of paper towel and grill tongs, or half an onion dipped in oil. Be careful of flames.

Arrange the chicken on one half of the grill. Do not over crowd.

Let it cook on the high heat for 3 minutes. Turn off the burners directly below the chicken, leaving the other half of the burners on high. The chicken will cook by indirect grilling.

If your grill is charcoal rake the coals to one side. Cook the chicken above the hot coals for 3 minutes then move the chicken to the other side of the grill. Make sure your grill vent is set for high heat.

Close the lid and leave the chicken alone for 30 minutes.

After 30 minutes flip the chicken, and rotate the chicken from the far side of the grill to be nearer to the flame or coals. You're not putting the chicken over the heat, you're just moving around the chicken on the one side of the grill.

Cook the chicken for an additional 15 minutes.

At this point it should be done, however check with a meat thermometer in the thickest part of the meat.

If it needs additional cooking time close the lid and check back in 5-10 minutes. If you'd like to speed up the cooking time you could finish the chicken over your heat source, but I highly recommend continuing with indirect grilling.
Notes
The above seasonings are suggestions. You could easily use Mexican, mesquite, Indian, or Italian style seasoning as well. Or if you're less adventurous you can't go wrong with salt, pepper, and garlic.
So that's my current favorite super easy recipe.
Share what your favorite, simple, healthy recipes are in the comments!
Looking for more easy recipes? Try these!
SaveSave
SaveSaveSaveSave
SaveSave
SaveSave
SaveSaveSaveSaveSaveSave