Pork ribs are a big fan favorite in my home, but I often feel like I can't tackle the seasoning. But after trying these easy keto dry rub pork ribs, I feel like I finally found the right blend of spices.
Taking only a few minutes to prepare, these ribs cook to perfection slowly at low heat.
Sadly, dry rub pork ribs haven't caught on as candle scent yet, so you'll have to enjoy the sweet and smoky aroma while these cook.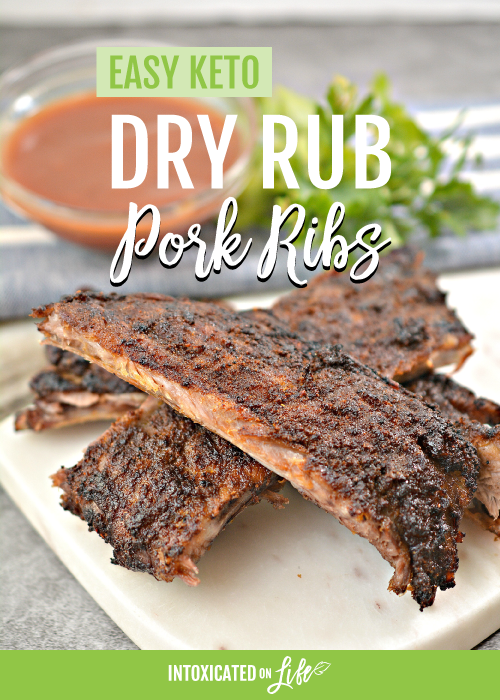 Keto Dry Rub Pork Ribs: The Perfect Seasoning 
The seasoning combination for this recipe is excellent.
Cumin, smoked paprika, celery salt, chili powder, and garlic powder blend together to provide a savory and smoky taste. 
The sweet flavors you'll find in the mix are Swerve brown sugar (great for keto diets) and cinnamon. These two flavors go great on just anything but come together nicely to help form a delicious outer coating. 
One of the great things about this recipe is that these seasonings can almost always be found in my cabinet. Recipes that use existing ingredients are my favorite! 
When combining the ingredients for the seasoning, feel free to go a little heavier or lighter, depending on your preference. 
If you plan on using this seasoning mix more in the future, consider making a larger batch for future uses. Make sure you pay attention to the measurement amounts as you increase the recipe. Store the mix in an airtight container.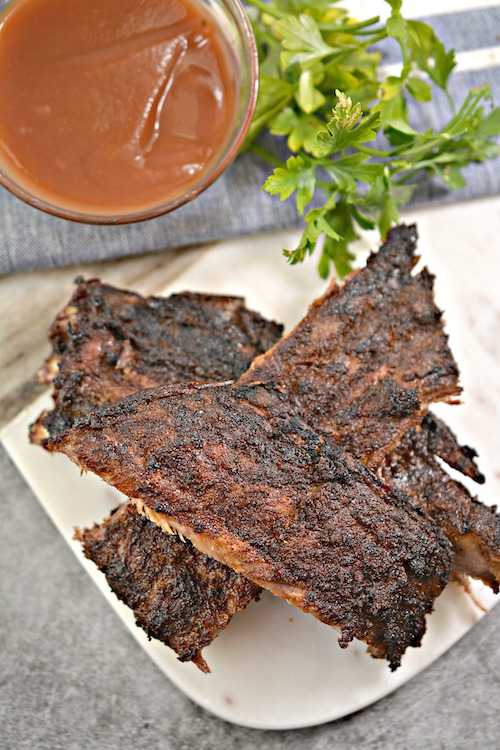 Which Type of Ribs?
While this recipe doesn't call for a specific type of pork rib, you definitely have some options when it comes to the type of cut. 
Some of the more popular types of ribs include spareribs, baby back ribs, St. Louis style ribs, and country style ribs. What's the difference though? 
Spareribs

are a longer cut of ribs that comes from the underside of the animal and are less trimmed than other cuts. You'll find a bit more fat and gristle on this rack of ribs.

St. Louis style ribs are actually the same as spareribs but have been trimmed into a more rectangular form. This trim leaves these ribs with less fat and gristle than spareribs.
Baby back ribs come from the back of the animal and are not only shorter in size, but leaner as well. This is definitely something to consider if you are eating a diet lower in fats.
Country-style ribs

aren't actually ribs at all. These "ribs" come from the shoulder area of the animal, and do oftentimes have bones in them. While this cut does come bone-in, they will have more meat than actual ribs. 
No matter what style rib you choose, this rub will bring them a delicious finish. If you're looking for desserts to serve after these ribs, check out a few of these options: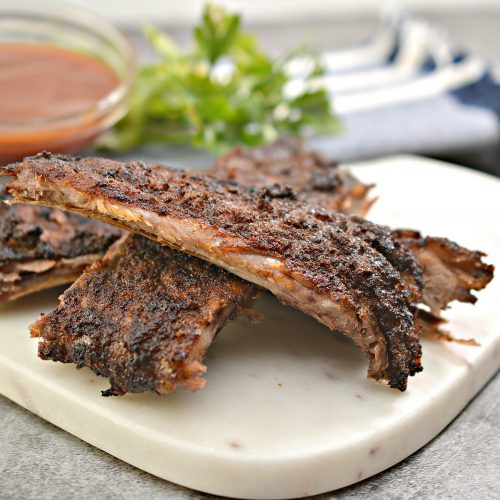 Print
Easy Keto Dry Rub Pork Ribs
Ingredients
4

pounds

Bone-in Pork ribs

2

tablespoons

Swerve brown sugar substitute

2

teaspoons

Cumin

2

teaspoons

Smoked Paprika

2

teaspoons

Chili powder

1

teaspoon

Garlic powder

1

teaspoon

Celery Salt

½

teaspoon

cinnamon

¼

teaspoon

cayenne pepper

or more if you like it spicy

½

teaspoon

Salt
Instructions
Preheat the oven to 275 degrees.

Carefully remove membrane from back of baby back ribs with a sharp knife, if necessary.

In a mixing bowl, combine all of the spices as well as the sugar replacement. Stir to combine well.

Sprinkle the dry rub mixture onto the meat side of the pork ribs, and rub it in well.

Place the ribs meat side down on a rack on a baking sheet, and cover with aluminum foil. Bake for 3-4 hours, or until the meat is tender.

Let cool for a few minutes and serve with your favorite sugar-free bbq sauce if desired.
Nutrition
Serving:
1
g
|
Calories:
892
kcal
|
Carbohydrates:
10
g
|
Protein:
50
g
|
Fat:
75
g
|
Saturated Fat:
24
g
|
Cholesterol:
254
mg
|
Sodium:
1149
mg
|
Potassium:
838
mg
|
Fiber:
1
g
|
Sugar:
1
g
|
Vitamin A:
854
IU
|
Calcium:
60
mg
|
Iron:
4
mg