This rich and delicious gluten-free sugar-free brownies recipe is an incredibly tasty chocolate dessert and yes, despite no sugar, it actually tastes really good!
I'm not really big into chocolate (don't be a hater, that is just the way it is), but my kiddos and husband really enjoy chocolate and occasionally I can enjoy nice gooey brownie batter ummm…I mean brownies.
Ok, I admit it, I'd rather eat the batter than the brownies. I'd rather eat cookie dough and cake batter than the cookies and cake too. Why does it taste so much better in the raw state?
Never mind that. Even I can enjoy these rich and delicious, gluten-free, sugar-free brownies topped with some homemade whipped cream (of course). They make my tastebuds happy and I don't have to feel guilty splurging on dessert!
Looking for more gluten-free recipes and resources? This Everything Gluten Free page is a library of everything gluten free we've worked on.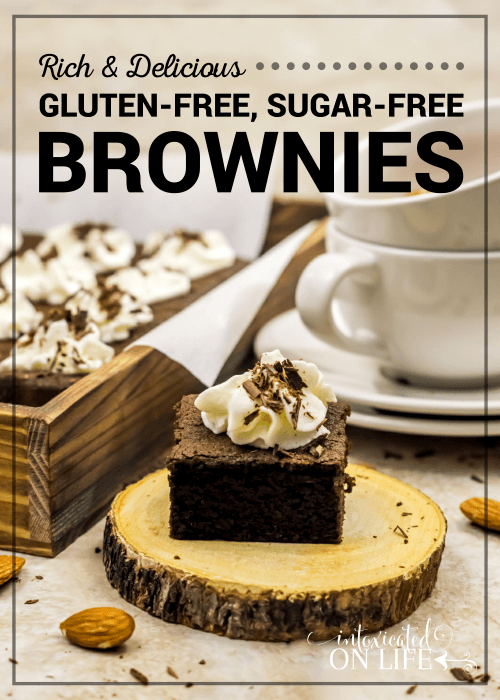 A Gluten-Free Sugar-Free Brownie that Actually Tastes Good!
I'm happy to report that the batter for these gluten-free sugar-free brownies tastes just as good (to me) as the sugar- and wheat-filled alternative. In the baked state, they're a bit different than the brownies you probably remember, but nevertheless, a delightful treat.
I experimented many times trying to get the perfect brownies—you know, a brownie with a delightfully crunchy top and ooey gooey insides. I never quite got them there.
After much research and experimentation, I have concluded that it may be impossible to get that crispy top in a gluten-free, sugar-free brownie (but if you have any experience with this, please let me know. I'm all ears!).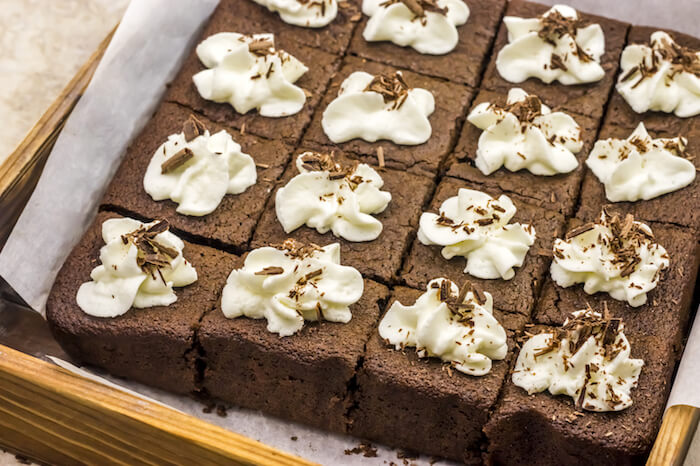 It's the sugar that really gives that nice crisp top, and without it you there isn't much you can do (of course, if you don't mind eating sugar you can just sub the sweetener for sugar instead).
I think these gluten-free sugar-free brownies are a nice balance between a fudgey and cakey type brownie, but you be the judge!
This gluten-free sugar-free brownies recipe goes out for all of my chocolate lovin' peeps! 🙂 (and even if you aren't a chocolate lover like me, you might still enjoy a gooey brownie with some whipped cream from time to time too).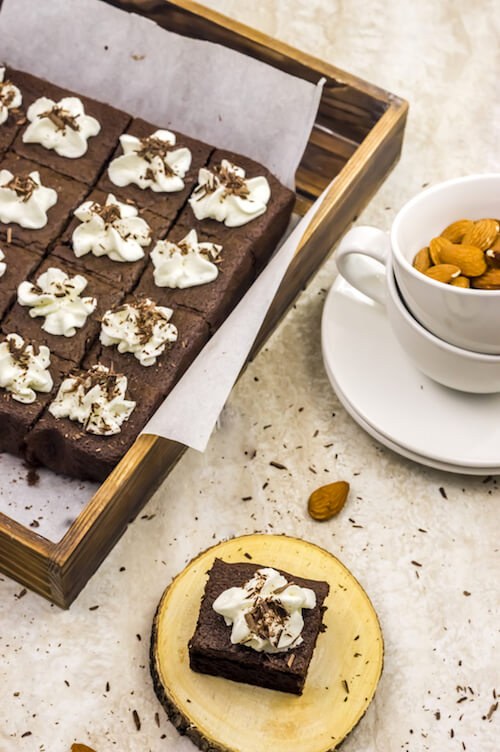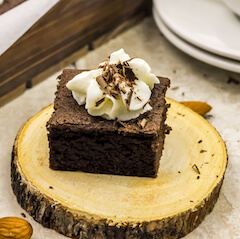 Print
Rich & Delicious, Gluten-Free, Sugar-Free Brownies
Whether you like to eat the batter or the brownie, this recipe is rich, chocolatey, and the perfect blend of a fudgy and cakey brownie.
Instructions
Preheat oven to 350 degrees.

Grease a 9 x 13 pan with butter or coconut oil.

Beat melted butter, stevia, and xylitol together until well combined.

Add eggs (preferably

farm-fresh eggs

) and vanilla to mixture and beat for 2-3 minutes on medium-high speed. This mixture should be nice and fluffy.

Add cocoa, almond flour, and cream. Mix until combined.

Bake for approximately 35 minutes.

Top with homemade whipped cream made with stevia for extra yumminess!
Notes
A note on sweeteners: I understand some individuals are not able to use xylitol. A good substitute that also has minimal impact on blood glucose levels is erythritol. Erythritol does not cause the gastrointestinal problems that some people experience with xylitol. If you use erythritol, increase the amount to 1 1/2 cups.
Nutrition
Serving:
1
brownie
|
Calories:
306
kcal
|
Carbohydrates:
7
g
|
Protein:
7
g
|
Fat:
30
g
|
Saturated Fat:
15
g
|
Polyunsaturated Fat:
1
g
|
Monounsaturated Fat:
6
g
|
Trans Fat:
1
g
|
Cholesterol:
126
mg
|
Sodium:
153
mg
|
Potassium:
118
mg
|
Fiber:
3
g
|
Sugar:
1
g
|
Vitamin A:
790
IU
|
Vitamin C:
1
mg
|
Calcium:
60
mg
|
Iron:
2
mg
If you put these gluten-free sugar-free brownies in the refrigerator for several hours it changes the texture and they are much fudgy-er. My husband liked them better the next day.
I'd love to hear how you liked them if you try this gluten-free sugar-free brownies recipe!
More Gluten-Free Dessert Recipes: