Can you believe we're already talking about Fall? September just snuck up on me and that means Fall is just around the corner. The cooler weather has already hit us here where we live, and I am loving it – the leaves are turning, harvesting has begun, which means hayrides and bonfires are not far behind.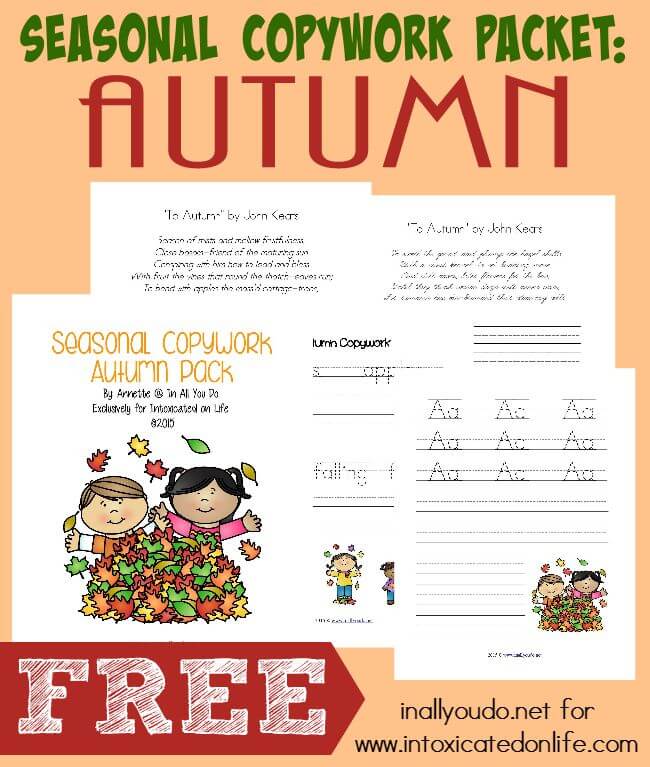 Even though school is in full swing around her, there are some subjects that just need some extra attention at times. Handwriting is one of those subjects I think needs constant work. It is a skill that takes a while to master and making it fun, rather than tedious and just busy work is much better – at least in my opinion.
So this month I created some adorable Fall copywork printables you can use throughout the Fall season or when you just need a break from the "regular." Make a fun mini Fall unit and pair this pack with these other fall/autumn printables – Fall Mini puzzles, Fall Writing prompts, Fall Coloring pages and this fun Pumpkin Unit Study is perfect for Fall.
Included in this Fall Copywork pack:
34 pages of copywork
Preschool Letter practice
Early Elementary words
Manuscript copywork of "To Autumn" by John Keats
Cursive copywork of "To Autumn" by John Keats
To download your freebie, simply click the link below.