Spice up your salad life with this easy and healthy 3-Ingredient Honey Mustard Dressing! It's completely free of gluten and sugar, making it a wonderful alternative to those over-stuffed store-bought versions.
Looking for more gluten-free resources? This Everything Gluten Free page is a library of everything gluten free we've worked on.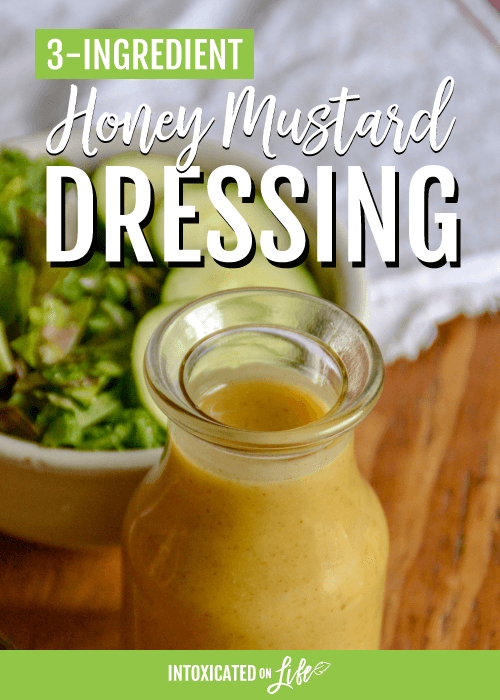 Salad season.
Spring is here! Trees and bushes are blossoming and everything smells delicious. Along with the warm(er) weather, comes the desire to turn off the oven, cut back on the hearty comfort foods, and dig in… to a salad.
At least for me, spring means salad and smoothies. Not that I don't enjoy them all year round – I do – but something about spring makes me want them even more! Simple salads, fancy salads, egg or tuna salads… I want them all!
Dressed greens.
Now, despite my love for salads, I've never been one to thoroughly enjoy them plain. I really love my dressings!
As a kid ranch was about the only one I would eat (I know, how boring), but as an adult my horizons have widened. I developed a love for Caesar, creamy parmesan, balsamic vinaigrette, oil & vinegar, buttermilk, and my latest favorite: honey mustard.
Spicy mustard mixed with sweet honey. How could you go wrong? It doesn't just make a delicious dressing for salads, it makes a great dip, or sauce over meat. I might have even been known to eat this Honey Mustard Dressing with a spoon…
Store-bought confusion.
Unfortunately, like most dressings, not all honey mustard dressing is created equal. In fact most of them are pretty different. I've seen popular store-brand of honey mustard dressing contain fun ingredients like sugar, soybean oil, maltodextrin, modified food starch, titanium dioxide, EDTA (to protect the flavor, of course), corn syrup, and food coloring!
And when I tried do find a "clean" one, it still had sugar in it! I don't know about you, but I don't usually expect things that have the word 'mustard' in their title to be full of sugar. Mustard isn't supposed to be overly sweet, right?
An easy, healthy alternative Honey Mustard Dressing.
In order to enjoy my honey mustard dressing guilt-free, and unnecessary additive-free, I of course set out to make my own. Thankfully, just like the name implies, honey mustard dressing is super-d-duper (as my kids say) easy to make!
If you're on the lookout for clean, refined-sugar free version of dressings, this is for you. You need three things for this honey mustard: honey, mustard, and mayo.
Simple ingredients.
I know a lot of people aren't fans of mayonnaise. I'm one of those… unless it's homemade! My mom spoiled me growing up by always making her mayo from scratch. Now homemade is the only kind I can stand. So for this dressing recipe I use my easy homemade mayo. (It also just has 3 ingredients.) You could try a vegan brand if you can't do eggs.
I also like to use local honey in this recipe. If you can't find that, no worries! It just ups the nutritional level of the dressing and helps alleviate allergies, as well.
For the mustard, the sky is really the limit. If you're not a spicy person – er, if you don't like spicy foods – you can use regular plain ol' yellow mustard. It will make the dressing a little sweeter. However, if you're up for a little bit of zing I'd suggest getting a nice spicy brown mustard to mix in!
Just remember that some mustards are full of weird ingredients, too. Make sure yours is simple!

Print
3-Ingredient Honey Mustard Dressing
This 3-Ingredient Honey Mustard Dressing is completely free of gluten and sugar, making it a wonderfully healthy addition to your salad.
Ingredients
1/3

cup

mayonnaise

make sure it's a clean version, use a vegan alternative for egg-free

1/3

cup

honey

1/4

cup

spicy brown mustard

or mustard of choice
Instructions
Place all ingredients in a small bowl or jar and mix well.

Store covered in the fridge.
Notes
Keeps well in the fridge for about a month.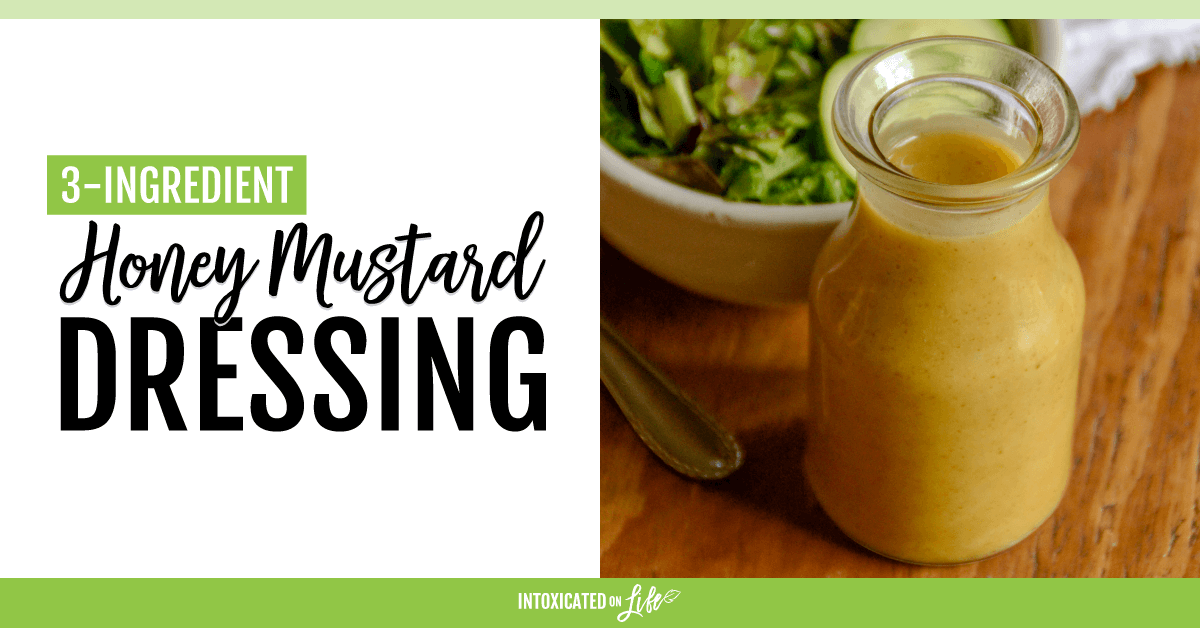 Check out our other Salad Dressing Recipes: