Grocery shopping is inevitable. Grocery shopping with kids is a whole new ball game. I am blessed in that my husband does most of the grocery shopping for our family. However, when our children were younger and my husband worked the third shift, I took them with me everywhere. And I learned very early on how to make the most of my shopping trips with young children.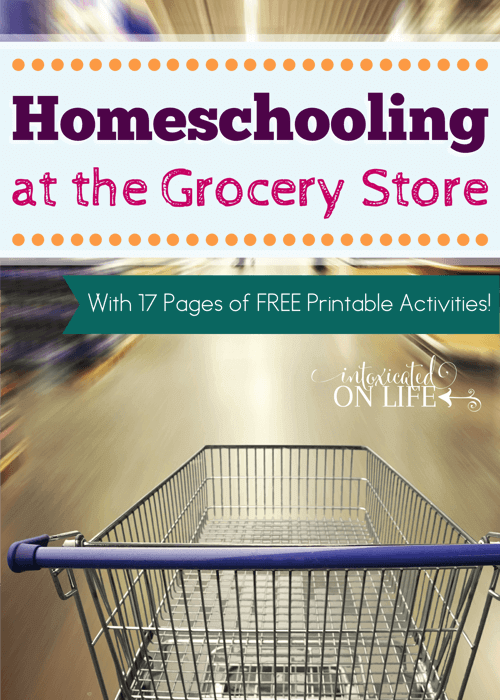 I quickly realized that if I made our grocery shopping trips more fun and like an adventure, they were less of a hassle for me. So I set out to make my grocery shopping with kids both fun and educational. With a 5 year old, 1 year old and one on the way it was imperative that I figure this out – and quickly! We had just begun our first year of homeschooling, my husband was working overnights and life was just plain hectic. Throw in a shopping trip with two young boys and it was all out war some days.
5 Tips & Tricks for Making Grocery Shopping with Kids More Fun
1. Scavenger Hunts – I began giving my oldest things to look for as we went through the store. Before he could read, I would give him something to find by color or shape – how many red things can you find on this aisle? Do you see any circles? As he got older, I would give him a pen and clipboard with a piece of paper to write what he found as we did our shopping.
2. Make them your helper – As he got used to the pen and clipboard, I would type up a list for him to read on our shopping trip. He would then read the items to me and off we'd go. As I would pick up the items on the list, he would then mark them off. He absolutely loved being Mommy's helper. And not only did it keep him occupied, it helped him work on his reading at the same time!
3. Reinforce math – Math is not a favorite subject in our house. But when it's made FUN, my kids do it willingly. Just this morning on our way to church our 5 year old was reading all the speed limit signs as we drove by them. He is working on recognizing his higher numbers. On the way home our 4 year old was reading the individual numbers (as in 4-5, not 45) and having a blast! So when my oldest was about 6 years old, I started having him write down prices of certain products so he could keep track of "our spending." I would have him add up 5-6 items at the end of our trip. Not only did this reinforce addition, but it also helped him realize that food and clothing and "snacks" all cost money. It all adds up and he could visibly see how much we were spending. It was a good lesson. Now, that he's 9 years old, we work on percentages when we see sale prices!
4. Make it a game – Since we got paid weekly, we never had the excess to shop on a monthly or even bi-weekly basis. So our trips quickly became monotonous. I had to come up with something quick! So, I came up with some BINGO boards and would rotate them each time we shopped. They started out with pictures and then we moved to just words of items in the store. He had so much fun looking for the items and seeing how quickly he could get a BINGO. While I don't take all four of our children to the store at the same time, once they can all read and/or understand how the BINGO game works, I could see our games getting a little heated – so use discretion!
5. Be prepared – So many times I would just "run in real quick" to the store for a few things. I learned, not as quickly as I probably should have, but eventually I learned, that having a list that the kids could help with went a long way in their eyes. Not only did it give them an ending point in our shopping trip, they could then help me with the list. When I tried to "run in" for a few items while grocery shopping with kids, that is when I noticed the most resistance. When I was hectic and in a hurry, they would act out and make the trip unbearable. But, when I was prepared and prepped them for the trip, it went smoothly – or at least as smoothly as it can go with small children.
Grocery shopping with kids is a learning experience for both parent and child. But, when you make it fun and sneak in some educational games – you might just find that it can be a fun and enjoyable experience.
I have created some fun printables you can use on your next shopping trip! In this pack you find 6 BINGO pages, Tally Mark printables (with and without pictures) and Picture Matching printables. You can download them by clicking the picture below.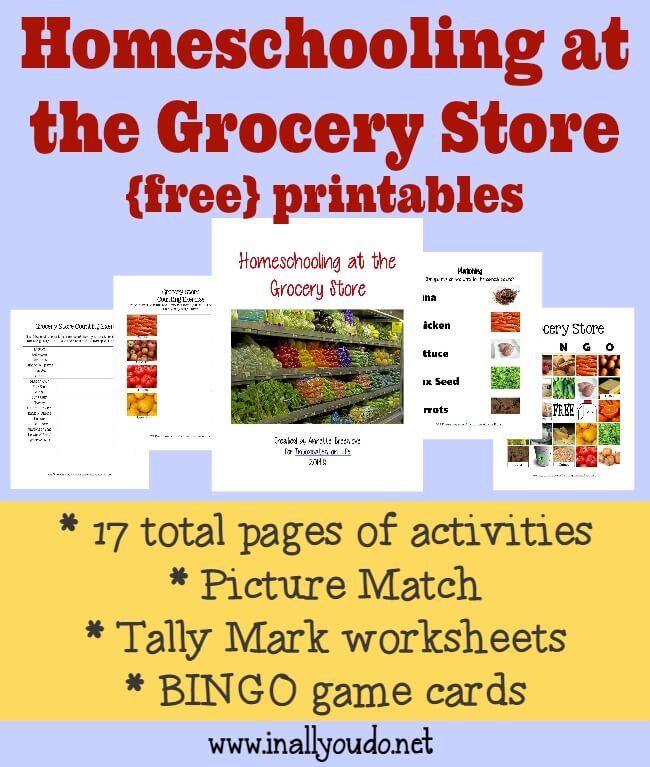 More Homeschooling Tips: