Smoothies have become a staple in our house. They're a quick, easy way to whip up a breakfast that the kids (and parents) enjoy.
My husband has recently begun major smoothie experimentation. Sometimes the smoothies are a huge hit and other times…they're a total bomb. When the kids turn their nose up at them and make crazy face, we know it was a failure.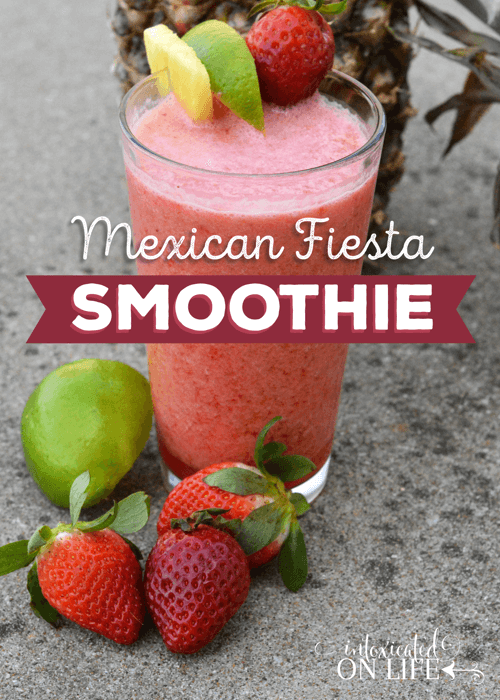 I don't like wasting food, so I'm ready to share with you a tried and true smoothie. It's a smoothie complete with a Mexican flare so you can have a little Mexican Fiesta with your kiddos for Cinco de Mayo (or any day of the year).
What about the optional ingredients?
You'll notice this smoothie has several "optional" ingredients: coconut oil, hydrolyzed protein, and tabasco sauce or cayenne pepper. I highly recommend you include at least 2 of the 3 optional ingredients.
Without the hydrolyzed protein and coconut oil, this smoothie, while delicious, is pretty light on the protein and fat. Protein and fats will keep you filled up and help stabilize your blood sugar levels. These ingredient have some other pretty fantastic benefits too.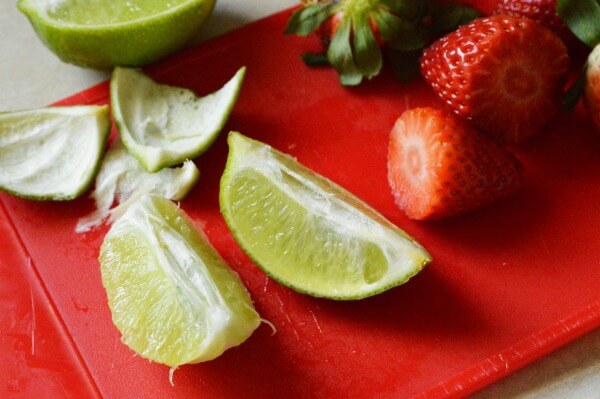 Hydrolyzed Collagen is similar to gelatin, except it doesn't gel. It will dissolve in any fluid, but won't turn your smoothie to jello. That makes it a perfect add-in for smoothies.
Collagen is the most abundant protein in the human body. Collagen helps improve your skin, decrease inflammation, supports joint health, helps keep your appetite in check, and more. Once you add this super-food to your diet, you'll never look back!
Coconut oil is one of the most abundant sources of Medium Chain Triglycerides (MCT). Human breast milk is another great source, but you likely don't keep that on tap. The interesting thing about MCTs is that they're not digested and used the same way as other fatty acids. They are broken down in the liver and used almost immediately by the body.
MCTs have been shown to benefit brain health, assist in blood sugar regulation, promote intestinal healing, and more. Basically, coconut oil is a great fat to incorporate in your day-to-day kitchen escapades.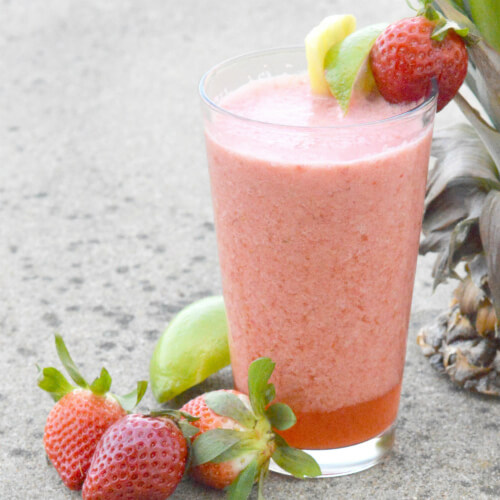 Mexican Fiesta Smoothie
Yield 16 oz smoothie
Ingredients
5-6 large strawberries
½ of a lime
1 cup pineapple
1 cup answeetened almond or coconut milk
2 Tablespoons hydrolyzed collagen (optional)
1 Tablespoon warmed coconut oil (optional)
1 teaspoon cayenne pepper or tabasco sauce (optional)
Instructions
Chop your strawberries, lime, and pineapple and add to blender. Make sure and remove the stem from the strawberries and the skin from the lime.
Add unsweetened almond or coconut milk, hydrolyzed collagen, and liquified coconut oil to the blender. If a thicker smoothie is desired, use only ½ cup milk.
Blend fruit and milk together well.
If you would like to add a bit of spice to your drink for a special Cinco De Mayo kick, add a teaspoon of cayenne pepper or tabasco sauce.
What do you enjoy putting in your smoothies?