Have you ever considered teaching God's Word through songs? Teaching God's Word to our children is the most important thing we can do as parents.
Recently I heard the quote, "If we don't teach our children to follow Christ, the world will teach them not to." That's not the kind of parent I want to be!!
I want to be the one to teach my children about Jesus Christ, faith, love and everything else the Lord impresses upon my heart. It's my job as a parent to teach my children to eat healthy, get plenty of rest, dress modestly, and most importantly to love Jesus with all their heart.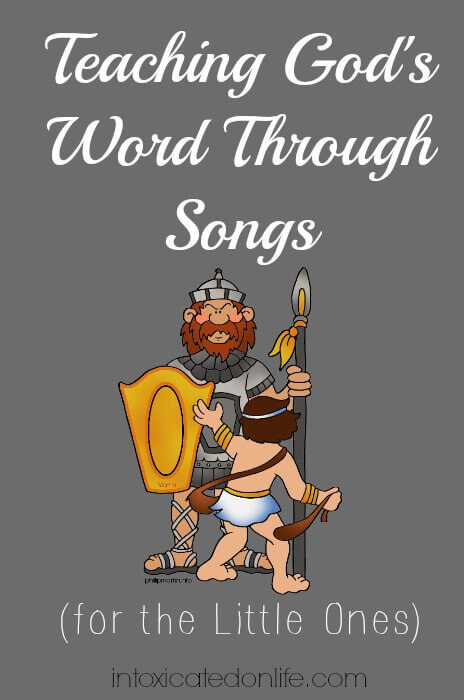 One way I have found to teach God's Word to my little ones (4, 3 and 2) is through music. Being both a music major and an all-around lover of music, this hits close to home for me.
I love listening to music, playing music, singing and even dancing (Shhh…don't tell!). I have passed that love onto my children and now I find them making up their own original songs. It really is a lot of fun. But, nothing pleases my heart more than hearing them sing songs about Jesus. It simply makes me smile! Let's take a closer look at teaching God's Word through songs for our little ones.
5 Easy ways For Teaching God's Word through Songs
 Sing some of those old favorites ~ Father Abraham, Only a Boy Named David, This Little Light of Mine. These may be "old" by the world's standards, but they teach truth and promise to our little ones. And my kids still love to sing them! In fact, they ask for them by name frequently. Not only are these great songs, but they are fun to sing too!
Sing songs with actions ~ It is said that combining words with actions improves your ability to remember the words. Even when my kids are too young to really speak, they have come to me with the actions of the songs we sing begging me to sing it with them. While they aren't singing, those actions are stuck in their brain, and I know they are "getting it." If the song doesn't have any actions, try adding some sign language to it for added help with memorization.
Find songs that reiterate your Bible lessons ~ There are hundreds upon thousands of songs out there that accompany the Bible lessons we all teach our little ones. If you don't know any off the top of your head (or you weren't raised in the church), do a simple Google search for songs relating to the Bible lesson or verses. They are out there if you just look!
Keep music on during the day ~ We have designated "unplugged days" at our house. These are days where I don't get on the computer, we don't watch television or movies, no other electronic devices are used during the day. We "unplug" from all the crazy around us and just take time to relax, enjoy each other's company and talk. Even though we homeschool, our lives can get rather hectic and it's important to take this time to step back. On those days, I will often turn on the radio (at a low level) and play either K-LOVE (absolute favorite radio station) or put in a set of our Christian CDs to listen to on shuffle. I mix in the kids' CDs with our CDs so that we get a good variety. It really is a lot of fun and the kids enjoy these days.
Visit Intoxicated on Life's Ultimate List of Bible Memory Songs ~ There are over 1,400 songs listed for various Scriptures throughout the Bible. I find that memorizing Scripture is easier (and more fun) when put to a tune. Take full advantage of these songs to help your kids learn God's Word.
Teaching God's Word through songs can be fun and exciting! Using music to increase memorization is a great way to make those stories and verses stick in the brain.
As I get older…ahem…I find it more and more difficult to memorize anything. (Four kids in 6 years will do that do you.) However, putting Scripture to music is such an easy way to remember God's Word. I often find myself remember songs from my childhood as we talk about stories in the Bible. It really is true that putting words to music (with or without actions) will stay with you for years to come!
What are your favorite Bible songs for kids? Do you have any extra tips for teaching God's Word through songs?
More Tips on Teaching God's Word to Your Kids: