There are many memory tools for homeschoolers that are available for parents who want to help their children memorize Bible verses, math facts, famous speeches, states, capitals, poetry, science facts, historical events, phonics, grammar, and spelling rules.
Below you'll find links to more than 100 books, flash cards, memory systems, music, apps, DVDs, online programs, and games that will aid you and your children in memory work.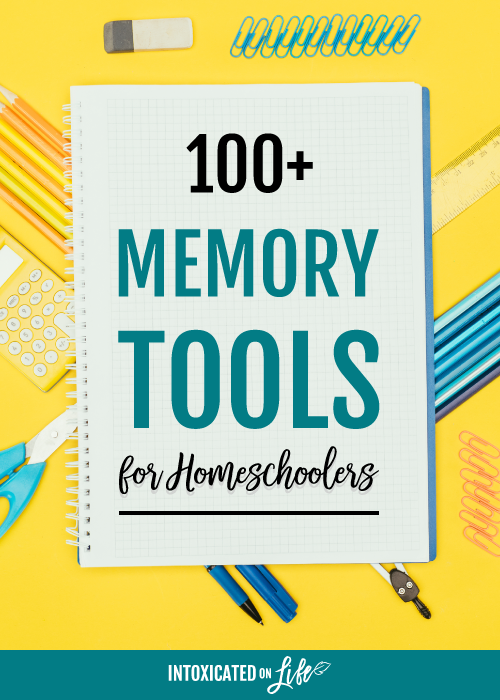 "…anything and everything which can be usefully committed to memory should be memorized at this period, whether it is immediately intelligible or not." (Dorothy Sayers)
In the early years of a child's education, it is an ideal time to dedicate to the rote memorization of facts.
In later years, the child can begin more analysis and synthesis of those facts, but while they are young and their minds are ripe for new information, we can stuff them full. Rote memorization of facts is a key component to a classical model of education.
General Tips for Memory Work
There are plenty of general tips for how to get good at memory work. Here are a few examples:
1. Using A Mnemonic Device
Mnemonic devices are memory tools that can help us remember certain facts or information through rhymes, phrases, songs, images, acronyms, acrostics, etc.
Some popular examples of Mnemonic Devices include:
"i before e except after c" phrase for learning how to spell certain words
Using the acronym HOMES to memorize the 5 Great Lakes (Huron, Ontario, Michigan, Erie, Superior)
The acrostic "Please Excuse My Dear Aunt Sally" for learning the mathematical order of operations (Parentheses, Exponents, Multiplication, Division, Addition, Subtraction)
You can use popular existing mnemonic devices with your homeschooled kids OR you can invent your own as a family. Both ways can help your homeschooled students learn memory work efficiently.
2. Recite Something 3 Times in a Row
This is a great memory tool technique for learning large passages. For example, if your kids need to memorize a Bible passage or the Gettysburg Address, having them recite it out loud 3 times in a row can help them keep the information in their head.
Repeat the recitations over the next few days for even more effect.
3. Write the Memory Work Daily
Some students learn better with writing than they do with reciting. Writing out the memory work entirely on paper (or perhaps even typing it on the computer) can help cement the information in their head.
You can have the kids both recite it AND write it for even more success.
4. Use Music for Memorization
You can use either already created music for memorizing facts (check out our list of over 1,000 Bible Memory songs) OR you can encourage your kids to make their own musical songs about a piece they need to memorize.
Both techniques help your homeschooled kids learn a memory piece and use the creative part of their brain at the same time.
Memory Tools for Homeschoolers
Here are links to specific memory tools that we have put together for each subject. In those articles, you will find a huge amount of helpful resources and memory tools for your homeschooled kids that will help them become even more successful in their learning.
If we missed any important memory tips, please comment below with some more ideas! We appreciate it!
More Homeschool Memory Tools: