Memorization is an important part of learning for children. I put together this ultimate list of history and geography memory tools to help both you and your kids figure out the best way to learn more about history and geography in your homeschool setting.
"Those who cannot remember the past are condemned to repeat it." – George Santayana
"War is God's way of teaching Americans geography." – Ambrose Bierce
The Christian study of geography and history is about understanding the world God has sovereignly decreed. What major events have moved human history from one era to the next? How are the peoples of the world divided into geographical regions? Who has God used to bring about great changes in the world? There is great benefit to a child learning by rote many of these basic facts.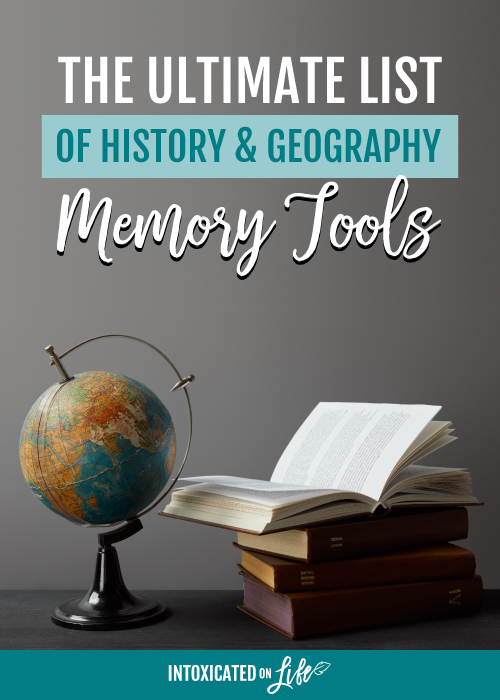 The Ultimate List of History and Geography Memory Tools
I've organized this ultimate list of history and geography memory tools into a few different categories: resources that help with both history & geography, history memory tools (only), and geography tools.
Two great resources for BOTH history and geography memory work include:
Living Memory: A Classical Memory Work Companion. This 452-page K-12 resource book by Andrew A. Campbell includes suggestions on how to do memory work utilizing basic language skills of reading, writing, speaking, and listening. Included are lists of major people and events key dates in American history, founding American documents, and memory tools for learning continents, oceans, nations, states, and capitals.
Foundations: Foundations is a grammar-stage program for children age twelve and under and their parents. Using creative activities, games, and lots of enthusiasm, Foundations makes memorization fun in each subject, including history and geography. Accompanying the outline are the Classical Acts & Facts History Cards. Consider also buying My Memory Work lapbooks to complement these memory tools.
History Memory Tools
History homeschool kits from Veritas Press – This includes enhanced CDs with memory songs and printable workbook pages: OT/Ancient Egypt, NT/Greece & Rome, Middle Ages, Renaissance, and Reformation, Explorers to 1815, and 1815 to Present.
The Presidents' Rap – This CD is useful to learn all the Presidents of the United States in order.
History Songs – This CD from Audio Memory contains 11 songs teaching more than 100 dates and events of American History.
Classically Catholic Memory – This four-year memory program for Catholic children includes memory of historical documents, famous speeches, and a timeline of historical events from creation to the modern day.
Wee Sing – Wee Sing's series of CD include many subjects, including Wee Sing America, teaching patriotic songs, the names of all the states, the Pledge of Allegiance, great quotes from great Americans, a list of U.S. Presidents, and more.
History Memory Games – These games are akin to the classic game of Memory where students turn over and match tiles. Each game includes 64 matching tiles that depicts people, places, symbols, monuments and maps from different historical eras. Available for American History, Medieval History, and Ancient History.
History Go Fish Games – These go fish games feature 50 cards with famous people, landmarks, events, symbols from the specified time era. Available for American History, Medieval History, and Ancient History..
Geography Memory Tools
States and Capitals Songs – This CD and Map from Audio Memory teaches kids all U.S. states and state capitals (recommended by Veritas Press).
Geography Songs – This CD and songbook from Audio Memory helps kids memorize continents, oceans, and major countries (recommended by Veritas Press).
Yakko's America and Yakko's World – From the cartoon Animaniacs, the character Yakko sings the 50 states and their capitals as well as the countries of the world.
Learning Wrap-Ups – Wrap-ups are hand-held games the help to reinforce memory core subject facts. Available are individual wrap-up keys for learning states and capitals, as well as major cities, the location of states, rivers, lakes, national parks, and important landmarks.
Geography Games – These geography games are available for free.
Stack the States & Stack the Countries – Our son enjoys these inexpensive apps that aids in helping memorize geography facts.
Rock n' Learn – A states and capitals song put to a catchy positive rap song for kids to utilize as a memory tool.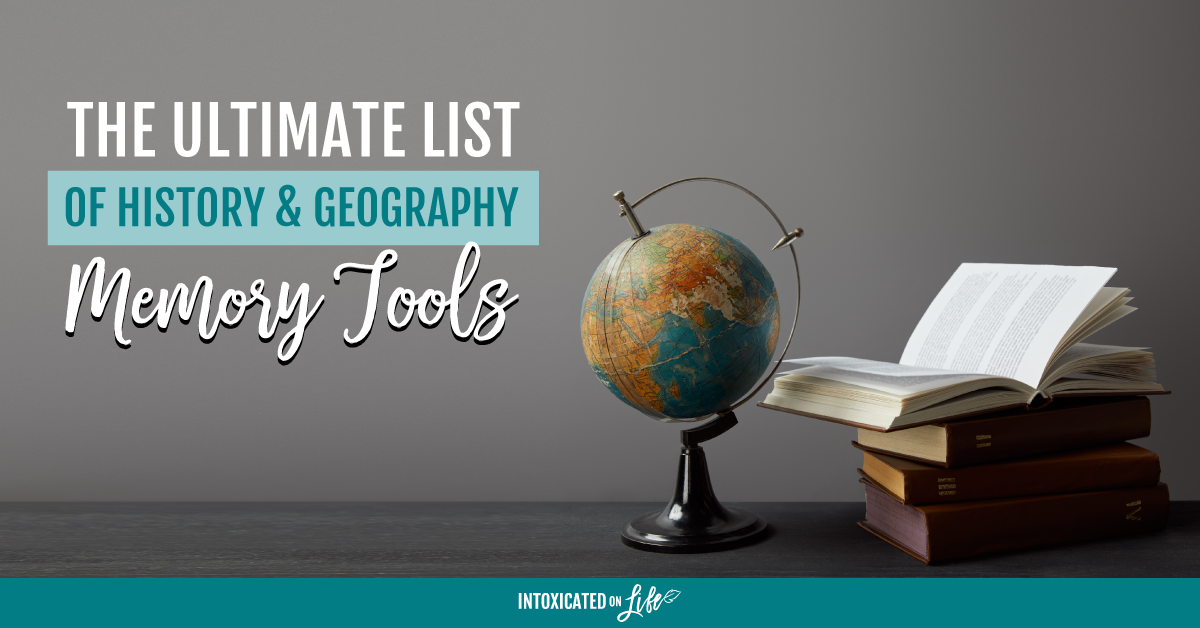 Wrapping it up…
I hope this ultimate list of history and geography memory tools helps you and your kids have fun learning while boosting your memory! If you know of more memory tools for these subjects, please let me know in the comments below!
Need more history homeschool curriculum ideas? Check out my review of Dave Raymond's American History.
More Homeschool Memory Tools: