What are essential oils — and do they really work? If you're like me, when you first heard of "essential oils," you might have thought it all sounded like a bunch of hippie voodoo and snake oil.
There was a time when I scoffed at the use of essential oils because I didn't understand them. I didn't know exactly what these oils were, what made them "essential" in the first place, and just what kind of research had been done on their effectiveness.
Now, I use them every day in my home and regularly teach others about the amazing benefits they bring.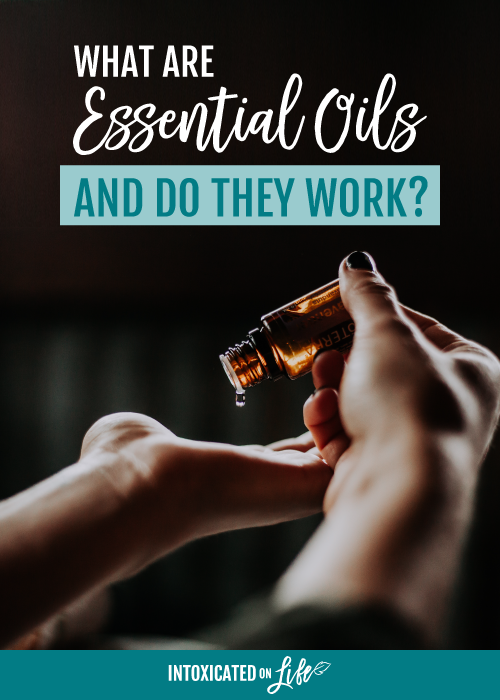 One of the first things I didn't understand was the name: "essential" oil. You see, the term "essential" oil is kind of a misnomer.
Essential oils are not "essential" to the plant. For this reason, the preferred term by professionals is "volatile oils." The term "volatile," in this instance, refers to a characteristic the oils possess: they rapidly evaporate in air.
What are Essential Oils Anyhow?
Essential oils are naturally occurring aromatic compounds. In layman's terms, that means they're smelly things from plants. They come from all different parts of plants — the bark, leaves, flower, roots, rinds, and other parts of the plant, too.
These highly concentrated oils from plants are super potent! And what's really cool is they contain both the aromatic and the chemical properties of the plant.
In other words, take lavender essential oils, for instance: they don't just smell like the lavender plant; the oils actually have the chemical properties of lavender which can be used for therapeutic purposes.
That means when I'm having head and neck tension, I pass on the Tylenol and Ibuprofen and instead reach for my bottles of copaiba and PastTense. And when my kids have an ear ache? I go to my handy roller bottle of melaleuca and lavender. The applications for how we can use oils to help us are nearly endless.
Since essential oils are so potent, a little bit goes a long way!  While they are natural, smell wonderful (alright, most of them smell wonderful…but your tastes may differ), and have amazing benefits, it is important to understand some basic essential oil safety. Check out my top 10 rules for using essential oils safely here.
How are Essential Oils Extracted?
Part of the reason people ask, "What are essential oils?" is they are unsure exactly how we get them or where they come from.
Most essential oils are extracted from the plants by distillation, usually either steam or water distillation. However, there are a few other ways to get the essential oils from plants, too. For example, citrus essential oils are often cold-pressed from the rinds (or peels) of the citrus fruits.
Steam Distillation
In steam distillation, steam is directed through the chosen plant material. The steam is then condensed through a specific cooling process. The end results are two products: the concentrated essential oil and a hydrosol, which contains the water-soluble molecules.
Cold-Pressed (or Expression)
Cold-pressed, also known as expression, is the process for getting essential oils from mainly citrus fruits. This process does not involve heating, which helps keep the citrus essential oils smelling very similar to the fruits themselves. The peel of the citrus fruit is grated, scraped, or pressed to release the necessary oils.
Why The Way Essential Oils are Obtained Matters…
HOW essential oils are collected is very important if you're looking for oils to use therapeutically.
If a company uses chemical processes to obtain the essential oils, they're no longer true, or pure, essential oils. That's why it's so important to purchase from a company where quality is their #1 priority — learn more about my favorite essential oil company in this article.
Perfume oils and fragrance oils are NOT the same as essential oils because they both contain artificial substances, do not have the same therapeutic benefits as essential oils, and are often obtained through chemical processes.
Do Essential Oils Really Work?
You might be thinking, all of this is all well and good, but do essential oils really work? Let's get to the heart of the matter—can those little bottle of oils really make that much of an impact?
Unless you've been living under a rock you've probably read (and even talked to people) with testimonials about how essential oils transformed their life…or their kids lives…or your best friend's mother-in-law. But those are just stories, just anecdotal evidence. And I'm not putting money in the bank on what I heard through the grapevine, and neither should you!
Let me assure you, there's real research to backup what many have learned for themselves to be true. Check out the aromatic science website where they provide a long list of articles and studies that have been done with essential oils. These studies have been published in peer reviewed journals.
Nurses, doctors, and other healthcare providers are beginning to see their value and recommending them to their patients. Hospitals and laboratories are beginning research protocols with essential oils.
For instance, Vanderbilt University Medical Center's Emergency Room recently put doTERRA essential oils to the test. They found that prior to use of essential oils, 41% of ER staff reported being under stress, whereas after implementing the use of essential oils, only 3% reported feeling stressed. There was also a huge reduction in feelings of being overwhelmed with 25% of staff feeling overwhelmed prior to the use of essential oils and only 2% after.
Do essential oils really work? Yes. And I'd love to help you navigate learning how they can impact your life too. Read a bit more about how I got started with oils here — and drop me a line if you'd like learn the best oils for you to get started with.

More Essential Oil Articles: