"I don't want toooooo!"
"Why do I always have to…"
"Are you going to make me do any more chores?"
If it's not the whining and complaining, it's just that I simply forget. As a busy homeschooling mama of 4 little boys, I get so busy working on my own tasks I don't always think to assign tasks to my kids. I want my kids to be responsible and contribute to the work of the household.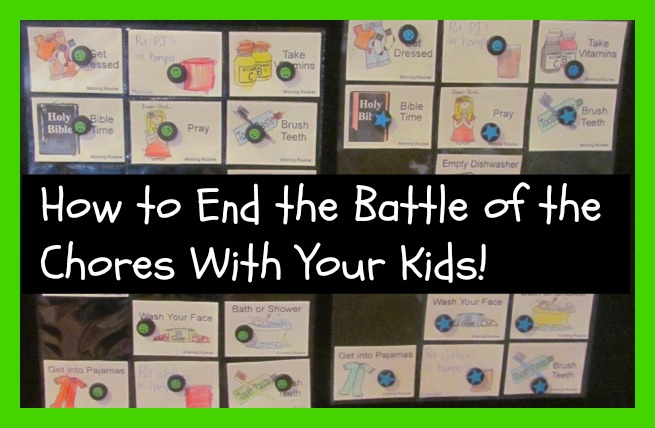 I find that when my kids know what's expected of them ahead of time, the complaining is greatly minimized. It makes sense. It's a lot easier for me when doing a task if I know what is expected of me.
After the initial assembly of the Easy Peasy Chores system, planning your kids chores each day is a breeze! You don't have to think about it, and they don't have to wonder what Mom is going to ask them to do. They know exactly what is expected of them.
How Easy Peasy Chores Works

1. First, I gathered my supplies and printed off my pages onto card stock. I only printed off the pages that had the chores I wanted to assign (there are MANY pages, you don't have to print them all). I also made a couple of extra cards for my kids that weren't included (putting their PJ's in the hamper in the morning and putting their clothes in the hamper at night – my oldest son is the worst about this!).
2. I cut out the cards and put stickers on the round magnets. I used green stickers for Cameron and blue stickers for Bradley. I put the star stickers on one side, the denotes that a chore is assigned but has not yet been completed. I put smiley face stickers on the opposite side. The child turns the magnet over when the chore is complete to mark that they've completed the chore.
3. Next my kids colored their cards and we placed them in the baseball card sheets. Alright, Cameron colored his cards and I colored Bradley's cards. Bradley never has enjoyed coloring, but Cameron and I had fun doing it together!
Voila! Easy peasy! It did take a little bit of time to assemble, but it wasn't bad at all. I got it all done while my twinsies were napping in one afternoon and still had time to spare. This is such an exceptionally creative and easy way to assign and keep track of family chores.
You can see from our picture that we don't have a whole lot of chores up…yet. Most of them are the normal things: brush your teeth, pick up your clothes, take a bath. But, I'm planning on adding to our chores. We'll start with these and add some more after the kids get used to this routine.
There are alternate ideas for how to put your chore chart together in the manual. She gives you more "frugal" options if you find the supplies a bit too pricey for your budget. I didn't personally think the supplies were all that expensive though.
There are also multiple options for how to set up the chore system. I decided it would work best setting it up by child. On each of their sheets I placed them in the order that I'd like them to complete their chores throughout the day – morning chores on the top, evening chores on the bottom.
Some of the chore "games" that are included in the back of the manual also look like they could be fun to experiment with at some time, but I have not as of yet gotten to that yet.
I am so excited to finally have a system that allows me to organize my chores and for my kids to have a system where they can anticipate what is expected of them! Are you ready to end the battle of the chores with your kids?! You can purchase Easy Peasy Chores for $15.99 or $17.99 for the homeschool version.