Gluten Free and Grain Free Brownies! Who doesn't like brownies?  Well, I guess there are some people, but most people love them.  Our family especially loves fudge style chocolate brownies.  These grain-free fudge chocolate brownies are dairy free, sugar free and amazing!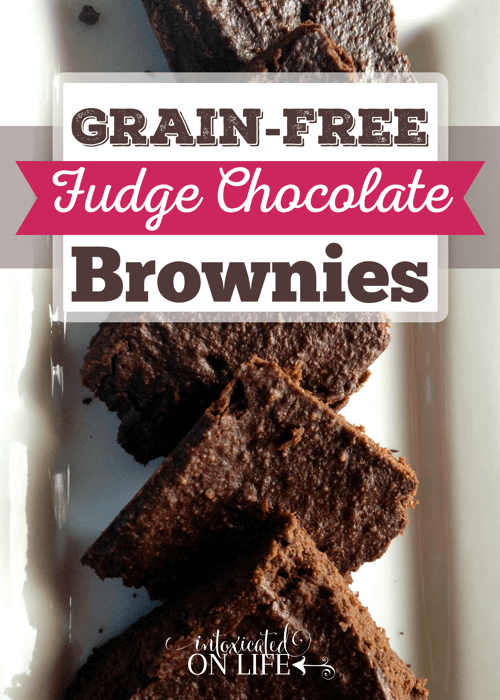 Gluten Free and Grain Free? You Can Do This! (and enjoy it too)
It was a real disappointment to my family when we had to go gluten free and then we later went grain free. What?  How were we supposed to make anything good with out grains?  Now we all know how invalid that idea is.
However, when one first makes big lifestyle and dietary changes it does feel so scary.  It is really nice to know that you are not alone and that other people are looking out for you.
You can do this! The internet has made it so easy.  Especially when we have an abundance of blogs like Intoxicated On Life, Simply Healthy Home, and Counting All Joy who seem to specialize in a grain and gluten free (most of the time) lifestyle.  All three blog authors have also had to avoid dairy for a time, so we have a lot of recipes that are dairy free too.
Top that off with each of us experiencing health issues related to auto-immune, hypothyroid, hormones, etc. etc.  We know what life can be like when you are down in the dumps physically and emotionally, yet you're expected to change your life and often your families along with it.  What a challenge!
Yet we all had to make these changes.  We wouldn't be where we are today without choosing a way that would bring us healing.  Although I do personally have some grain and dairy, I still maintain a mostly grain free and dairy free way of eating.  Why? I feel better.
Remember, we are here for you.  Our blogs exist to help you and serve you.  We all homeschool too.  So we know how busy life can be trying to train the children in righteousness, fulfill our duties with love and grace while suffering at times with health issues.  We want to make your life a bit easier and give you tools to succeed.
God is good. He has given all of us and many others much wisdom and is ever increasing our learning and cooking skills.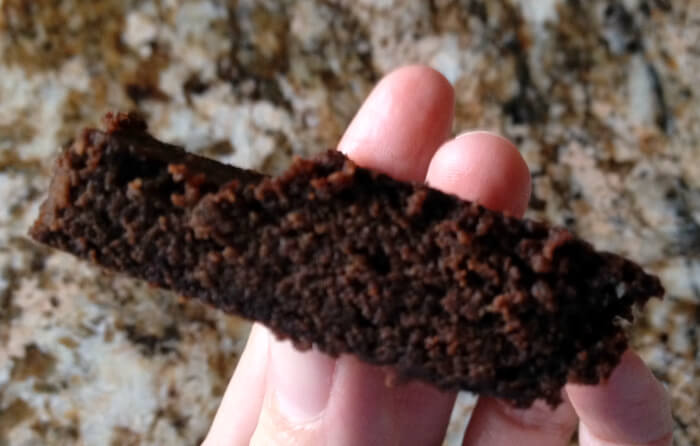 With these family changes and life altering food choices we have made, we have all come up with some amazing recipe and this is one such recipe.  With Valentine's day around the corner, what a perfect treat to delight your family with.
Grain Free Fudge Chocolate Brownies
Ingredients
8 oz. unsweetened baker's chocolate
1 cup butter
2 tsp vanilla
3/4 cup coconut milk
4 eggs
2/3 cup coconut flour
1/3 almond flour
1/2 cup THM Sweet Blend
1/2 tsp sea salt
Instructions
Pre-heat oven to 350 degrees.
Break up the chocolate and place in a the top bowl of a double boiler. Add butter to melt with chocolate.
%https://www.intoxicatedonlife.com/wp-content/uploads/2015/01/tn_IMG_0824.jpg
Meanwhile, mix dry ingredients being sure to break up any balls of coconut flour with your fingers.
This includes the THM Sweet Blend.
Once chocolate and butter and melted add coconut milk, vanilla and eggs
%https://www.intoxicatedonlife.com/wp-content/uploads/2015/01/tn_IMG_0825.jpg
Mix very well.
Pour into greased 9X13 inch pyrex dish.
%https://www.intoxicatedonlife.com/wp-content/uploads/2015/01/tn_IMG_0836.jpg
Place in oven and bake for about 20-25 minutes.
It is finished when a toothpick inserted in the center comes out with a few crumbs on it and the brownies are pulling from the sides of the pan a little.
Cool and serve.
Notes
It is helpful if you line the pyrex dish with parchment paper and pull out the brownies to cool. You can slice them into heart shapes and make them perfectly uniform this way.
You can also cool them, slide a plastic knife around the edges, then pop them out of the pan onto a cutting board. That's what I did.
If you leave them in pan and pull them out that way, a couple of them will crumble when you go to get them out of the pan.
Many of you know I write a lot of my posts for those following the Trim Healthy Mama way of eating and living.  So of course this on plan for them too.  If you follow that plan, this is an S dessert.
I plan on making more of these very soon. When I do, I am going to make use of these for a Triple Berry Trifle.  You'll be able to find that on my blog.  I will be sure to link it up with this recipe.  I can't wait!
Remember to try new things.  Don't be afraid.  Although not every recipe may remind you of those grain filled goodies, your taste buds will change.  Before that happens, your body and mind will be thanking you for feeding it what it needs.
Maybe you won't need to be grain free forever, but you do for now. So don't fight it.  Embrace it and know that healing is so important.  Allow yourself the freedom of enjoyment in this new lifestyle and go whip up some yummy, super satisfying, delightful Grain Free Fudge Chocolate Brownies.
Blessings!
~ Amanda
P.S. If you're interested in some of my other recipes you can visit me at Counting All Joy.com or see a few of my recipes here (all of which are grain free, dairy free and sugar free) like my Magic Cookie Bars and Snickerdoodles. There are a few more floating around here as well.
What has been your most difficult challenge in going grain free?  What would you like to see from us to help you on your journey to health and healing?