These carrot cake fritter pancakes are nourishing and delicious and make the perfect breakfast.
Confession: I ate cereal for breakfast for over 30 years. I didn't know any better. It was what my parents gave me, and they wouldn't steer me wrong. Right?
Not so right.
Although I was really intelligent and referred to as the "model student," I had a lot of health problems growing up in addition to being a stressed out mess most of the time.
Knowing what I know now about nutrition, I always wonder what would have happened had my parents fed me some real brain food in the morning. You know—something much more nourishing than cereal that has basically be stripped of all nutritional value.
Looking for gluten-free recipes and resources? This Everything Gluten Free page is a library of everything gluten free we've worked on.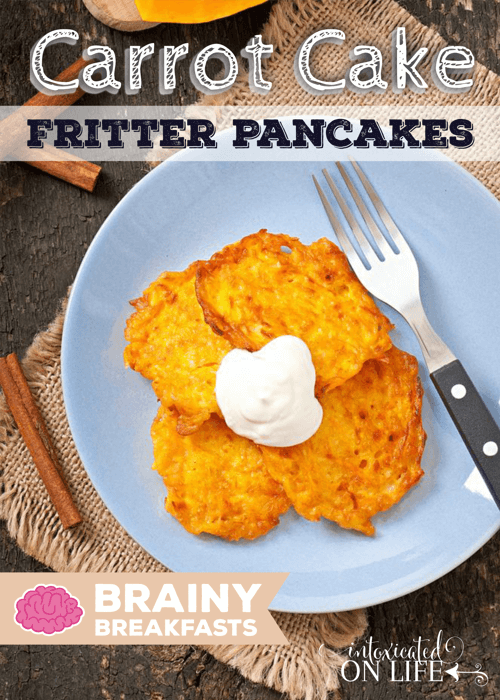 For the past 8+ years, I have placed a priority on breakfast. It is by far my largest, most nutrient dense meal of the day. Sometimes it doesn't look like breakfast. Salmon and spinach anyone? Care to join me for some liver pate? I know, salmon and liver aren't traditional breakfast meals but they have been transformative in my health.
Having said that, sometimes I do crave a real breakfast food. Something akin to the all-American staple. What do I turn to?
Pancakes!
But not just any pancakes.
Carrot Cake Fritter Pancakes.
I live and breathe carrot cake anything. The spices and the carrots just make me happy. Combine these ingredients into a brain-food laden pancake and you have yourself a 5-star breakfast that is guaranteed to keep your brain functioning at it's peak performance level.
Ok—maybe they can't promise that, but I assure you, these bad babies in the pancake world will nourish your brain and fuel your body until lunchtime.
What makes these Carrot Cake Fritter Pancakes such a brain food anyway?
There are two main ingredients that give this recipe a brainy boost. Eggs and coconut oil. Let's dive a wee bit deeper. With every day that passes, your brain shrinks. Yep. Gives a whole new perspective to "shrinking head."
This is part of the natural aging process however, it can be slowed down considerably through diet. Eggs become a key player here. This is because eggs are full of vitamin B12 as well as lecithin. Vitamin B12 helps to fight against brain shrinkage.
Eggs are also chock-full of healthy fats and essential fatty acids. Likely you are aware that getting enough of these in your diet is of utmost importance. But when it comes to the brain, do you know why? 60% of the dried brain weight is fat.
I'm not a rocket scientist but this tells me that my brain must really thrive on healthy fats, like those found in eggs. Essential fatty acids also support healthy brain structure. The presence of these provides the structure with fluidity while also providing a necessary vehicle for the transportation of proteins which perform vital functions within the brain.
The yolk is also high in choline, which is a very important building block of brain cells. It works by stimulating production of the key neurotransmitter Acetylcholine, responsible for memory, mental clarity/focus, and the healthy formation of synaptic connections between neurons.
Although we tend to focus on the aging population when it comes to memory and mental clarity, even for younger people, a lack of choline can impair fluid mental function. Inability to focus and concentrate, poor recall of facts, and a feeling of "brain fog" could all be indicators of low levels of choline in the brain. These factors could contribute to disorders like ADHD.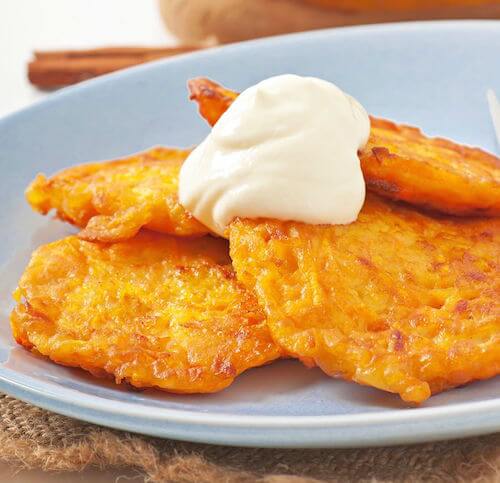 Coconut oil is composed of medium chain triglycerides which are small molecules that are pretty easy to break down. This is important because they make a stellar source of "backup energy." Your brain is an energy hog. At just three pounds, it uses 20% of your daily energy input. Your brain's main fuel is glucose. However, it cannot store glucose and without the energy the brain cells need, they soon start to die.
Remember what I said about coconut oil being a backup energy source? Stay with me here. Your liver can break down stored fat to produce ketones that can be used as a substitute fuel during times of brain cell starvation. But this process isn't optimal for the body either.
The medium-chain triglycerides in coconut oil can also be broken down into ketones by the liver, and readily cross the blood-brain barrier to provide instant energy to brain cells. Cool huh? See why including coconut oil gives your best the best shot at optimal performance all day?
Let's get started on this recipe shall we? It is super easy, incredibly tasty, and a hit with children and adults alike.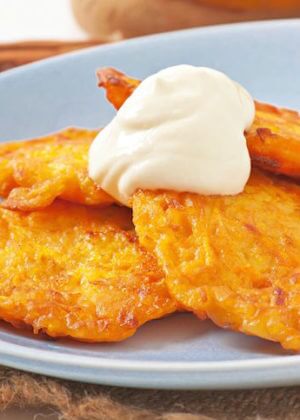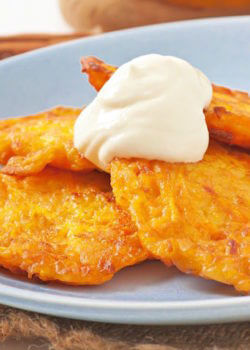 Print
Carrot Cake Fritter Pancakes
These carrot cake fritter pancakes might not be your typical breakfast, but they are GOOD and great for you as well!
Ingredients
Links included below are most likely to one of my affiliate partners. You get the same great price whether you purchase through my link or not.

2

large eggs

3

tablespoons

coconut oil

¾

cup

coconut milk

this is the only brand I use

¼

cup

raw honey or maple syrup

1 ½

cups

cassava flour

2

teaspoons

baking soda

1 ½

teaspoons

vanilla bean powder

1

teaspoon

cinnamon

1/8

teaspoon nutmeg

use more if you like a little more spiciness

1/8

teaspoon cloves

use more if you like a little more spiciness

¼

teaspoon

ginger

2

cups

grated carrot

you want to get this really finely grated, almost pulp-like
Instructions
Combine the eggs, coconut oil, and milk in a large bowl and beat together.

Add the honey or maple syrup and beat some more.

Add the rest of the ingredients, one by one, with the exception of the carrots. Mix together until everything is well blended.

Slowly fold in the carrots.

Heat a large skillet over medium heat.

Coat with coconut oil.

Spoon about ¼ cup of the batter onto the griddle making little mounds. Flatten a tad with a spatula.

Cook for about two minutes or until the tops are covered in bubbles and the edges start to brown.

Flip the pancake and cook another 2 minutes or so.

Repeat until all of the batter is used up.

Serve warm.

For an extra flair – top with a little cream cheese or fresh whipped cream and chopped crispy pecans!

These pancakes freeze well. Double or triple the batch, cool, freeze, then reheat from frozen in a toaster oven for about 15 minutes at 350 degrees.
Notes
Nutrition information is per PANCAKE. Multiply it by however many you eat. 🙂
Nutrition
Calories:
91
kcal
|
Carbohydrates:
12
g
|
Protein:
1
g
|
Fat:
4
g
|
Saturated Fat:
4
g
|
Cholesterol:
16
mg
|
Sodium:
126
mg
|
Potassium:
70
mg
|
Fiber:
1
g
|
Sugar:
4
g
|
Vitamin A:
2162
IU
|
Vitamin C:
1
mg
|
Calcium:
23
mg
|
Iron:
1
mg
---
 More Delicious Breakfast Recipes: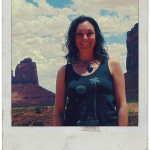 Jennifer, author of Hybrid Rasta Mama, is a former government recruiter turned stay-at-home crunchy mama to a precious daughter brought earthside in early 2009. She is passionate about and writes about the benefits of coconut oil, herbs and essential oils, holistic health, natural living, and conscious parenting. Jennifer and her daughter also live an "allergy-friendly" lifestyle sans gluten, grains, eggs, dairy, nuts, and a slew of other foods thanks to a compromised immune system due to toxic mold exposure. She frequently shares allergy friendly recipes on her site.
Jennifer has authored three recipe books; Coconut Oil For Your Skin, Cooking With Coconut Oil, and Salve Made Simple. Jennifer also authored and illustrated two print books. I Will Breastfeed Anywhere will empower mothers and their nurslings of all ages to breastfeed when and where they choose! Milkies In The Morning in a gentle night weaning book that Jennifer wrote to ease the transition for her then, four year old daughter.