These grain-free granola bars are a guilt-free snack idea for both you and your kids. Ditch the chemical and sugar loaded store-bought granola bars and check out how easy it is to make your own tasty granola bars!
My fondest childhood memories take place in the kitchen. Whether it was helping my mom stir the broth into the cornbread dressing for Thanksgiving, melting chocolate for Christmas candies, or making jelly with our summertime haul of blackberries, I was always in the kitchen with the adults, learning and experimenting.
Amidst the laughter, the mess, the cramped kitchens, and the mouthwatering smells that filled the room, I found my home.
Looking for more gluten-free recipes and resources? This Everything Gluten Free page is a library of everything gluten free we've worked on.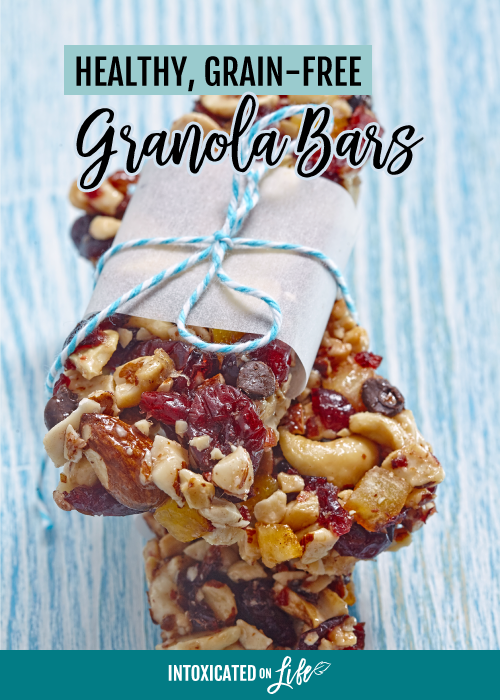 A lot of my feelings towards the kitchen changed, however, when I was told I needed to eat a gluten-free diet. Suddenly, I was in a new world with a strange new language – and I did the easiest thing I could.
I stopped cooking and just grabbed the pre-made gluten-free items. I didn't even want to think about cooking with so many odd flours and grain-free substitutes. With one diagnosis, I allowed my joy of cooking to be taken away.
Over the last few years, my feelings towards gluten-free cooking have once again changed. Now, I look forward to experimenting with coconut flour, almond flour, and even flax seed meal. I look forward to converting traditional recipes into something that is not only safe for my body, but pleasing to my mouth as well.
Why Homemade Grain Free Granola Bars?
Most store-bought granola bars contain chemicals and additives that I am just not comfortable giving to my daughter. However, when I make my own, I can control what goes into her body; and honestly, these couldn't be easier.
All you need for these grain free granola bars is coconut oil, honey, your choice of nuts, fruits, and nut butter – and whatever else you want to throw into your bars. You can mix up the ingredients in under 10 minutes. It's super easy and lots of creative fun!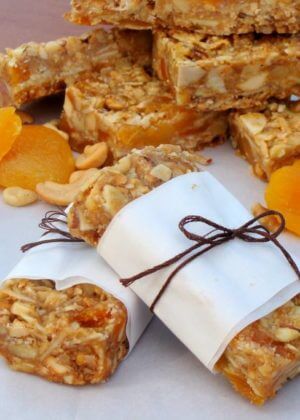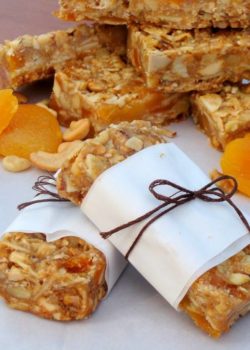 Print
Healthy, Grain Free Granola Bars
These grain free granola bars are a healthy treat you can feel good about eating AND sharing with your kids!
Ingredients
2 1/2

cups

nuts

up to 3 cups

1

cup

dried fruit

chopped, no sugar added

1/3

cup

golden flax seed

1/3

cup

raw honey

2

teaspoons

vanilla

2

tablespoons

coconut oil

3

tablespoons

almond butter

or your favorite nut butter
Instructions
Roughly chop approximately 1.5 cups of mixed nuts. Chop the remaining nuts in a food processor, being careful to not turn it into nut butter.

Combine chopped nuts, chopped fruit, and golden flax seeds.

In a small sauce pan, combine honey, vanilla, coconut oil, and nut butter. Over low heat, bring mixture to a boil.

Pour immediately into nut mixture and stir to combine.

Pour granola mixture into a 9x9 inch dish, lined with parchment paper.

Bake at 325 for 20 minutes.

Allow to cool completely before cutting.

Keep granola bars refrigerated.
Notes
In the recipe pictured above I used peanut butter, walnut, cashews, almonds, and dried apricots. But remember, this recipe is very versatile and you can use whatever nut butter, nuts, and dried fruit you have available!
Need more Grain Free Snack Ideas? Check out these Recipes: