Why are these applesauce muffins AMAZING? Why do they fill the hearts of those who eat them with wonder?
Let me tell you why. They are amazing because they contain no grains and no sugar, but still they make my tastebuds tingle, make my house smell like cinnamon, make my kids beg for their afternoon snack.
Looking for more gluten-free resources? This Everything Gluten Free page is a library of everything gluten free we've worked on.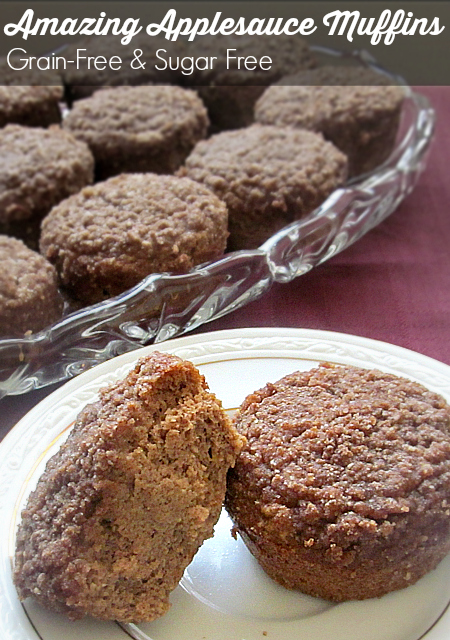 In addition to being sugar- and gluten- free, I use coconut flour for the base of these Applesauce Muffins so it's also nut free as well as dairy-free! They're a great allergy-friendly recipe.
This proved to be a perfect year to come up with an applesauce muffin recipe. My parents had an over-abundance of apples on their tree, so that meant lots of applesauce for me to experiment with. I first perfected the muffin recipe and decided to juice it up with a streusel topping.
The muffins use just the natural sugars from the applesauce along with a little bit of stevia for sweetener. But, I do use xylitol in the streusel topping. If you don't prefer to use xylitol, you can replace it with erythritol, coconut sugar, or just skip the streusel topping. (I'm confident you'll still enjoy the muffins.)
Amazing Applesauce Muffins with Streusel (sugar-free, gluten-free)
Ingredients
Applesauce Muffins:
1/2

cup

coconut flour

3/4

teaspoon

baking powder

1/2

teaspoon

pure stevia extract

or to taste - if you don't use a pure stevia extract, you'll need to use much more

2

Tablespoons

cinnamon

1/8

teaspoon

ground cloves

4

eggs

1

cup

homemade applesauce

or no-sugar added store-bought organic applesauce

1/2

cup

full fat coconut milk
Instructions
Preheat your oven to 400 degrees and grease 10 muffin tins.

Combine all of the dry ingredients together in a medium mixing bowl.

Add the wet ingredients to the dry and stir well until well combined.

Fill muffin tins 1/2-2/3 full with batter.

Make the streusel by combining the dry ingredients. Then add solid (not too warm) coconut oil and smash with fork until tiny crumbled pieces.

Sprinkle the streusel over top the muffins

Bake 400 degrees for 15 - 18 minutes or until browned on top and not too jiggly. Enjoy! 🙂
Did you try these Applesauce Muffins with Streusel? Tell me about it in the comments below!
More Muffin Recipes: