My husband would literally drink hot wing sauce out of the bottle. No really, he would. He's strange like that. It's probably not any surprise these Grain-Free Buffalo Cauliflower Wings were a big hit at my house. Both my husband and my kids loved them (even the kid that doesn't usually like cauliflower).
And what I love most about these Grain-Free Buffalo Cauliflower Wings: they're easy! I don't even have to think ahead and make sure meat is thawed out. Just toss these babies together and they're good to go.
Looking for gluten-free recipes and resources? This Everything Gluten Free page is a library of everything gluten free we've worked on.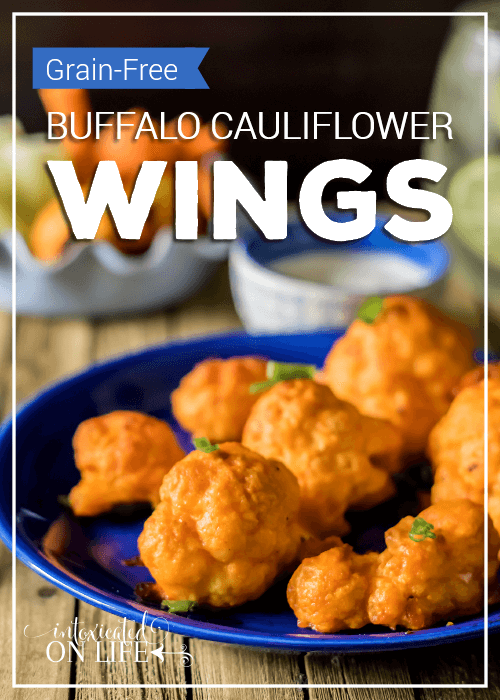 Versatile Wings for Everyone
While these wings aren't a replacement for actual wings in our house (you can't just ditch wings), they are a fun alternative. They're great for parties with people with various food restrictions. They fit a multitude of dietary needs: paleo, vegan, dairy-free, gluten-free, grain-free, low-fat (do people even eat that way anymore?! Let's hope not).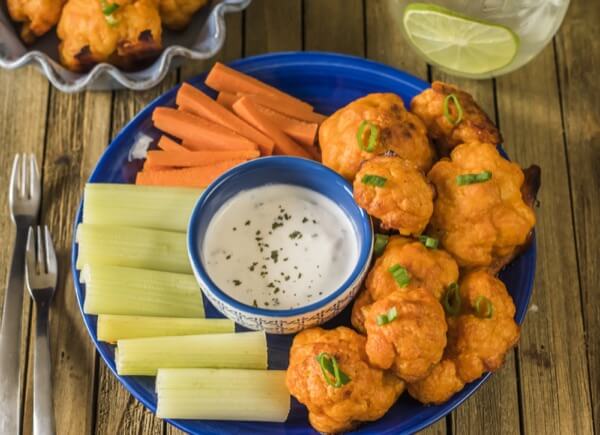 I used almond milk when making this recipe, but you can switch things up with this recipe and use any kind of milk you have on hand—dairy milk, coconut, etc. For the fat, I suggest using either butter or coconut oil if you'd like to keep it vegan.
While there are a few steps to this recipe, they are super easy. It's not a recipe that takes half the day to plan, prepare, cook (like my beloved cheesecakes). Less than an hour in the kitchen and you'll have a delicious, healthy, grain-free appetizer for your next party or just to eat yourself 🙂

My husband likes eating these with extra wing sauce, but I like to whip up some homemade ranch to serve with these babies. Yum!
Grain-Free Buffalo Cauliflower Wings
Ingredients
1 large or 2 medium sized head of cauliflower, yielding approximately 4 cups, chopped into chunky florets
½ cup of Almond Milk (or any milk base of choice)
1 cup of Tapioca Flour or Arrowroot flour
½ teaspoon of Garlic Powder
½ teaspoon of Onion Powder
Salt and pepper to taste
½ cup of Hot Sauce or Wing Sauce
2 Tablespoons of melted Coconut oil or butter
Instructions
Preheat the oven to 450 F and line a baking sheet with parchment paper.
In a large bowl, whisk together the tapioca flour, onion powder, garlic powder, salt, and pepper.
Slowly add the milk and whisk to make a lump free batter. The batter should be a thick coating consistency. Add more tapioca flour if the batter is too thin.
Dip each cauliflower floret into the batter. Coat evenly. Shake off the excess and place on the parchment covered baking tray.
Bake for 20 minutes, until the florets are fragrant and tender and the batter has 'gelled on'.
Meanwhile, whisk the melted coconut oil and the hot sauce in a large bowl. Once the cauliflower florets are done baking, let them cool for a bit, about 5 minutes.
Toss the baked florets in the prepared hot sauce, taking care to coat every floret with the sauce.
Transfer it back to the baking sheet and bake for 10 more minutes.
Brush the florets with remaining hot sauce mix and broil for 2 more minutes to give the 'wings' a crisp bronzed look. Be careful while broiling. It can turn from crisp to char very easily.
Serve the Buffalo Cauliflower Wings with Ranch dressing, celery and carrot sticks.
What are your favorite, grain-free appetizers to take to a party?