You're going to love this traditional, healthyified Christmas cookie – grain-free and sugar-free gingersnaps! There is no need to throw your diet out the window over the holidays. You can have some of your traditional favorites along with some fun, new and interesting cookies.
Looking for more gluten-free recipes and resources? This Everything Gluten Free page is a library of everything gluten free we've worked on.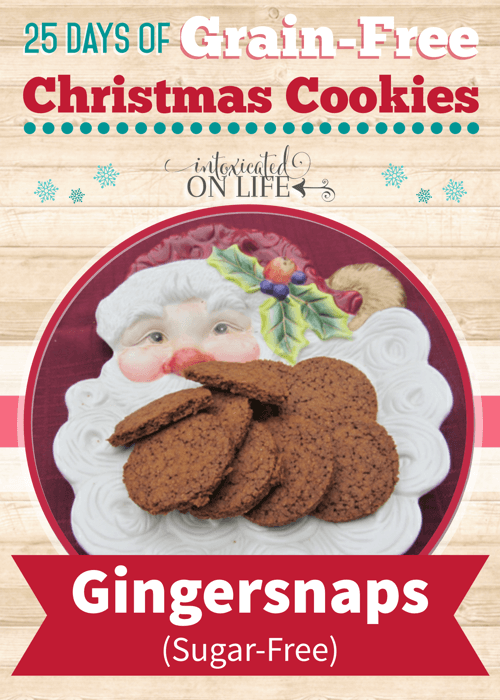 Grain-Free & Sugar-Free Gingersnaps
One of my favorite holiday memories growing up was baking Christmas cookies with my mom. A big pile of those round metal cookie tins filled with homemade cookies littered the kitchen. We baked, and baked, and baked some more. It was so much fun to see all the different varieties of cookies pile higher and higher!
Since my whole family has gone gluten-free, baking cookies just hasn't been the same. My kids love cookies. I love cookies. I miss Christmas cookies—the cookies I baked with my mom. I'm excited that this year, my kids and I will be able to reinvent an old tradition. We will make oodles of Christmas cookies that our whole family can enjoy!
By the way, if you want a bunch of grain-free Christmas cookie recipes, check out my mini Grain-Free Christmas Cookie Cookbook.
Do you remember eating gingersnaps as a kid? They were a messy cookie. I loved their zip and didn't mind the crumbs as they crumbled around me. I'm sure my mom minded those crumbs though!
I was on a desperate search for a crispy, sugar-free, gluten-free gingersnap cookie recipe to use for the crust with my eggnog cheesecake. That's what originally spurred on the desire to create this recipe. Whether you crumbled them up and use them in a crust or you let your kids munch on them for a bedtime snack, I think these will fit the bill.
Oh, and as you're cleaning up the gingersnap crumbs after your kiddos, don't get after them about it too much. Smile as you think of the Christmas cookie memories they'll have :).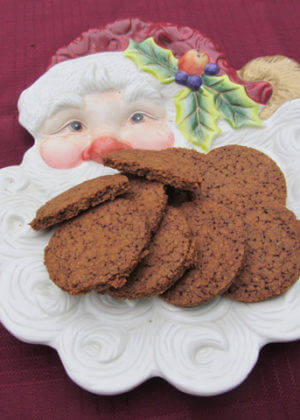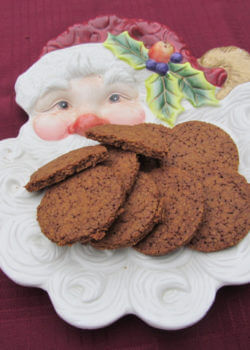 Print
Grain-Free & Sugar-Free Gingersnaps
With the delicious zip of traditional gingersnaps, these grain-free, sugar-free gingersnaps are the perfect substitute to use for cheesecake crusts or to snack on when you are feeling nostalgic.
Instructions
In a bowl, mix together almond meal, flax seed meal, erythritol, stevia, cinnamon, ginger, cloves, baking powder and salt.

Add butter, egg, molasses, and vanilla to the above mixture. Stir until it forms a dough.

At this point you can go one of two ways (it will taste the same either way). If you would like to go with a quick and easy way, or if will be crumbling the ginger snaps and using them for a crust, I would suggest going with option A. If you'd like pretty cookies, then use option B.
OptionA
On a large cookie sheet, roll out into a rectangle between 2 sheets of parchment paper to desired thickness being sure it is equal thickness all over so the edges won't burn before the middle becomes crisp. Remove the top piece of parchment and score with a knife if you would like pieces that easily separate.
OptionB
Line a cookie sheet with parchment paper. Form the dough into small balls and press the balls to desired thickness. Place cookies on parchment paper.

Bake for one hour or more. The baking time will depend upon how thick your dough is. Bake until the cookies are firm and edges are crispy. Turn off the oven and leave the cookies in the oven another hour.
Notes
If you'd prefer to use sugar as your sweetener, skip the xylitol/erythritol and stevia and use 1/2 cup of sugar instead.
Nutrition
Serving:
1
cookie
|
Calories:
72
kcal
|
Carbohydrates:
3
g
|
Protein:
2
g
|
Fat:
6
g
|
Saturated Fat:
1
g
|
Cholesterol:
9
mg
|
Sodium:
37
mg
|
Potassium:
59
mg
|
Fiber:
2
g
|
Sugar:
1
g
|
Vitamin A:
39
IU
|
Calcium:
35
mg
|
Iron:
1
mg
25 Days of Grain-Free Christmas Cookies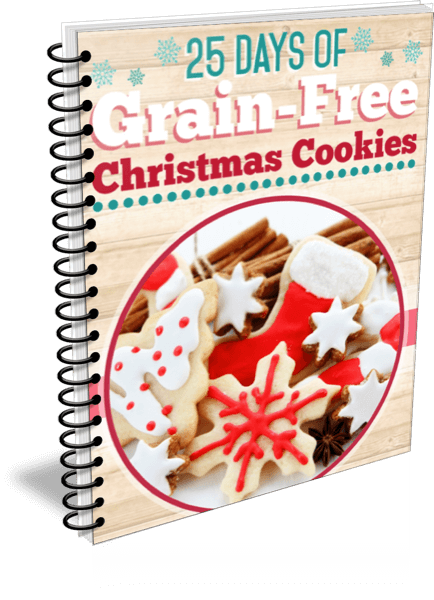 Christmas and cookies go hand-in-hand, but most traditional cookie recipes use wheat flour and other grains. If you are grain-free, or you are looking to cut back on the grains you eat, this cookbook gives you 25 amazing cookie recipes to continue to fill your home with the pleasant traditional tastes and aromas.
Of course, you can use these cookie recipes year round! Your family is going to love having these healthy, delicious alternatives.
---
Did you love these sugar-free gingersnaps? Tell me about it in the comments!
I hope you love these sugar-free gingersnaps as much as my family does. Of course, feel free to check out some more grain-free Christmas cookie recipes of mine (below) for more Christmas fun: