A peanut butter cheesecake with a chocolate brownie crust, covered in chocolate ganache… oh yes! And it's gluten-free and sugar-free. Can you beat that?!
I think I just may have outdone myself with this recipe. No, really. I even got this recipe right on the very first try. That doesn't happen very often.
By the way, are you looking for gluten-free recipes and resources? This Everything Gluten Free page is a library of everything gluten free we've worked on.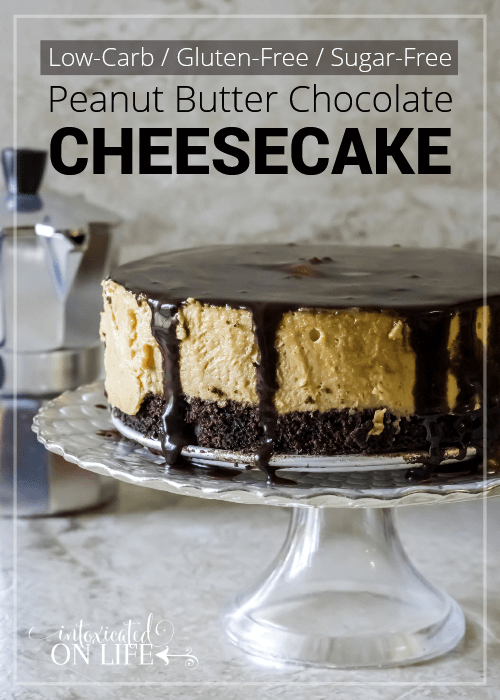 I'm often asked how I come up with recipes. It's usually a long slow process. I come up with a vision for a recipe. Then I make my best guess at how it should be made and record every ingredient. Then, the long part…revisions. Very rarely does a recipe turn out just how I wanted the first time around. It often takes a lot of tweaking to get it just so.
This recipe for peanut butter & chocolate cheesecake, however, hit the spot the first time around. Woot!
Peanut Butter & Chocolate Cheesecake: Notes
This peanut butter & chocolate cheesecake will take a bit of time to prepare, so be forewarned. It's not one of those throw-together-on-short-notice types of desserts.
You'll have to allocate a decent amount of time and make it the day before you'd like to eat it. Cheesecakes need to sit in the fridge overnight to reach their optimum potential. I know it's hard to wait, but you can do it!
As for the ganache in the recipe— yes, I know this isn't a true chocolate ganache. True chocolate ganaches' are made with chocolate not cocoa. But I've messed up more than a couple true ganaches in my lifetime.
I wanted to provide you with a more fool-proof ganache-like recipe. Nobody likes a lumpy ganache. And with a recipe as involved as this one, we don't have time to be making a ganache over and over again!
This is an easy to make recipe for ganache, not fussy at all. If you'd prefer a true ganache, Google has you covered.  You'll find plenty of recipes with a quick search ;).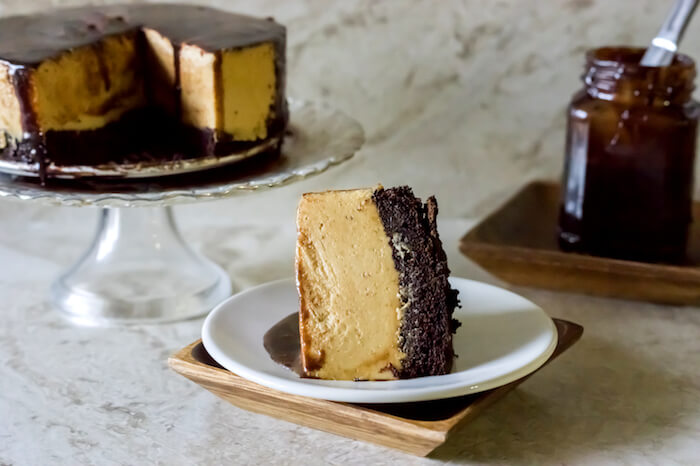 Are you ready? Let's get started making peanut butter and chocolate cheesecake!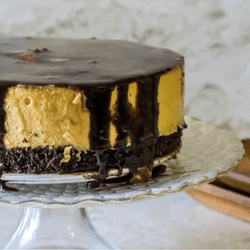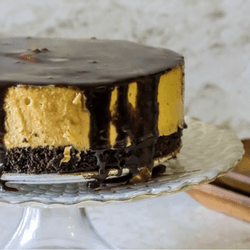 Print
Peanut Butter & Chocolate Cheesecake (sugar-free and gluten-free)
Ingredients
Cheesecake
1

pound

cream cheese

2 blocks at room temperature.

1

cup

peanut butter

3

Tablespoons

sour cream

3

eggs

1

egg yolk

1/2

cup

xylitol

1/4

teaspoon

pure stevia extract

1

teaspoon

vanilla

dash of salt
Ganache
1/2

cup

cream

1/4

cup

butter

6

T.

high quality cocoa

5

T.

xylitol

1/8

+ 1/16 teaspoon pure stevia extract
Instructions
Brownie Crust
Preheat your oven to 350 degrees.

Mix all of the above ingredients together until well-blended.

Pour the batter into the springform pan, being sure to spread evenly.

Bake for 12-15 minutes or until the crust is set up. Let cool.

After you take the crust out of the oven preheat the oven to 500 degrees.
Cheesecake
If you haven't yet, be sure your oven is preheating to 500 degrees.

Cut your room temperature cream cheese into 1" cubes and beat for approximately 1 minute. Scrape the sides of your bowl with a rubber spatula.

Add 2 eggs and beat for 1 minute. Scrape your bowl again.

Add 1 egg and 1 egg yolk and beat for 1 minute. Scrape your bowl well.

Add peanut butter and cream cheese. Beat for one minute and then scrape your bowl.

Add the xylitol, stevia, vanilla, and salt. Beat for at least 1 minute, scrape your bowl being sure all ingredients are well incorporated.

Pour your cheesecake batter into your springform pan.

Bake for 10 minutes.

Reduce the oven temperature to 200 degrees. (Do not open the door to check on the cheesecake!)

Bake for 20-25 minutes.

After you remove the cheesecake from the oven, run a knife between the cake and the pan.

Once the cheesecake is cooled to room temperature, cover with chocolate ganache (recipe below).
Ganache
Pour your cream, butter, and sweeteners in a double boiler over medium-high heat.

Measure your cocoa into a medium mixing bowl.

Once your cream mixture is just about to boil, pull it off of the heat and pour it on top of the cocoa. Let it sit for 5 minutes without mixing.

After 5 minutes, whisk the mixture until there are no lumps left.

Pour the ganache over the cheesecake (you may not want to use all of it, I didn't).

Cover your cheesecake tightly with plastic wrap and refrigerate overnight.
Notes
If you have extra ganache, may I suggest covering some strawberries? Refrigerate your strawberries for a couple of hours—it makes an awesome treat.
If you try this recipe peanut butter & chocolate cheesecake, I'd love to hear how it turns out. Be sure to share in the comments!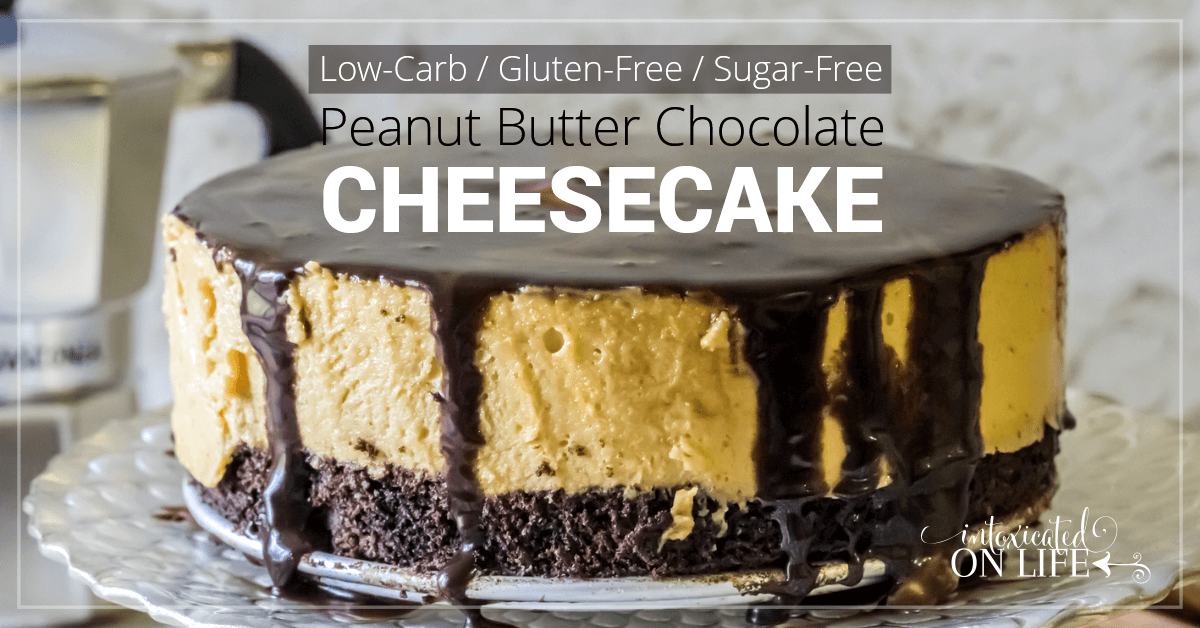 More Tasty Dessert Ideas: