This year, like every year, I want to make Valentine's Day an extra special day for my husband. While we should certainly aspire to make our husband's feel loved every day, Valentine's Day is a good reminder.
What better way to make my husband feel loved than some special one-on-one time? I'm going to share with you a recipe for some super cute, super nourishing DIY massage bars! AND even better than that, I'm going to tell you how you can give him an over-the-top, amazing massage with those bars. You'll knock his socks off—guaranteed!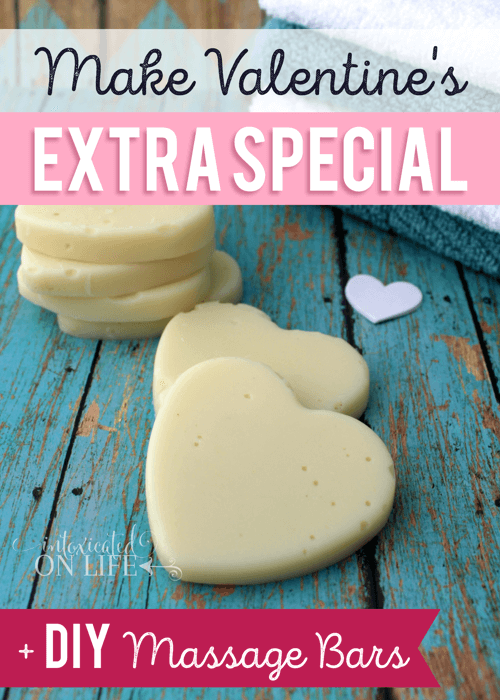 7 Steps to an Extra-Special Valentine's Day …
Order (or gather) your supplies for the DIY massage bars.
Make your massage bars—detailed instructions below.
Order Melt: Massage for Couples (more on the super-special Valentine's Day offer below)
Download and print the cute Massage gift voucher—it will come with your order of Melt.
Package up your gift bars and slip your massage gift voucher in a card for your spouse.
Watch your hubby's eyes light up when he opens it!
Enjoy an evening together.
What is Melt: Massage for Couples?
Melt is the perfect gift for your spouse. It's everything you want in a gift. It's a thoughtful gift. It's an "us" gift. And it's the type of thing that keeps on giving.
You can pull it out again for anniversaries, birthdays, or just because you want to show a little love and have a little connection. (Remember what I said about trying to make your husband feel loved every day!)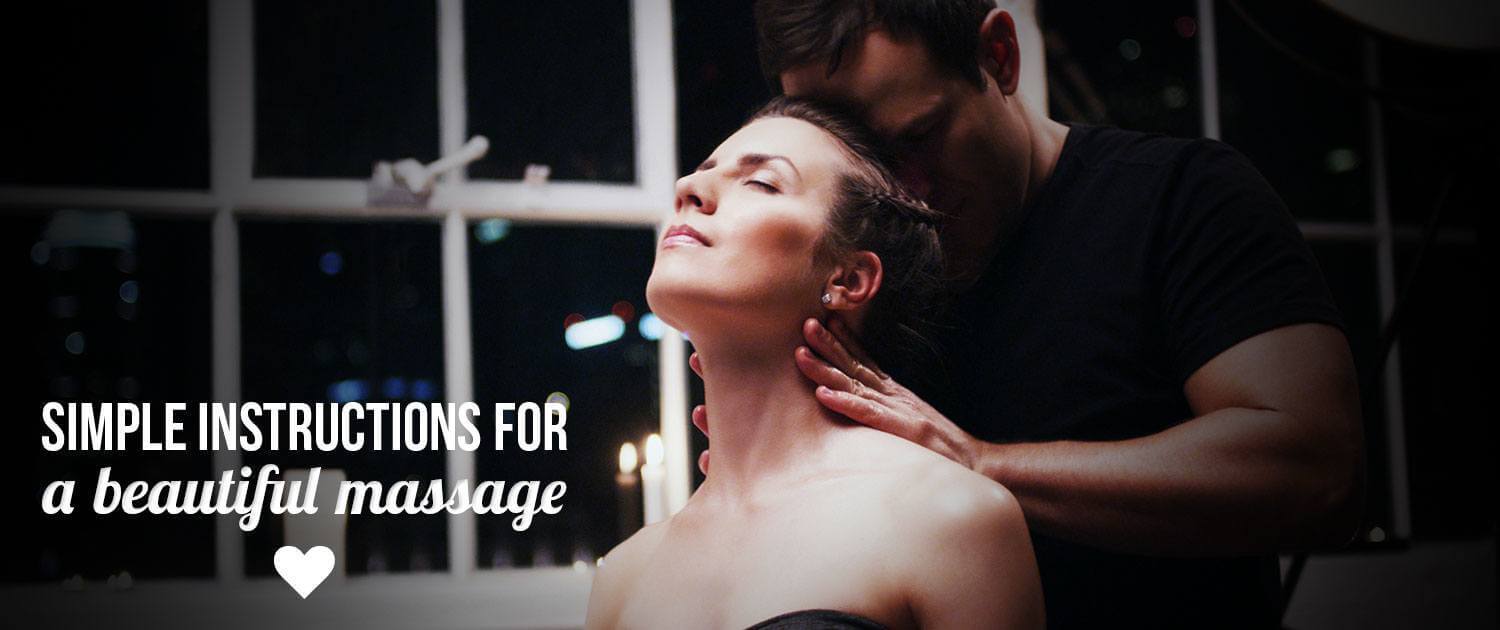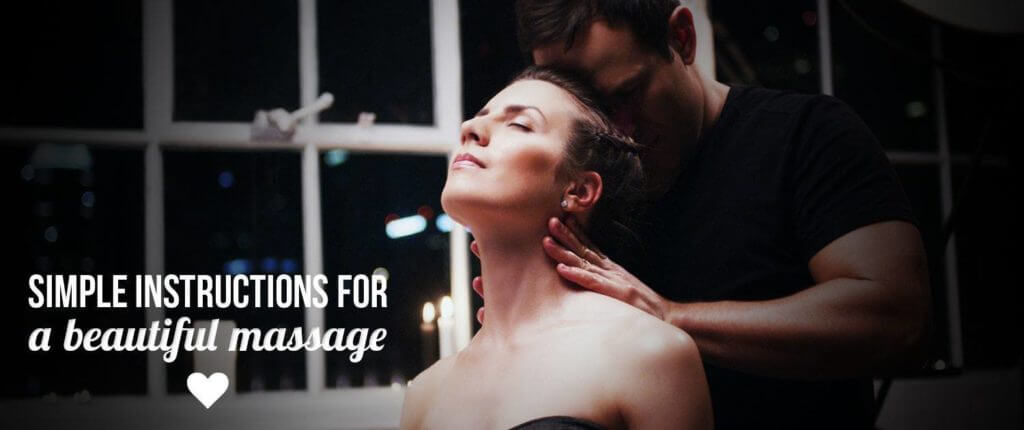 Melt is an online course that teaches you step-by-step how to give your partner back and neck massages so that they fall in love with your hands. The best part is Denis Merkas, the instructor, makes it really easy. He really knows how to communicate through simple demonstrations and instructions.
Luke and I were initially concerned the videos were going to be too racy, but we were pleasantly surprised at how the videos balance the obvious intimacy of a couples massage with a clean, professional presentation. No awkward moments. No nudity. Classy all the way.
The Special, Limited-Time Offer
Denis has run specials in the past for my readers. And I'm so glad he has because I've heard from several of you that you've loved using these videos.
Melt usually sells for $99, but from now until Valentine's Day, you can purchase the course for $79! That's more than 20% off. Remember, this is the very last time Melt will be sold at this price.
DIY Massage Bars
Now, for the massage bars. These are just the icing on the top of the cake! You can't give your husband massage bars and not know how to use them. 😉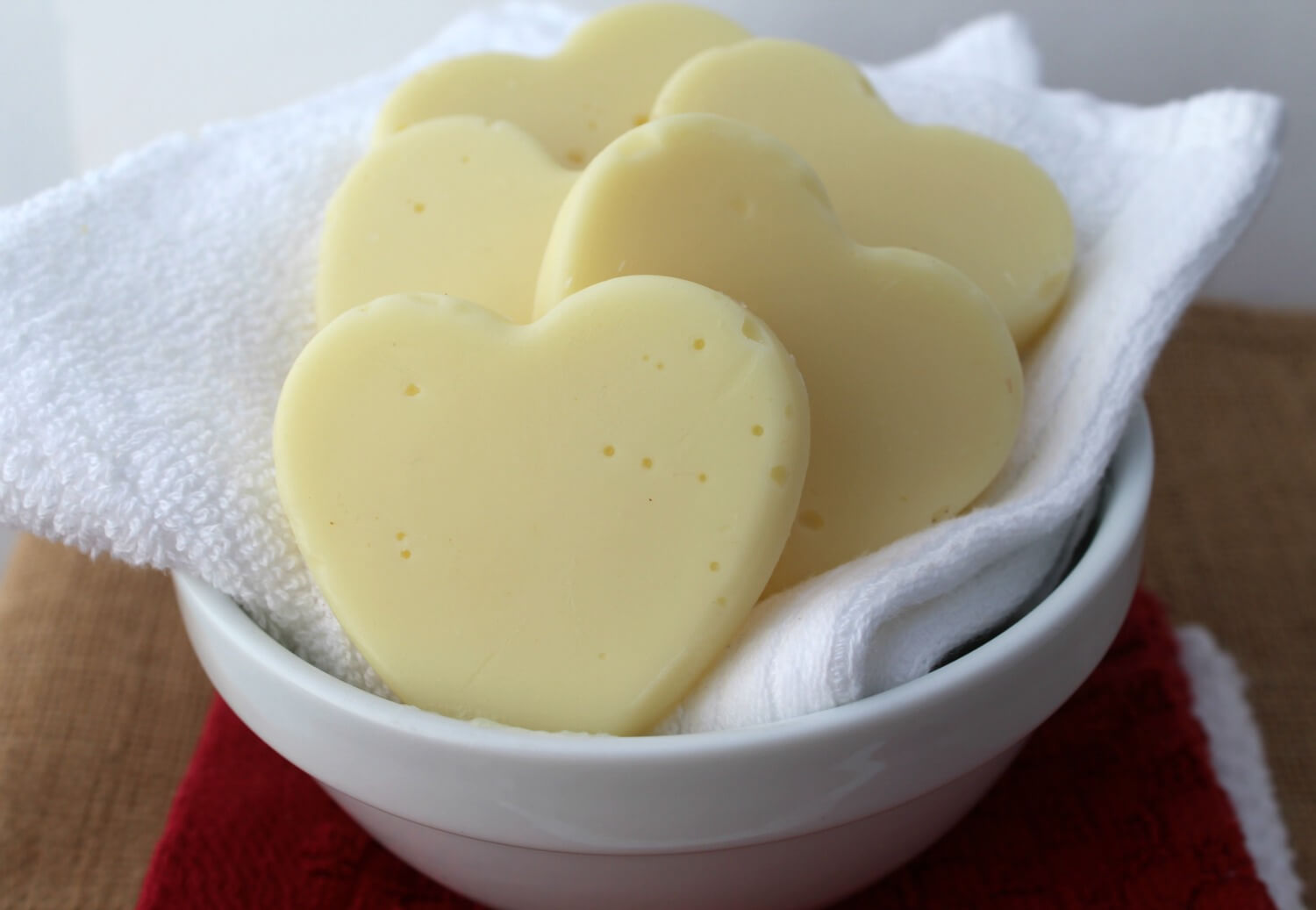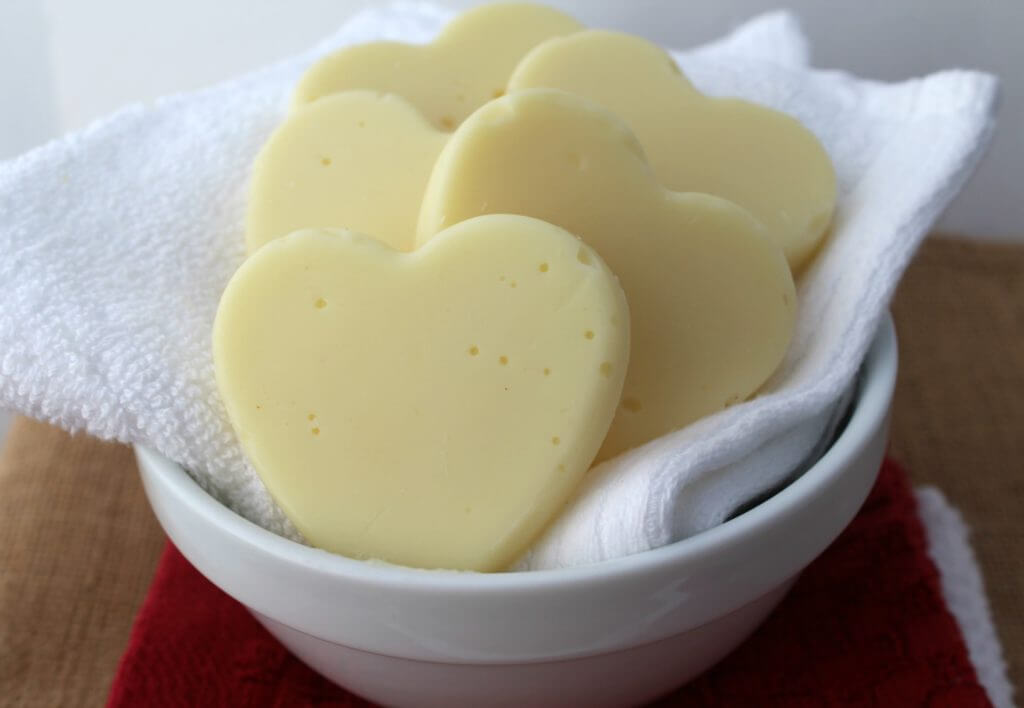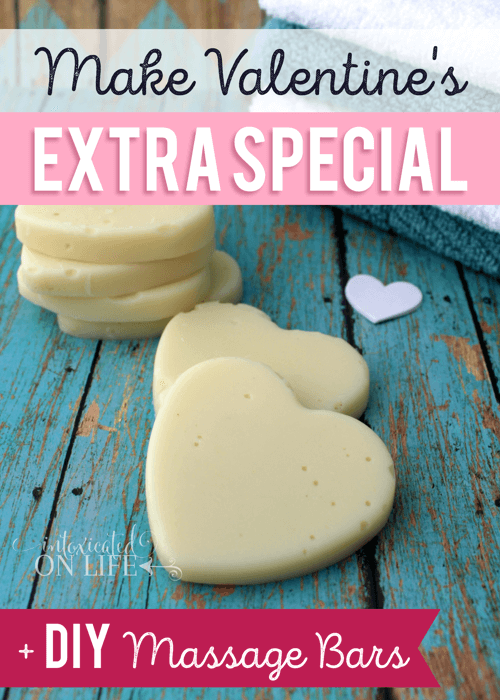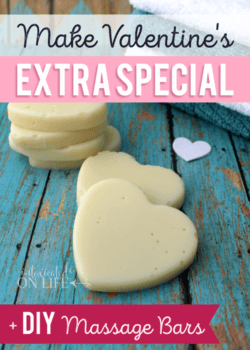 Print
DIY Massage Bars
Make Valentine's Day or any date night extra special with DIY massage bars. These easy massage bars are molded, hard lotion-- perfect for giving a massage to your spouse!
Instructions
Combine the cocoa butter, coconut oil, and almond oil together in a small pan and heat on medium-low heat until melted. Be sure not to boil.

Place heart mold on a cookie sheet and pour melted butter into mold.

Place 1-2 drops of lavender essential oil (or other essential oil of your choice) in each mold.

Place mold into the fridge and allow it to completely cool, about 1 hour

Gently pop them out of the mold and store in an airtight container or the refrigerator. The bars will begin to melt in your hands if you hold them for too long, making them perfect for a nice warm oil massage.

Enjoy! 🙂
I hope this has given you some great ideas for an extra-special Valentine's day. Don't forget to stop by and grab Melt: Massage for Couples while it's discounted to $79!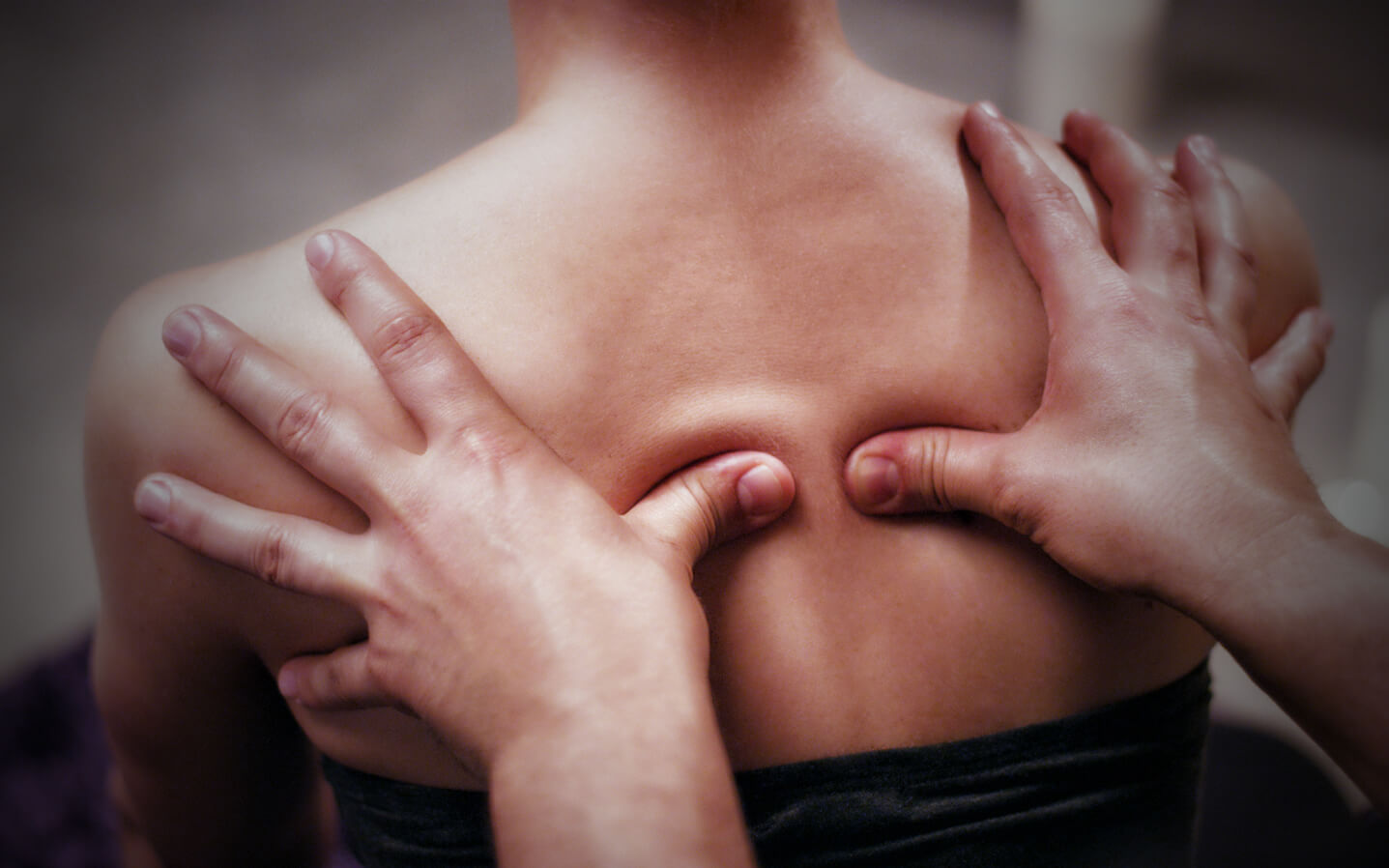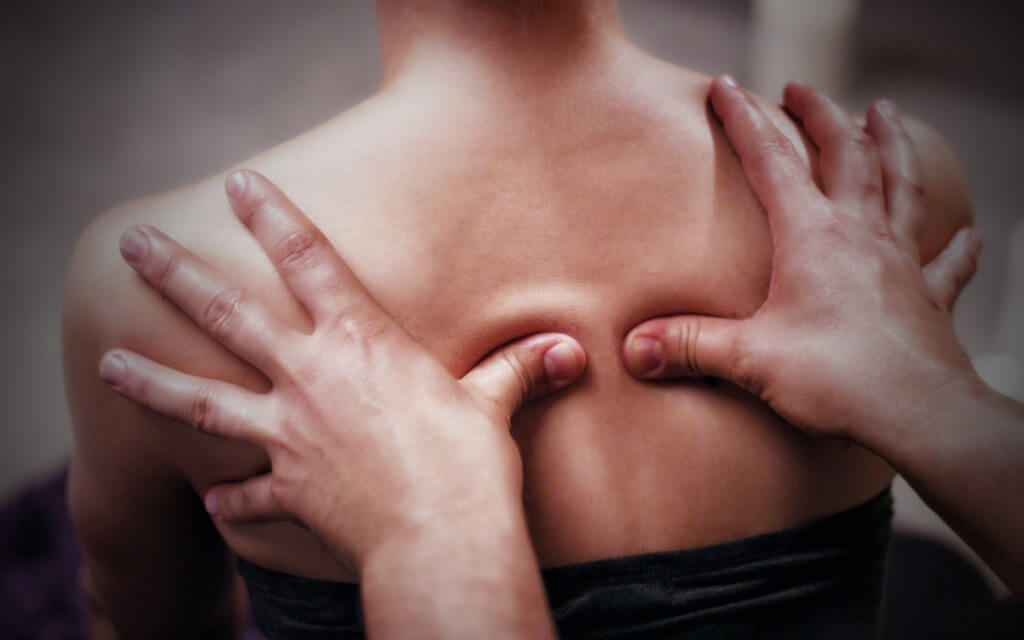 More DIY projects to pamper yourself and your spouse: