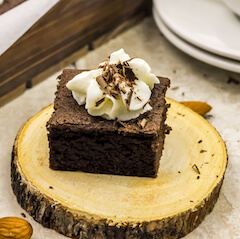 Rich & Delicious, Gluten-Free, Sugar-Free Brownies
Instructions
Preheat oven to 350 degrees.
Grease a 9 x 13 pan with butter or coconut oil.
Beat melted butter, stevia, and xylitol together until well combined.
Add eggs (preferably farm-fresh eggs) and vanilla to mixture and beat for 2-3 minutes on medium-high speed. This mixture should be nice and fluffy.
Add cocoa, almond flour, and cream. Mix until combined.
Bake for approximately 35 minutes.
Top with homemade whipped cream made with stevia for extra yumminess!
Notes
A note on sweeteners: I understand some individuals are not able to use xylitol. A good substitute, that also has minimal impact on blood glucose levels is erythritol. Erythritol does not cause the gastrointestinal problems that some people experience with xylitol. Increase the erythritol to 1 1/2 cups.
Recipe by Intoxicated On Life at https://www.intoxicatedonlife.com/gluten-free-sugar-free-brownies/