Stop! Before you throw out that ham bone, you can get even more deliciousness out of it. Just like any other bones from chicken, turkey, or beef—that you can extract both delicious and nourishing bone broth from—ham bones also have nutrients in them. In fact, ham bones may be my very favorite type of bone broth. I find them to be much more rich and flavorful than other meat bones.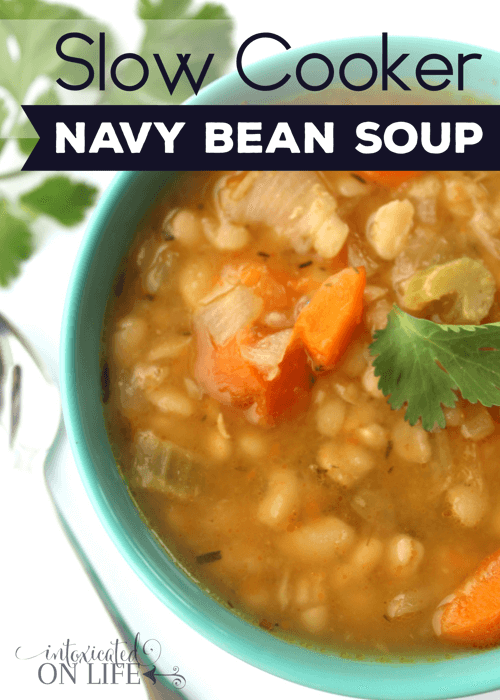 If you don't know the benefits of bone broth, I'd encourage you to read up on bone broth here.
One of my favorite things to make with my ham bones is navy bean soup. It's easy, cheap, and the whole family loves it. Throw together some beans, a ham bone, spices, and some veggies and you've got dinner!
Slow Cooker Navy Bean Soup
Ingredients
2 Tablespoon olive oil
4 cloves garlic
1 medium yellow onion
½ pound carrots
4 stalks celery
1 pound dry navy beans (you do not need to soak these overnight)
1 ham bone or 2-3 smoked ham hocks
1 whole bay leaf
1 teaspoon dried rosemary
½ teaspoon dried thyme
½ teaspoon smoked paprika
½ teaspoon Freshly cracked pepper
1½ teaspoon salt
Instructions
Start off by adding Navy Beans to a pot and boil 10 minutes.
While beans are boiling mince the garlic, dice the onion, slice the celery, and slice the carrots into thin rounds.
Add olive oil, garlic, onion, celery, and carrots to a large slow cooker.
Drain your beans and sort through the beans and remove any debris or stones.
Quickly rinse your beans and add them to the slow cooker, along with the bay leaf, rosemary, thyme, paprika, and some freshly cracked pepper and ham bone or ham hocks.
Add six cups of water to the slow cooker. Stir carefully to combine the ingredients.
Place the lid on the slow cooker and cook for 8 hours on low or on high for 4-5 hours.
After 8 hours, stir the soup and mash the beans slightly just to thicken up the soup to your desired consistency.
Add salt starting with just a ½ teaspoon at a time. I used about 1½ teaspoon total, but keep tasting and adding more, ½ teaspoon at a time, until it reaches the level you prefer.
One of my favorite things to serve with navy bean soup is grain-free "corn" bread. You can find the recipe in my free cookbook Grain-Free Goodies. Click here to subscribe to our Healthy Living Newsletter and the book will be delivered straight to your inbox (along with more awesome content each week).