This Fiesta Egg Scramble is the perfect family breakfast option. It's super healthy, easy to make, and you can serve it with a huge array of toppings on the side, so that everyone can add whatever toppings they want and be happy with their breakfast.
Breakfast, why do you come so early in the day? Pretty much as soon as their feet touch the floor in the morning, my boys are "starving" and ready to eat.
My brain is barely working at this point so some times are breakfasts are kind of boring. However, it is super important to me that my boys get a filling breakfast that is also nutrient dense. They need their bodies fueled for a full day of school and play.
When you are avoiding gluten and grains, this can be a bit more challenging, but it still doable.
By the way, if you are looking for gluten-free resources, make sure to check out my Everything Gluten Free resource page!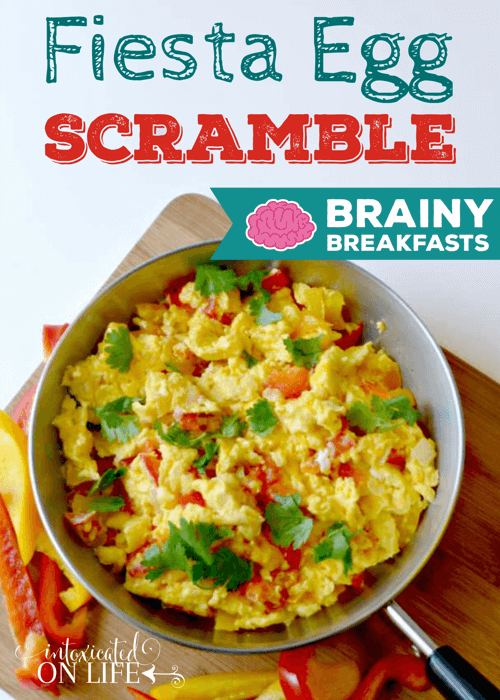 Fiesta Egg Scramble = The Perfect Breakfast
This is why we totally love eggs. Farm fresh eggs are a great source of protein and good fats to keep growing bodies nourished. 
I'm also a big fan of getting as many vegetables into our diet as we can, this often means we have some with breakfast.
I know that sounds like extra work, but it totally isn't. Do you want to know my secret? I do a big batch of veggies about once or twice a week to throw into our eggs. I often use what is on sale and then fry them all up at once. I store them in the refrigerator and scoop some out every morning to add to our eggs.
Yes, it is that easy to get a serving of veggies in before you hit the door running each morning. 
One of our favorites is a fiesta egg scramble. My kids love Mexican food night and so we started doing the same "feel" for our breakfasts. It's a total hit and it really fuels my kid's bodies.
Depending on what is in the house these eggs get served with a side of salsas, guacamole, hot sauce, and sour cream. Everybody gets to pick what they like and it's a win for everyone!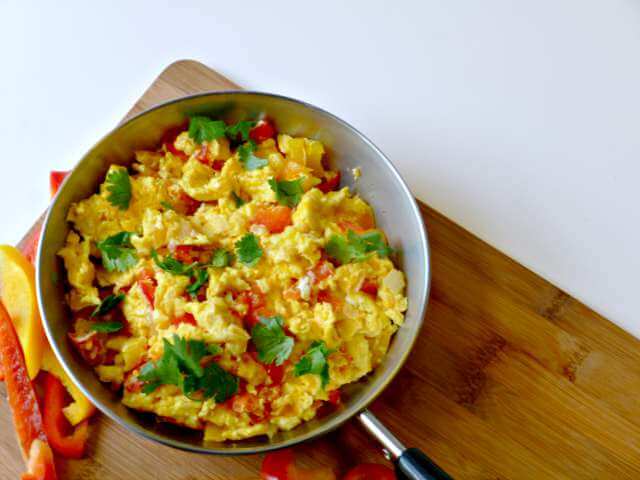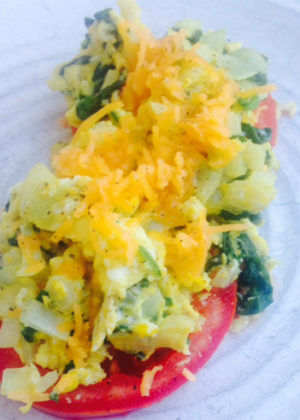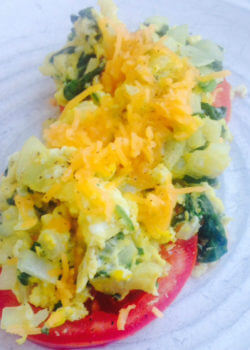 Print
Fiesta Egg Scramble
This colorful, flavorful breakfast is a great way to get veggies into your kids (and yourself!) first thing in the morning. And it's quick and easy besides!
Ingredients
4

eggs

beaten until smooth

1

pepper

diced

1/2

onion

chopped

1

clove

garlic

minced

1/4

cup

shredded cheese

Omit for dairy free

2

tablespoons

butter or coconut oil

Or your favorite cooking fat
Instructions
Heat oil in a skillet. Add chopped vegetables and saute until softened.

Pour the beaten eggs over the veggies and stir.

Cook, while stirring, until the eggs are cooked and no liquid remains.

Serve with salsa, hot sauce, guacamole and or salsa.
Nutrition
Calories:
196
kcal
|
Carbohydrates:
5
g
|
Protein:
10
g
|
Fat:
15
g
|
Saturated Fat:
8
g
|
Cholesterol:
246
mg
|
Sodium:
211
mg
|
Potassium:
177
mg
|
Fiber:
1
g
|
Sugar:
2
g
|
Vitamin A:
760
IU
|
Vitamin C:
34
mg
|
Calcium:
88
mg
|
Iron:
1
mg
This Fiesta Egg Scramble breakfast recipe is a quick one that you can feel good about feeding to your kids first thing in the morning. I love that we can make nutrient dense food fun for our family.
Need some more tasty, kid-friendly breakfast ideas?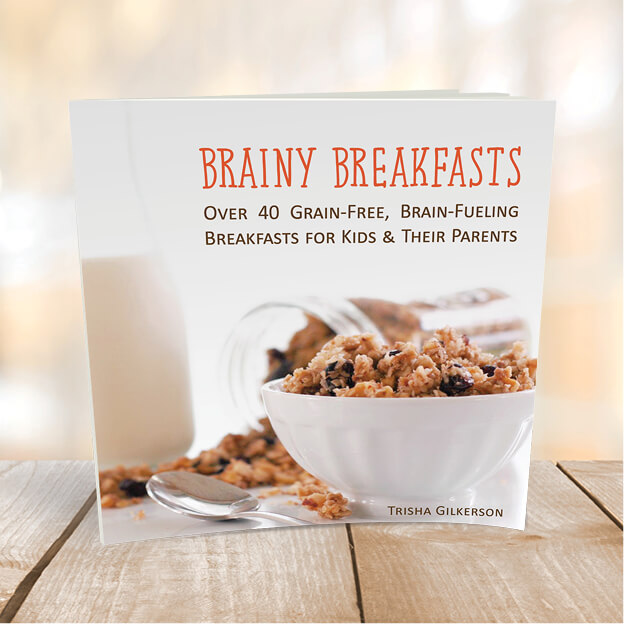 Check out our cookbook Brainy Breakfasts – it's filled with over 40 grain-free, brain-fueling breakfast recipes to keep things new and exciting! It's available as a downloadable or softcover book. You won't run out of healthy, tasty breakfast recipes anytime soon with this cookbook ?
More Healthy Mexican Recipes: