Southwest Beef Fajita Salad. This recipe makes me happy. As I sit here typing it out, my mouth is watering. There are just some recipes that do that, ya know?
Looking for gluten-free recipes and resources? This Everything Gluten Free page is a library of everything gluten free we've worked on.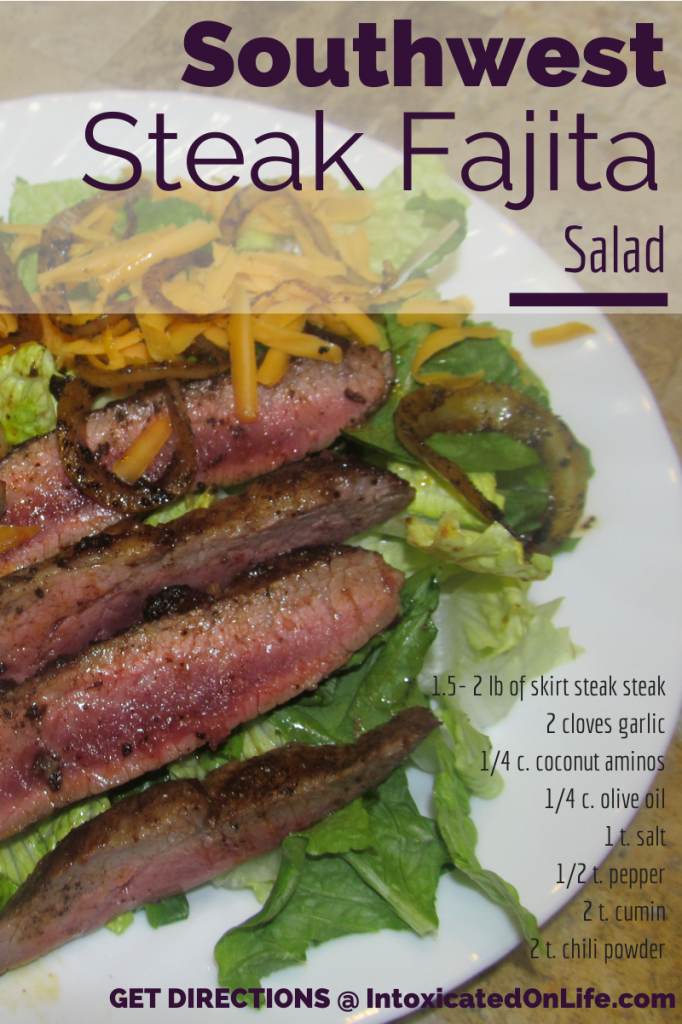 If you're looking for the flavor of fajitas, but want to skip the flour tortillas, this beef fajita salad is the perfect recipe. I came up with this recipe while trying to figure out what to do with my skirt steak. I've also tried this recipe with a flank steak.
It turned out good, but I think I am a bit biased towards the skirt steak. If you order grass-fed beef from a local farmer, don't forget to order these cuts of beef! They often won't include them unless you specifically request them.
If you're looking for a good source of grass-fed meat,
Butcher box
has high-quality meat that they will deliver right to your door.
If you use this link to Butcher Box, you can get $15 off your first box and FREE bacon(!!)
.
Sometimes people wonder if we miss eating gluten. Well, of course we do sometimes. But with a flavorful recipe like this beef fajita salad, who has time to miss bland pasta? Seriously, even our kiddos like this recipe. It's a family-friendly, grain-free recipe that you should add to your meal rotation.
Delectible Southwest Beef Fajita Salad
Ingredients
Steak Marinade
1.5- 2

pounds

of skirt steak or flank steak

2

cloves

garlic

1/4

c.

coconut aminos

1/4

c.

olive oil

1

t.

salt

1/2

t.

pepper

2

t.

cumin

2

t.

chili powder
Instructions
Mix all of the marinade ingredients except the steak in a small bowl.

Spread all of the ingredients on the steak. Cover the steak and place in the refrigerator for at least 45 minutes, but the steak can marinade this way for several hours.

Remove the steak from the refrigerator at least 30 minutes before you're ready to cook it and allow it to warm up to room temp.

Preheat oven broiler.

Broil steak for 4-5 minutes on each side until medium-rare. You may have to adjust this time depending on the thickness of your steak. PLEASE, do not overcook this cut of meat. It's beautifully tender and delicious when cooked to medium-rare. If you overcook it, it's liable to be tough and not nearly as flavorful.

Let the steak rest 10 minutes, then slice into thin strips.

While the steak is resting, thinly slice your onions and peppers and sautee them in bacon grease or home rendered

lard

.

Assemble your salad and savor the flavors!
Notes
Whip up some [Southwest Spicy Ranch|https://www.intoxicatedonlife.com/2014/10/01/spicy-ranch-salad-dressing/ before assembling your salad. It's easy to make and a perfect addition to this salad!
Nutrition
I hope you love this Southwest Beef Fajita Salad as much as we do! Feel free to tell me if you like it in the comments below.
More Mexican Food Recipes: